15 Dec 2020
Best Gaming SmartPhone 2020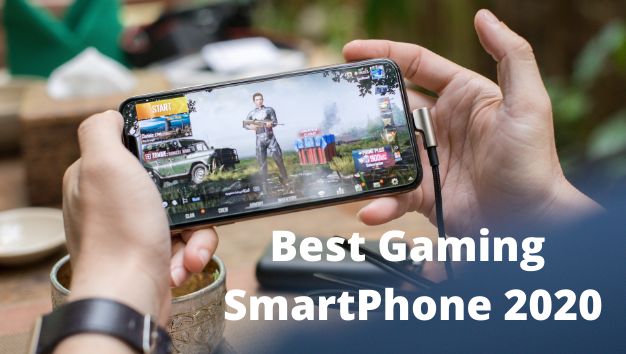 Gaming. It has become one of the standard go-to options for entertainment in the digital world. Many of us kill time in gaming, and with the boom in online gaming, the list of games you can play online or offline is endless. In the previous decade, console games played on the TV were the craze. With consoles like the infamous Sony Play Station and PC, the gaming culture became popular. With the advent of the smartphone revolution, mobile gaming has now taken over, becoming the newest and most preferred platform for gaming.
With the mobile gaming culture growing exponentially, how many mobile gamers are there around the world at any given point of time? A staggering 2.2 billion people. Mobile gaming has reached this level because of the enormous availability of the Internet.
So when it comes to mobile gaming, one does not have to go around looking for a "Special Phone." The present-day smartphones available in the market are powerful enough to fulfill the demands of even the most avid gamer. But then again with the endless list of smartphones in the market, the question still looms. Which smartphone would be the best for gaming? Well, If you're looking for a list of the best gaming smartphones out in the market today. Look no further:
Here we have a list of the best gaming smartphones, taking into account the features most preferred for gaming, such as Processor, RAM, Storage, Display vibrancy, Clarity, Responsiveness, and Battery Life.
Best Gaming Smartphone 2020:
Vivo Y30
Mi 10T Pro 5G
OnePlus 8 Pro
Samsung Galaxy Note 20 Ultra
Realme X50 Pro 5G
iPhone 12 Pro Max
Vivo Y30 Specifications:
Vivo Y30 is a superweapon for gaming, as it has a stunning 6.47″ i-View display with a 90.7% screen-to-body ratio and an aspect ratio of 19.5:9. The device comes with an Octa-core Mediatek Helio P35 (12nm) Processor and is available in three storage options: 4GB RAM/64GB ROM, 4GB RAM/128GB ROM, and 8GB RAM/128GB ROM. The ultra-game mode is specially made for hard-core gamers to provide an immersive and fluid gaming experience. All of this is powered by a massive 5000mAh Battery. It is available in two amazing colors of Emerald Black and Dazzle Blue. Vivo Y30 price in India is Rs.13,990, putting the Vivo Y30 in the mid-range budget category.
Mi 10T Pro 5G Specifications:
The new Mi 10T Pro 5G is considered to be one of the best in the gaming smartphone category, as it is equipped with an intelligent display and a humongous battery. The phone's standard display is a 6.67″ IPS LCD Dot display with a refresh rate of 30Hz-144Hz. The high-capacity 5000mAh battery makes it even more powerful. The processor is crucial when coming to a gaming smartphone. In the case of the Mi 10T Pro 5G, it has an Octa-Core Snapdragon 865 processor, with two storage options: 8GB RAM/128GB ROM and 8GB RAM/256GB ROM. The first 7-Step intelligent adaptive sync display is perfect for gaming and adds a whole new dimension to the entire experience. It comes in two color options that are literally "out of this world" Cosmic Black, Lunar Silver, and Aurora Blue. The Mi 10T Pro 5G price in India is Rs.40,999. You can now get your own Mi 10T 5 Pro buy online from Poorvika and have it delivered right to your doorstep with our 2 Hour Delivery.
Oneplus 8 Pro Specifications:
The actual tagline of the Oneplus 8 Series is "Lead with Speed." The OnePlus 8 Pro literally lives up to this tagline as it features an Octa-Core Snapdragon 865 processor, making the device runs smoother and faster. The display has a 6.78″ QHD+ with a 120Hz refresh rate, making you fall head over heels in love with this device from the very first swipe. The storage options available for the device are of two variants: 8GB RAM/128GB ROM , and 12GB RAM/256GB ROM. For the most hard-core gamers, the OnePlus 8 has even included a Fnatic mode, which excludes notifications during the time of playing. More like a Do-Not-Disturb mode, as the last thing, you need when your opponent has a gun to your head is a text from your annoying boss asking you if that mundane presentation is ready. It comes equipped with a non-removable Li-Po 4510 mAh battery. The phone is available in three eye-popping colors such as Glacial Green, Ultramarine Blue, and Onyx Black. The Starting Oneplus 8 Pro price in India is Rs. 54,999
Realme X50 Pro 5G Specifications:
Encounter futuristic speed with the all-new Realme X50 Pro 5G. It has a 6.44″ Super AMOLED capacitive touchscreen with a 90Hz refresh rate. This phone is powered by the Snapdragon 865 5G processor and comes in four storage options: 6GB RAM/128GB ROM, 8GB RAM/128GB ROM, 8GB RAM/256GB ROM,and 12GB RAM/256GB ROM. Considering the cooling system as one of the main factors that assist in smooth running for gaming. The device has a vapor cooling system that keeps the system cool even with intensive performance. Without any further, doubts one can consider this as a worthy contender in the list of gaming smartphones. To run efficiently, this device is powered by a heavy-duty Non-removable 4200mAh Li-Po Battery. Moss Green and Rust Red are the innovative colors available for the model. The starting Realme X50 Pro 5G price in India is Rs. 41,999
Samsung Galaxy Note 20 Ultra Specifications:
The most powerful phone with an S pen and it has been designed in a way that it can put a whole new world into your pocket. The display has a 6.9″ Edge Infinity-O feature, with a refresh rate of 120Hz. It is powered by an Octa-core Exynos 990 (7 nm+) processor, with two storage options: 8GB RAM/256GB ROM, and 8GB RAM/512GB ROM. The battery is also important for a gaming smartphone. This should not serve as a problem as this phone is fueled by a non-removable 4500mAh Li-Ion battery. You could almost compare it to a mini PC in your pocket, set to play games. It is available in Signature colors such as Mystic Bronze, Mystic Black, and Mystic White. Samsung Galaxy Note 20 Ultra's price in India is Rs. 1,04,999.
Apple iPhone 12 Pro Max Specifications:
The processor is supposed to be given utmost consideration while purchasing a gaming smartphone. This is where the iPhone 12 Pro Max that comes with an A14 Bionic Chip, stands as the phone with the fastest processor in the world to date. The display of the phone is a 6.7″ super Retina XDR with a resolution of 1284 x 2778 pixels. Apple doesn't mention it is battery capacity on the official site, but it is said that the device comes with a non-removable Li-Ion 3687mAh battery with a turbo chargeable feature. You can choose from these three gorgeous colors of Silver, Graphite, Gold, and Pacific Blue. Apple iPhone 12 Pro Max Price in India is Rs. 1,29,900.