15 Dec 2020
Realme WiFi Smart Camera 360° Full Specification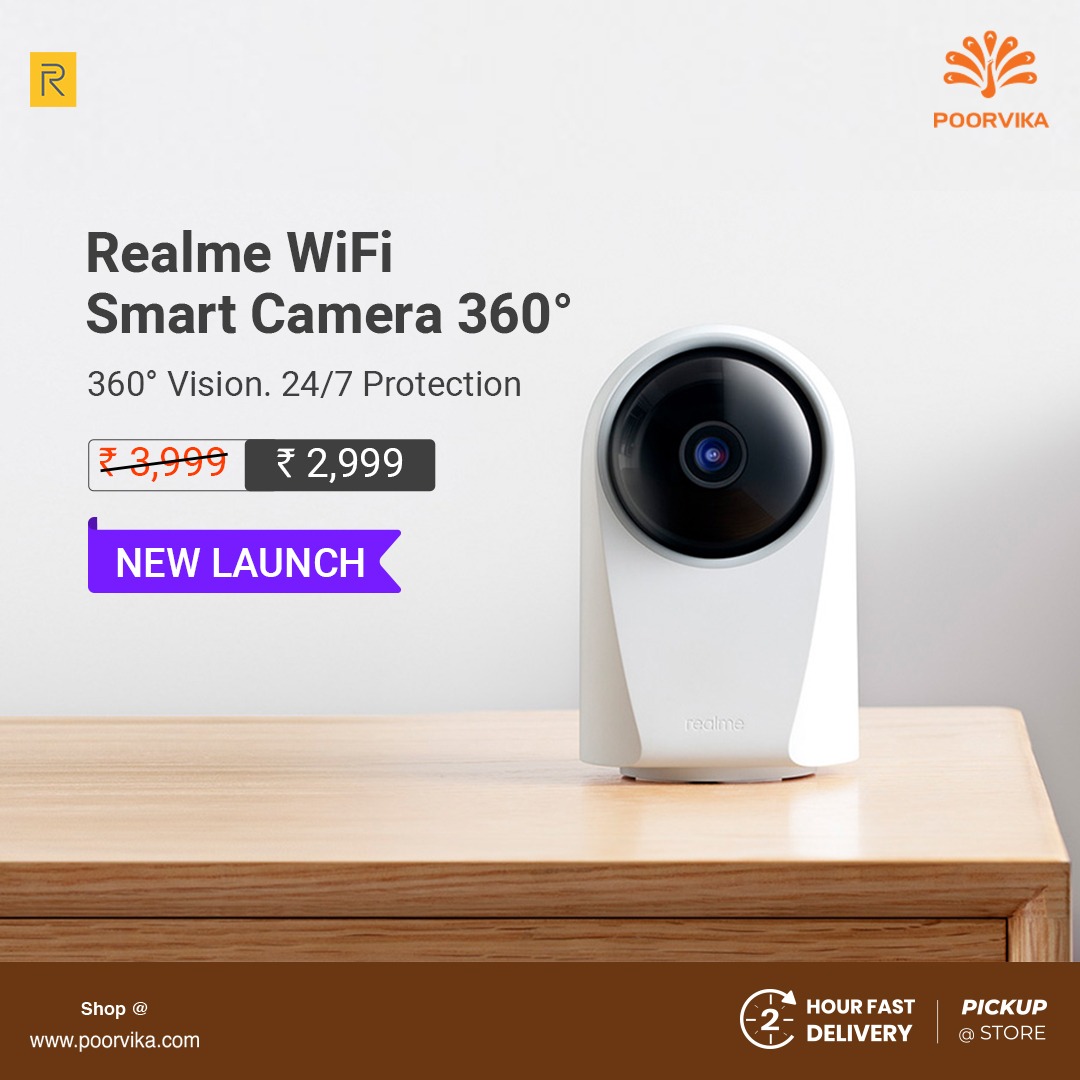 Security is of the highest priority for anyone and it is definitely something that should be taken very seriously. Companies spend hundreds of millions on R&D when it comes to developing more and more innovative security systems especially in the field of Surveillance. But what about Home Security? That's where the Realme Wi-Fi Smart Camera 360° comes in. The Realme WiFi Smart Camera 360° is a versatile little Surveillance camera that is impressive yet easy to use that can be installed almost anywhere. Best of all it can be controlled with your smartphone. It has a 1080p WDR Video Recording with 360-degree Panoramic Vision. The net weight of the device is just 175g with a size of 114.37165.8mm. This Smart camera supports a power input of 5V 1A and a Frequency of 2.4GHz. The device comes with a microphone that supports two-way audio in real-time, a Lens, and an Indicator light at the front face of the camera.
You can control the camera conveniently with the mobile phone via the Realme Link App. The indicator light on the camera allows the user to identify the status of the camera. It lights up in various colors and arrays to indicate the current status of its functions. It lights up in Red to indicate initializing; Flashing Red light to indicate that it is searching for a network; Flashing Blue Light to indicate connecting to a network; Steady Blue Light to indicate its online; Flashing Red and Blue Light to indicate that the attempt to connect has failed and is again attempting to reconnect.
It has a Professional Wi-Fi Chip and comes inbuilt with an extended Wi-Fi Extender, AI Motion Detection Monitor, Real-Time Motion Tracking that helps to even remotely view and monitor your pets. This comes in handy for working professionals who have to leave their pets or children at home for extended periods of time.
The Power Input and the Reset button is provided at the base of the Realme Smart Camera. If you need to change to another Wi-Fi network or add your camera to a new Realme Link account, you can make use of the reset button. This is one of the best indoor & outdoor security cameras with infrared night vision and an AI motion detection monitor having a real-time alarm. It is available in pure white color option. The Realme WiFi Smart Camera 360° price in India is Rs.2,999. You can Buy Realme WiFi Smart Camera 360° online from Poorvika availing of some of the best deals and have it delivered to your doorstep even quicker with our 2 Hours Delivery option.