16 Dec 2020
Bring Cinema Home with Realme Smart SLED TV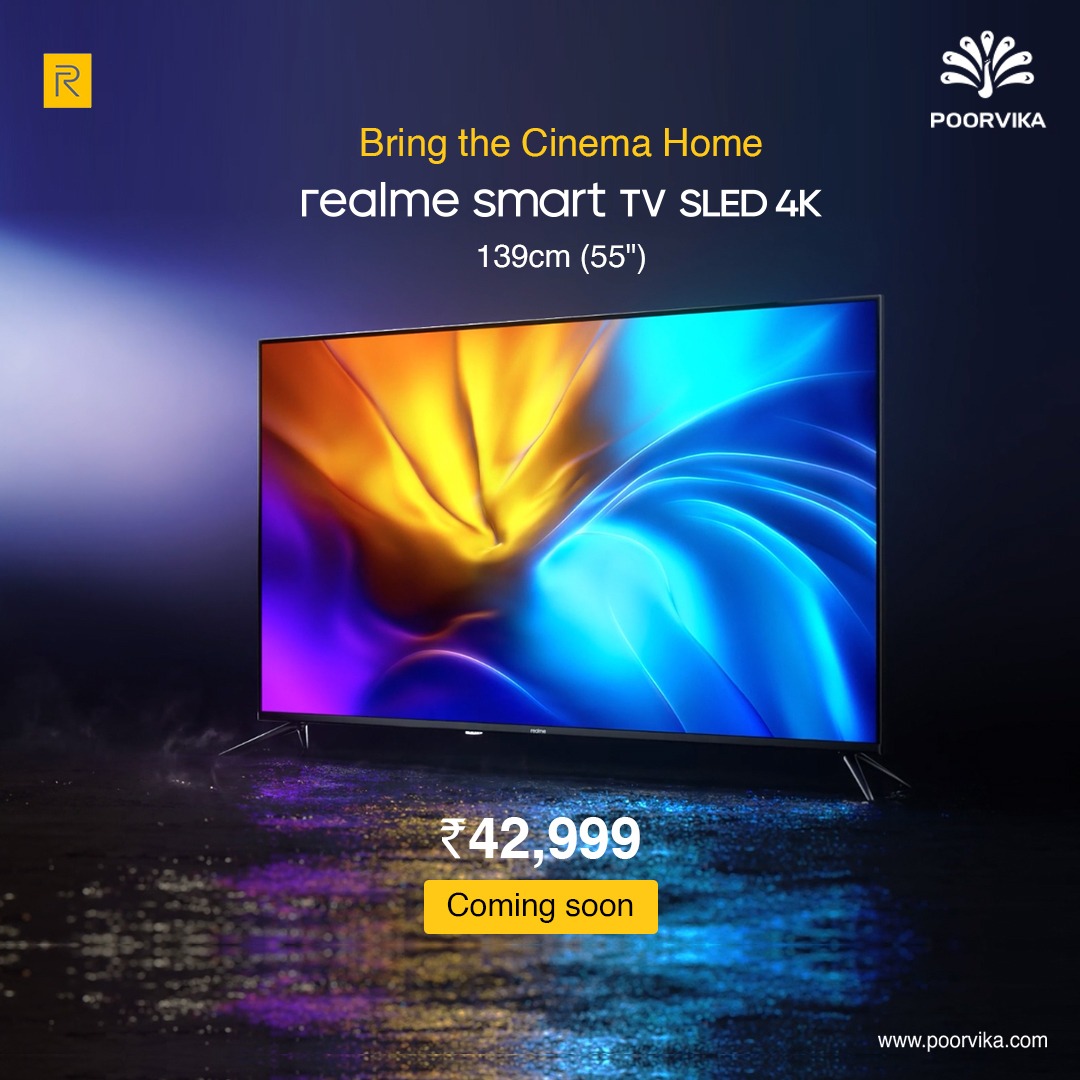 Are you a movie lover? We all have been, or at least must have become one during this pandemic because hey, let's admit it… we had nothing else other than our TV screens to keep us entertained. And as a movie fan, What is the thing that we all missed a lot in this hectic lockdown period? Exactly! "Theaters." Yes, there is nothing better than watching our favorite movies on a massive screen, and we all more often than not missed it quite a bit for the last few months. No more worries because you can now get the exact big screen experience at your home with the all-new Realme Smart TV SLED 4K.
Realme has come up with a Realme SLED 4K TV that lets you Bring the Cinema Experience Home. It comes with a 55″ Ultra HD display. The screen resolution of the Smart TV is 3840 x 2160 Pixels with an aspect ratio of 16:9 and refresh rate of 60 Hz. The SLED TV is powered by a Mediatek chipset and runs Android TV. It delivers a 108% coverage of the NTSC color spectrum. It comes with a Premium Bezel-less Design that looks stunning with a premium sleek metal frame. It has 1.5GB RAM and 16GB of storage.
Most of the TV's now days come with the LCD formula panel, but the Realme Smart TV comes with SLED Technology. This is the World's First SLED Technology-based Smart TV. I know that there is a question ticking in your mind, What exactly is this SLED Technology? This technology aids in a great way to separate the backlight and to achieve the optimal wavelength of each color. In short, it highly improves image quality. It is really not that easy to put forward a cinematic picture but the Realme Smart TV uses a proprietary image tuning technology called Chroma Boost Picture Engine to give a cinematic feel to the picture.
The device not just uplifts the entire visual experience but also is a treat for your ears too, as the audio system of the Realme Smart TV makes you feel like you own a theater at home. The Realme 55″ TV is in-built with 24W Quad Stereo Speakers with Dolby Audio. It has a separate silk dome tweeter and a dynamic full-range speaker that produces an exceptional bass and clear vocals. Movie marathons with friends can now be an everyday affair as the Realme Smart TV supports plenty of content apps like Netflix, YouTube, and Prime Video. This is a certified Android TV with an in-built Chromecast that lets you easily Cast your favorite content from your phone to your Realme Smart TV.
Have you ever thought of controlling your AIoT devices in your home with the help of your TV? It is absolutely possible with the Realme Smart TV. It features Google Assistant with which you can remotely manage and control your AIoT devices. The Realme Smart TV comes with nine ports, and it supports connectivity through Bluetooth 5.0 and dual-band Wi-Fi. Realme has gone through multiple tests on this latest Smart TV like -20℃ Low-Temperature Test, 760mm Drop Test, 5,000times Key Life Test, 5,500times On/Off Machine Test.
With the Realme Smart TV SLED 4K, you can enjoy an audio experience with quality visuals that can quite literally have you wondering if you are at the Movie Theater or at home. The Realme TV 55″ price in India is Rs.42,999. Buy the Realme Smart TV from Poorvika online, bring home a cinema experience with some great offers, and have it delivered to your doorstep as you make the best of our 2 hours delivery option.