18 Dec 2020
Best Gaming Smartphones of 2020 under 20,000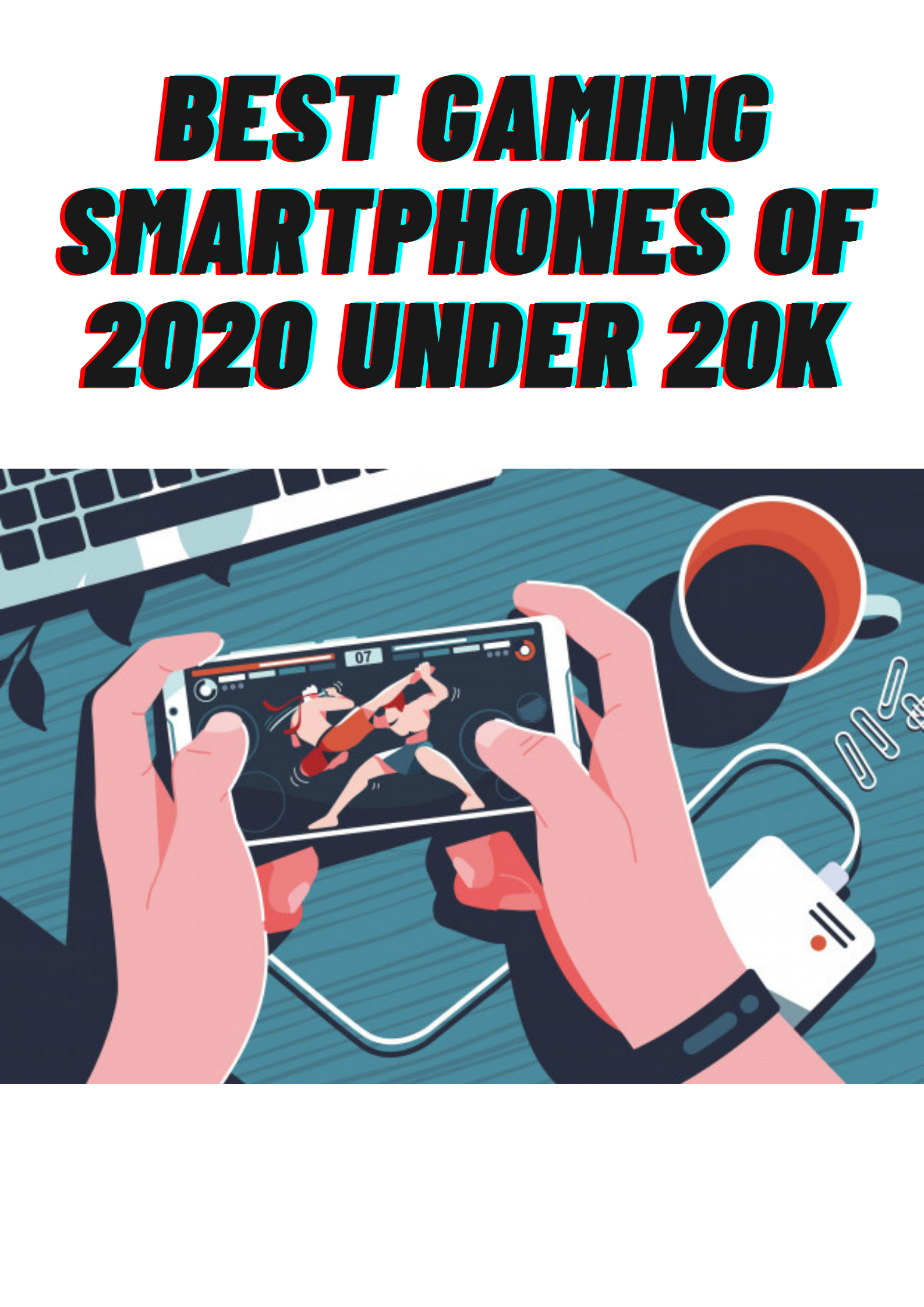 From the old Heavy, Sturdy, and Conventional Gaming consoles from Sega and Nintendo with cartridges that read '10000 in 1' Binary-Programmed Games to Motion Sensor Smart XBOX consoles, Gaming in some way or the other has been around as we all grew up! Video Games undoubtedly hold a very special place, an integral part of our lives, and have always been a significant choice of entertainment in many scenarios. Let it be weekend nights with your folks and friends, an exhaustive and solo trip, maybe a power break from your long working hours. It has been an effective way to keep yourself engaged and refreshed. Playing high-quality games with ergonomic handling always demand Gaming Laptops that offer the Best in Performance, Graphics, and Audio. What if I say, the sound of that engine going Vrooom!! from Asphalt's Ferrari, Camouflage, Target and Kill from PUBG and Call Of Duty, all that Extreme Battling from Fortnite, and Serenity from Hay Day can be experienced best with high-quality Graphics Processor with exceptional Sound Quality and an uber-cool Performance in your very own smartphones?!! YES!! Exciting right?!! The cherry on the cake is that you can experience the same without the need to sell an arm and a leg on some of the more expensive phones on the market. If that's not enough, here's another cherry with some sugar on it as well. What if I told you you could play these games on Budget Smartphones that come under 20K. With no further delay, let us quickly crash into the Best Gaming Smartphones launched in the year 2020 under the 20,000 price bracket, featuring the best processor, display, and Audio for you to experience the next level of mobile gaming!!
Samsung Galaxy M31s:
When it comes to experiencing real Gaming, Samsung brings out the real monster, Samsung Galaxy M31s, for you to turn normal nights into binge-worthy game nights. Samsung has truly extended the curve of budget+sophistication with the launch of Samsung Galaxy M31s, offering advanced technological features. The monstrous 6.5″ FHD+ Super AMOLED Display features 400nits of peak brightness and a 20:9 Aspect ratio. The 16M Color Depth on the bezel-less display lets you enjoy every aspect of the graphics and color shades, especially when you play PUBG and Call of Duty. Additionally, the elegant display is safeguarded with Corning Gorilla Glass on the top so that your phone has just as much of a safety vest as your player in the game.

The unmatched performance when you play high-end games like Asphalt 9 is fulfilled by a powerful Exynos 9611 Octa-core Processor up to 2.3GHz with 10nm architecture. The Mali G72 GPU with the Blazing fast LPDDR4x RAM with 6GB and 8GB variants further boosts your overall experience. These specifications put together, give you a near hand-held PC, quite literally! The monstrous 6000mAh battery with 25W fast charging gives you all the extra game time you need to save your PUBG squad! Enthusiasts can choose Mirage Blue and Mirage Black colors, respectively. The Samsung Galaxy M31s price in India starts from 19,499. Buy Samsung Galaxy M31s Online from the Poorvika Website and get it delivered to your doorstep with the 2 Hour Delivery option.
realme 7 Pro:
The realme 7 Pro and realme 7 are the Gaming Pros of all the gaming smartphones released in 2020. realme delivers top-notch levels in terms of the Processor, Display, Camera, and Battery allowing for a zero-lag experience in the heat of any action. The realme 7 Pro, takes the visuals to the next level with its stunning 6.4″ Super AMOLED Fullscreen display with 98% NTSC Color Gamut.
Throw any high-end game at it, and the realme 7 pro's dedicated Qualcomm's Snapdragon 720G Gaming Processor can handle it. The Gaming Pro processor applies an advanced 8nm process with improved Performance and Efficiency. The Kyro 465 CPU with the highest 2.3GHz frequency marks a 10% improvement from the previous CPUs, and a powerful Adreno 618 GPU marks a 75% improvement from the previous GPUs. To make it more intense, the bullets flying and whizzing past on the battlefield feels real with the Dolby Atmos Dual stereo speakers. The 65W fast charging "reloads" the mighty 4500mAh Battery pretty quickly so that you never run out of charge and get to play hassle-free. The realme 7 Pro price in India is 19,999 (6GBRAM/128GBROM) and 21,999 (8GBRAM/128GBROM). Buy realme 7 Pro Online from the Poovika Website today and make the most out of the 2 Hour Delivery option.
realme 7:
The realme 7 is similar to the realme 7 Pro but stays a step ahead concerning Gaming! The realme 7 features an elegant 6.5″ IPS LCD Touchscreen with a maximum of 90Hz Refresh Rate to offer you a next-level visual experience. Name any massive game, and its powerful Mediatek Helio G95 Octa-core Gaming processor up to 2.05GHz can run it smoother than a hot knife through butter. The ARM Mali-G76 can enhance the overall gaming experience. But what do you do when your gaming experience is interrupted by your device getting heated up, and so you have to set it aside to let it cool for a while? Worry no more! realme's powerful Helio G95 Processor is equipped with a Superb Carbon Fibre Cooling System that offers a cooling up to 8.6% to level up the performance. The mighty 5000mAh Battery supporting 30W Dart Charge can offer you a solid 9 Hours of Gaming time. Now, you've found a pretty cool Gaming device for your needs. The realme 7 Price in India is 14,999 (6GBRAM/64GBROM) & 16,999 (8GBRAM/128GBROM). Buy realme 7 Online from the Poorvika Website today and make the most out of the 2 Hour Delivery optio
Redmi Note 9 Pro Max:
Redmi has effectively contributed to the series of Gaming Smartphones in the year 2020 to stay competitive. The Redmi Note 9 Pro Ma, being a Flagship version of the Redmi Note series, is an absolute Gaming Smartphone with the integration of technologies to offer a smooth experience. The 6.67″ FHD+ DotDisplay with FHD+ Resolution and 20:9 Aspect ratio contributes to the perfect display protected by a Corning Gorilla Glass 5. Qualcomm's Snapdragon 720G with Select Elite Gaming Features and Qualcomm's Adreno 618 GPU have taken a dedicated position in this device for an enhanced Gaming Experience. Immerse yourself in the Gaming World and feel its power with this extraordinary device today. The huge 5020mAh Battery can be juiced up with 33W Fast Charging in no time to offer you a whopping 11 hours of non-stop PUBG time. The Redmi Note 9 Pro Max Price in India is Rs.17,499 (6GB/64GB), Rs.18,999 (6GB/128GB), and Rs.20,499 (8GB/128GB). Buy Redmi Note 9 Pro Max Online from the Poorvika Website today and make the most out of the 2 Hour Delivery option.
Oppo A52:
Oppo, a Tech Leader in delivering a Top-class Camera in its smartphones, has also contributed to crafting one of the best gaming smartphones and making it to one in the top Gaming Smartphones list this year. With the 6.5″ FHD+ High-resolution Display and Neo Design and sleek appearance, a clearer vivid, and immersive viewing experience is attained while playing games. The integration of the mighty Qualcomm Snapdragon 665 Octa-Core processor and Adreno 610 GPU with Hyper Boost immediately lets you feel that evident Performance Boost and makes sure it runs smoothly. Take on non stop waves and waves of enemy forces, as the 5000mAh monstrous Battery with 18W Fast charging reduces your charging time and increases your gaming time. The Dual Stereo Speakers and Dirac 2.0 Sound effect let you experience every rev of that Lamborghini Veneno as you tear up the track lap after lap with an audio experience that's just top of the line. The Oppo A52 Price in India is 13,990. Buy Oppo A52 Online from the Poorvika Website today and make the most out of the 2 Hour Delivery option.
Oppo F17:
The Oppo F17, another masterpiece in the Gaming Smartphones of 2020 features an Ultra-Sleek Leather-feel body to feel the Luxury. The 6.44″ AMOLED Display with a screen resolution of 2400*1080P at 408PPI Pixel Density is truly stunning in terms of its visual display. Worry not about your Boss' messages when you're immersed in the climax mission or that cut scene of Call of Duty. The Bullet notifications on the screen head, along with a floating chat window, make sure you don't float away from the game, resulting in minimum distraction. The Qualcomm Snapdragon 662 Octa-core processor up to 2 GHz powers the smartphone to offer a smooth gaming experience. Play, Play and Play all day with the majestic 4015mAh Battery and 30W VOOC Flash charge 4.0. The Smartphone's Luxurious looks lie in its lush color variants like Navy Blue, Classic Silver, and Dynamic Orange. The Oppo F17 Price in India is 16,990. Buy Oppo F17 Online from the Poorvika Website today and get delivered to your doorstep with the 2 Hour Delivery option
Vivo Y50:
Vivo's Y Series smartphones have notably been the best-selling smartphone in the market, and the Vivo Y50 is no minor exception. The Vivo Y50 delivers an immersive visual experience with its 6.53″ iView FHD+ resolution Display. This smartphone's powerful performance is offered by the Qualcomm Snapdragon 665 Octa-core Processor with Adreno 610 GPU. Additionally, the Multi Turbo 3.0 improves speed and boosts the performance 20% faster. Running out of charge is a thing of the past with this phone, as the power-packed 5000mAh Battery can keep your phone running all day like you had a cheat code for unlimited power. Now that a spec, built to enjoy high-quality games hassle-free. The Vivo Y50 Price in India is 16,490. Buy Vivo Y50 Online from the Poorvika Website today and get it delivered to your doorstep with the 2 Hour Delivery option
With Christmas around the corner, it is the season of gifts. So be your own Santa this year and gift yourself your favorite device from this list. Hurry and hop on to the Poorvika Website before the deals run out and get your order delivered to your doorstep with the 2 Hour Delivery option!!! Merry Christmas.