19 Dec 2020
Best Hair Dryers and Hair Straighteners from Philips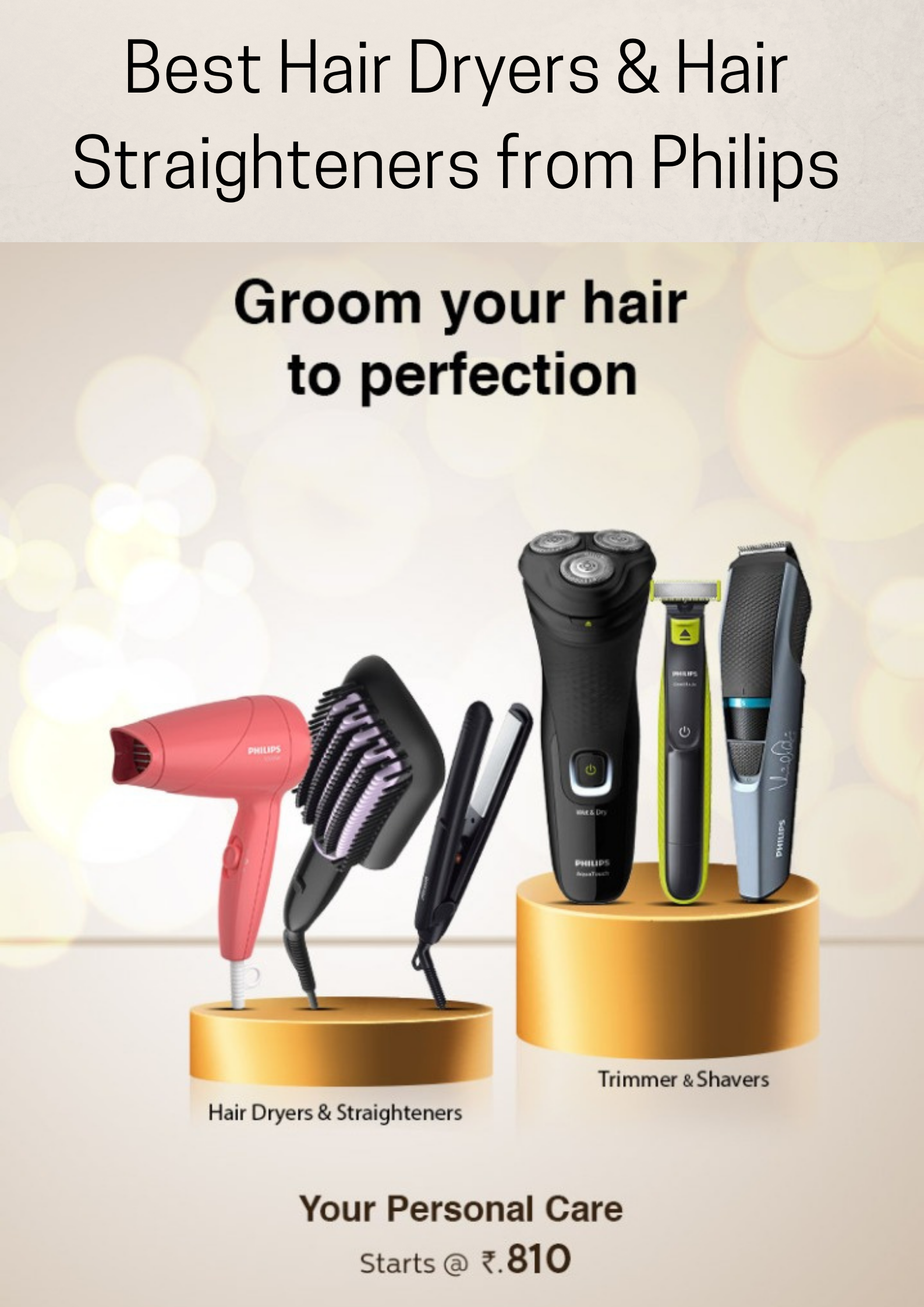 Hello, all you fashionistas out there! With the Festive season around the corner, it's time to groom yourself to look attractive on the big day and we all know those classy and ethnic outfits demand an attractive and stylish hairdo to go along with them. You can now leave your worries behind as Poorvika has proudly launched personal health care products from Philips, the leading brand in Personal Care.
PHILIPS HAIR DRYER:
As our schedules pile up in this fast-forward era, time is of the essence. Spending your time efficiently on grooming seems nearly impossible. Washing your hair and drying it eats up nearly half of your day, but worry not! We got it covered. We are now offering the best of Hair Dryers from the leading Health Technology brand, Philips. The best Philips Hair Dryers include HP8120/00 and HP8144/06.
PHILIPS HP8120/00 HAIR DRYER:
The Philips HP8120/00 Hair Dryer comes in a White and Pink color gradient with a Lilac Rain design. This life-saving device comes with a folding handle to enhance portability and fits into any space. The device offers three predefined drying settings – Cool, Caring, and Quick Drying. Coming with a cord length of 1.5m and a storage hook, it is hassle-free to handle. Get this hassle-free lifesaver at just ₹1,100 at Poorvika Online.
PHILIPS HP8144/06 HAIR DRYER:
The Philips HP8144/06 Hair Dryer comes in a Peach colored variant throughout with an ergonomic design and a storage hook. The device optimizes drying by offering two-speed settings to facilitate your varying needs. The dryer consumes 1000W power and operates at 220-240V. Get the Philips HP8144/06 Hair Dryer for just ₹875 at Poorvika Online.
PHILIPS HAIR STRAIGHTENERS:
Are you avoiding your favorite wedding events just because your hair doesn't set in the style you want?! Are you tired of your frizzy hair during traveling?! And to top it all off, your salon is booked to the brim with appointments?! Worry not! Now, you can quickly straighten your curls to look silky smooth and never have to miss another event! We at Poorvika have two best-selling Hair Straighteners with exceptional features from Philips, namely the BHH880/10 and HP8303/06 in the house for you! The detailed features of the Philips Hair Straighteners are as follows,
PHILIPS HAIR STRAIGHTENER BHH880/10:
The Philips Hair Straightener BHH880/10 is a Heated Straightening Brush model that does magic to your frizzy hair by making it straight and shiny in just 5 mins. Thanks to Keratin-Infused Ceramic Coating on the tool that fosters smooth gliding for your hair. Say goodbye to those worries about excess heat on your hair; the SilkPro Care minimizes the heat by maintaining the bristles at an optimized temperature.
The large Paddle shaped brush with a triple bristle design is capable of handling large volumes of hair and protects your scalp. You can also set the temperature (170°C & 200°C) to one that suits your hair type and is programmed to Automatically shut-off after 60mins. Taming your frizzy hair could not get easier than this. At just ₹2899, you can get the Philips Hair Straightener BHH880/10 Poorvika Online and get it delivered to your doorstep with 2 hours Fast Delivery option.
PHILIPS HAIR STRAIGHTENER HP8303/06 (BLACK):
Philips Hair Straightener HP8303/06 comes in a solid matte black that looks cool and sleek to handle. This is the perfect on-the-go device for you to straighten your hair in minutes instantly. The Ceramic plates offer smooth gliding of hair and instantly heats up in 60 seconds. Choose your preferred temperature up to the maximum of 210°C to mold your desired hair shape for a shiny look. Use the device to the max with the swivel cord's help that prevents untangling of hair as you click your favorite selfies.
Own this device for just ₹1,175 from Poorvika Online before the deal runs out. Also, get it delivered to your doorstep with the 2 Hour Fast Delivery option.