19 Dec 2020
Bose Frames Soprano – Latest Smart Wearable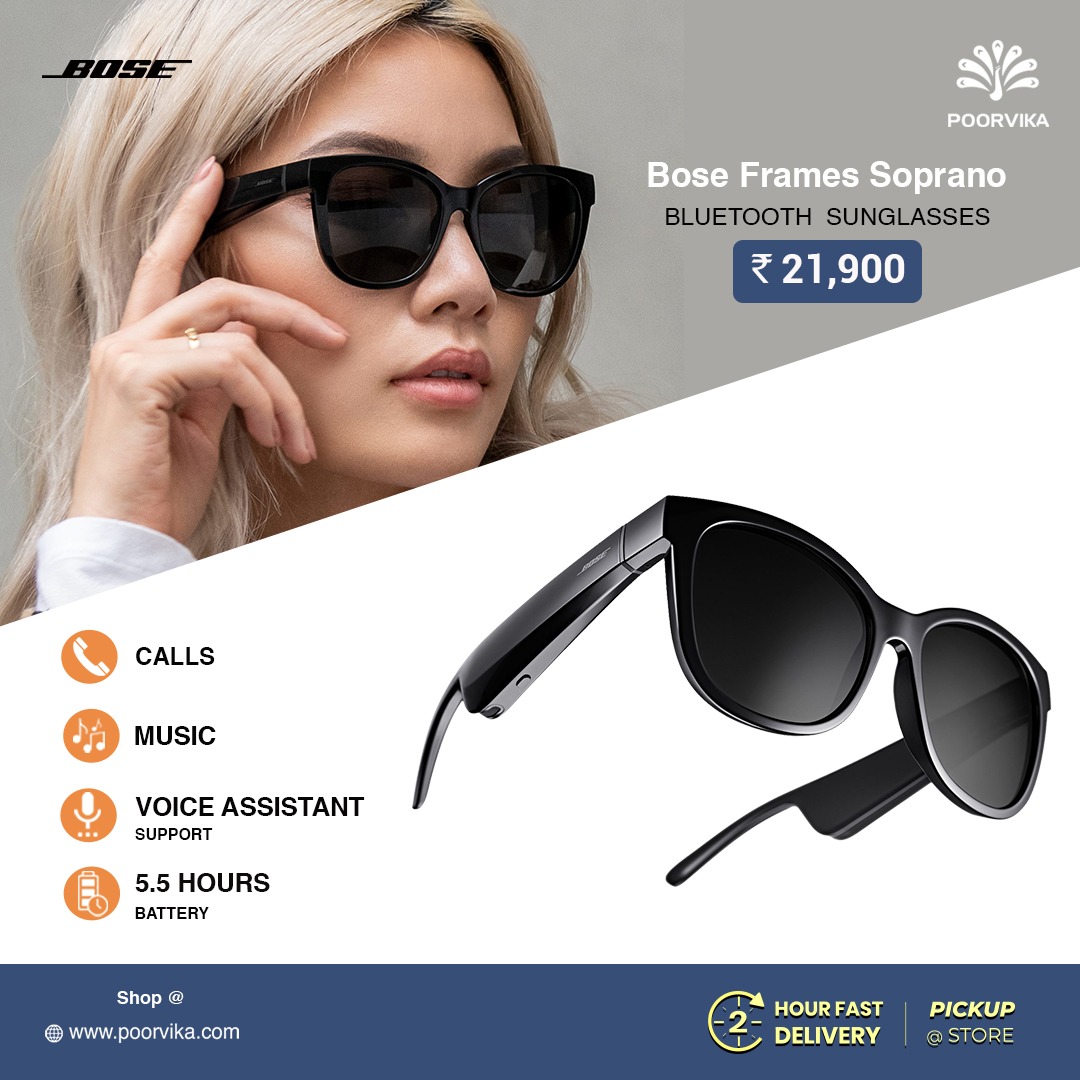 A big Hello to the uber-cool Tech-geeks out there!! It's a big day in exploring the newest technologies by Tech Giants in 2020, as the release of this super-cool device has happened. The blending of different technologies in the field of Smart Technology has always seen us witness the WOW factor and experience the same.
Are you a fashion freak as well as an audio gadgets freak? Are you making sincere efforts to explore new styles and trends in the market as well as ticking your checklists off by acquiring the premium speakers and headphones?! Then this definitely, is a delightful treat for you!!
Bose, an eminent leader in the world of audio technology, has proudly launched Bose Frames Soprano, an Open Ear Audio frame! Wait, what?! YES!! Bose Frames Soprano Bluetooth Audio Sunglasses is a cool polarized Sunglass along with an Open Ear Audio System for intermittent and hassle-free listening with nothing in your ears!! Isn't it interesting?! Let me furnish the brilliant features and functions it possesses!
BUILD QUALITY:
Bose Frames Soprano appears to be an elegant rectangular frame with a high-gloss Black finish look making it extra-cool by enhancing your overall appearance. The sloped browline frame supports polycarbonate polarized lenses, making it completely cat-eye. The overall fit with the usage of premium elements aims at providing a lightweight, smooth, and comfortable experience.
The Open Ear Audio Technology has excellent functionalities that make you go crazy. Thanks to the latest Bluetooth v5.1, you can take calls on the go, pause, play, skip, decline, and power off – all in a single button. Now experience zero disturbance from the surroundings by reducing the noise around you! Personalize your preferable features according to your comfort with the help of the Bose Music App.
CONTROL:
With the highly powerful and sophisticated capacitive touch and an integrated motion sensor, controlling your sunglasses is just a cakewalk. Just slide your finger along the right temple to adjust volume, double-tap to initiate voice assistant, and place it upside down to power off. The frames are of TR-90 Nylon with IPX2 Water Resistant rating. With the custom 4-pin charging cable, charge the sunglasses for just an hour to experience 5.5 hours of uninterrupted usage. Are you a fan of coloured tints?! Bose also is.
Experience the royal Mirrored Rose Gold and an elegant Purple Fade according to your needs! Unboxing the package, you'll find Bose Frames Soprano, Polarised lenses, Carry case, Charging cable, and Cleaning cloth.
AVAILABILITY & PRICE:
Bose Frames price in India is Rs.21,900. Just get these sophisticated Smart Wearable at Poorvika Online and flaunt yourself with your best look!! Order today and get your premium Bose Frames Soprano – Cat-eye Polarized Bluetooth Sunglasses delivered to your doorstep with the 2 Hour Delivery option!!