19 Dec 2020
LG Smart TV – Your central hub of convenience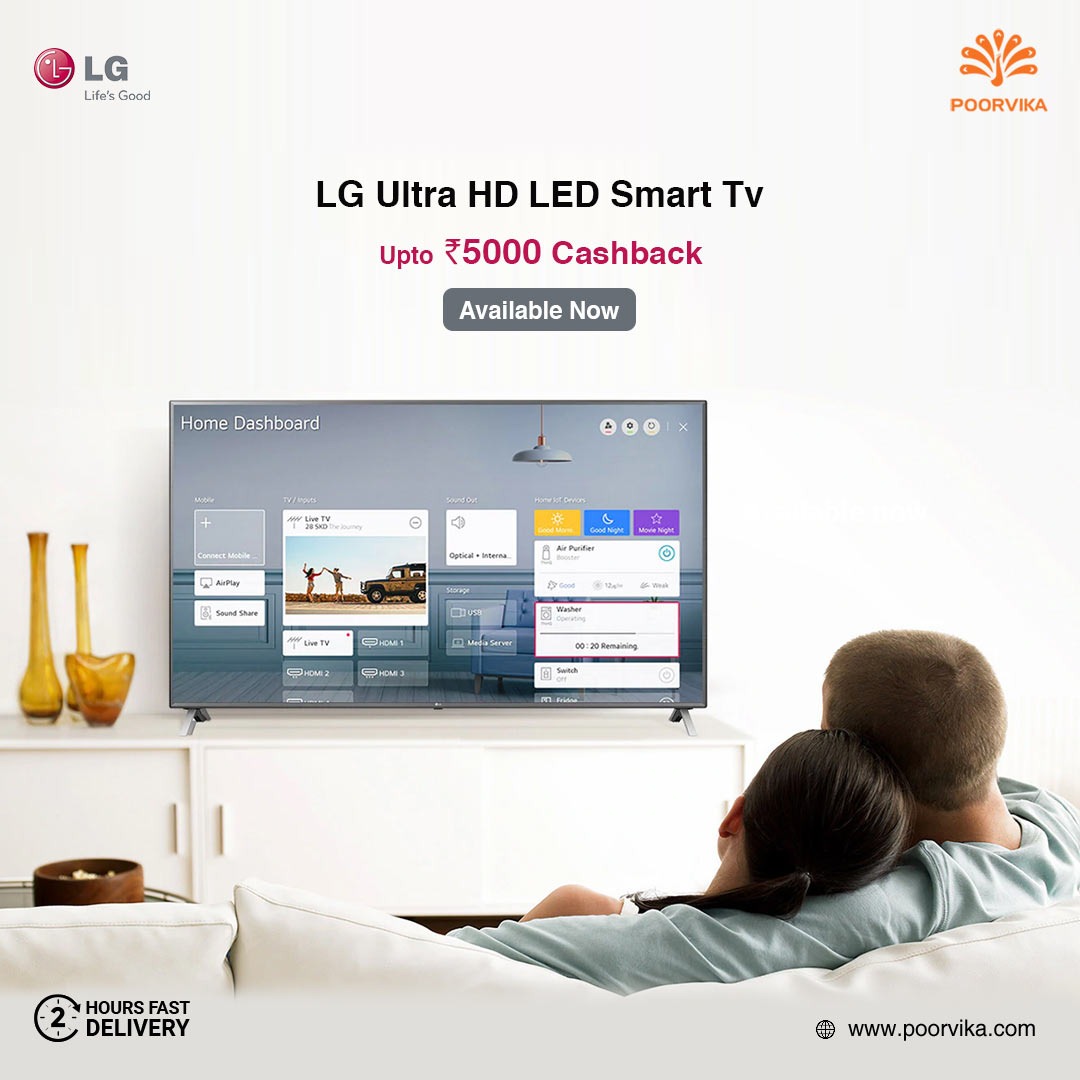 Though we have amazing smartphones and laptops, we still prefer television, as it holds its turf standing as one of the most predominant choices for entertainment. Nothing brings joy quite like fighting for the TV remote with your siblings to watch your favorite channel. In most families, TV is as much a part of the family as the family member itself, and the day is incomplete nearly without watching it. As the demand is high, it is one of the most expensive electronic devices in the market, and knowing if it is the one that actually fits your needs is critical. So here is all the know-how you need regarding one of the best Smart LED TVs – LG 43 inch 4K Ultra HD Smart LED TV.
Watching your favorite movies with popcorn on a big screen from the comfort of your home is something else altogether. Well, if that's all you dream of, grab your comforter and a bucket of popcorn because the LG Smart TV is all ready to fulfill your dream with its 43″ LED display. It comes with a screen resolution of 3840 x 2160 Pixels and an Aspect Ratio of 16:09. It also has a refresh rate of 50Hz. It comes with Natural voice recognition as it is Built-in with Google Assistant & Alexa, which allows you to control your Home IoT ecosystem with just your commands.
The LG 4K TV is the best for all your entertainment needs as it delivers realistic 4K images that is four times the resolution of Full HD. The LG 4k TV is powered by the Quad-Core Processor 4K, which removes video noise and creates a more vibrant color and contrast. Even if your videos are of low quality, it will automatically reproduce the video close to 4K quality. The processor of the TV is designed in a way that it turns off motion smoothing for the full motion picture effect. The multiple virtual audio channels are capable of giving you an immersive sound experience. All these features put together give you a true cinema experience.
With the LG 43 inch 4k Smart TV, you can sit back and enjoy all the latest movies, TV shows, documentaries, live sports, and more as it has access to Disney+ Hotstar, the Apple TV app, Netflix, and Prime Videos. The Smart TV lets you connect two Bluetooth speakers via which you can feel and experience an audio atmosphere unlike any other. We all have come across a situation where we would have badly regretted it after missing our favorite cricket match live on TV. You don't have to regret it anymore. The LG UHD TV has a Sports Alert option, which will notify you before, during, and after the matches.
At the end of the day, we can't deny the fact that everybody loves watching movies at theaters with all our family members at least once in a while. That's a whole different experience. But you can do it every day right from the comfort of your home. Yes, with the all-new LG 4k Smart TV, you can bring the theater home. The LG LED TV 43-inch price in India is Rs.39,999. You can buy the Smart TV from Poorvika online with some most excellent offers we have to and also make the best of the 2 hours delivery to have it delivered right to your doorstep.