19 Dec 2020
Poorvika Diwali special bank offers.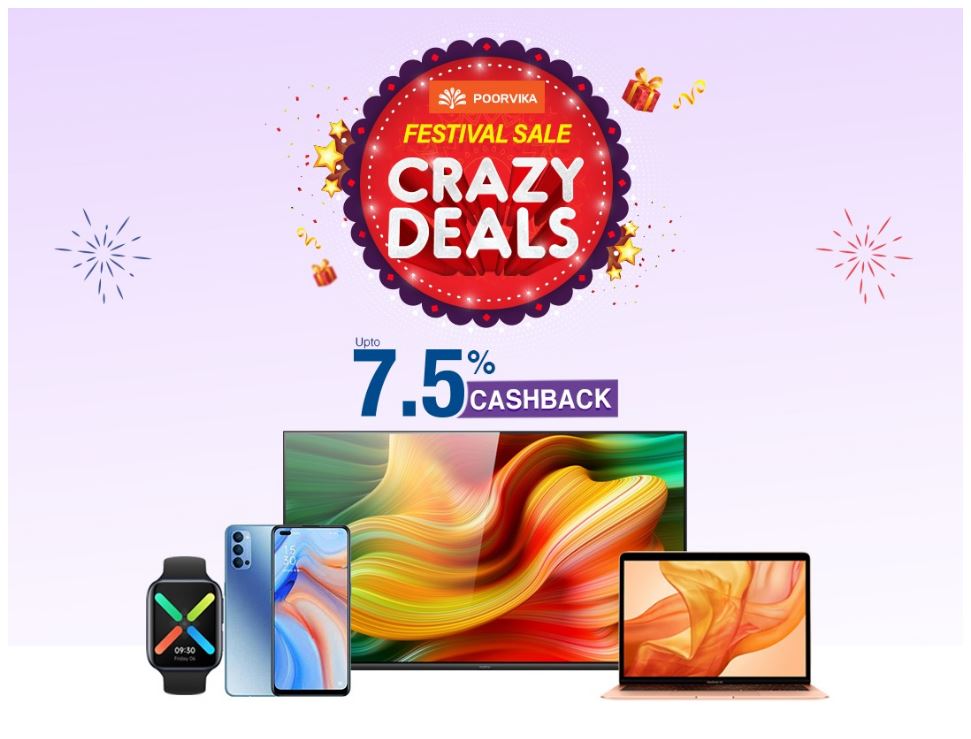 Diwali is right around the corner, and everyone is eagerly waiting to make the most of the festive season. Does it sound exciting? Well, if you need more reasons to be excited,make sure to check out our exciting offers that are guarenteed to sweep you off your feet.

This time around, Poorvika has not only provided offers on products, but also has unbelievable offers on your credit and debit cards. So start shopping today with Poorvika for the best deals such as 7.5% and 5% Cashback on Credit and Debit Card (EMI) and Credit Card (Non-EMI), valid from Oct 1st – Nov 15th, 2020 on all your HDFC Credit and Debit card.
Not an HDFC user customer? Don't worry Poorvika has something for everyone. Shop for your favorite smartphone or other gadgets from Poorvika and avail upto 5% Cashback on your Standard Chartered Credit Card.

Yes, you heard it right, it is raining offers and discounts this Diwali at Poorvika. Use your Bank of Baroda Credit or Debit card to get 5% Cashback on EMI and Non-EMI purchases. This festive season, Take home exciting smartphone, accessories, and gadgets from Poorvika with your RBL Bank Debit or Credit Card to avail 5% Cashback. No, that's not all! We have many more offers waiting for you like 5% cashback on Federal Bank Debit Card (EMI) with your Online purchases. Poorvika gives you a 5% Instant Discount on Credit Card (EMI and Non-EMI) and Debit Card (EMI) for ICICI cardholders.

After all, what are festivals for?
The festival season is for going out, buying new stuff, enjoying, sending gifts to our loved ones, decorating our home, spreading love and joy, and the list doesn't end here. But Poorvika covers you with an array of exciting mind-blowing offers including Rs. 35 and Rs. 80 on RuPay Credit Card and RuPay Debit Card and other UPI payments for both EMI and non-EMI purchases.
Also, keep in mind, the list doesn't end here, Poorvika provides other unbeatable discounts on smartphones, accessories, gadgets, and laptops. Sounds exciting right? then why wait, order your favorite product from Poorvika and get your happiness delivered to your doorstep within 2 Hours thanks to Poorvika's 2 Hours Fast Delivery.