19 Dec 2020
TCL 50″ Smart TV – Features & Specs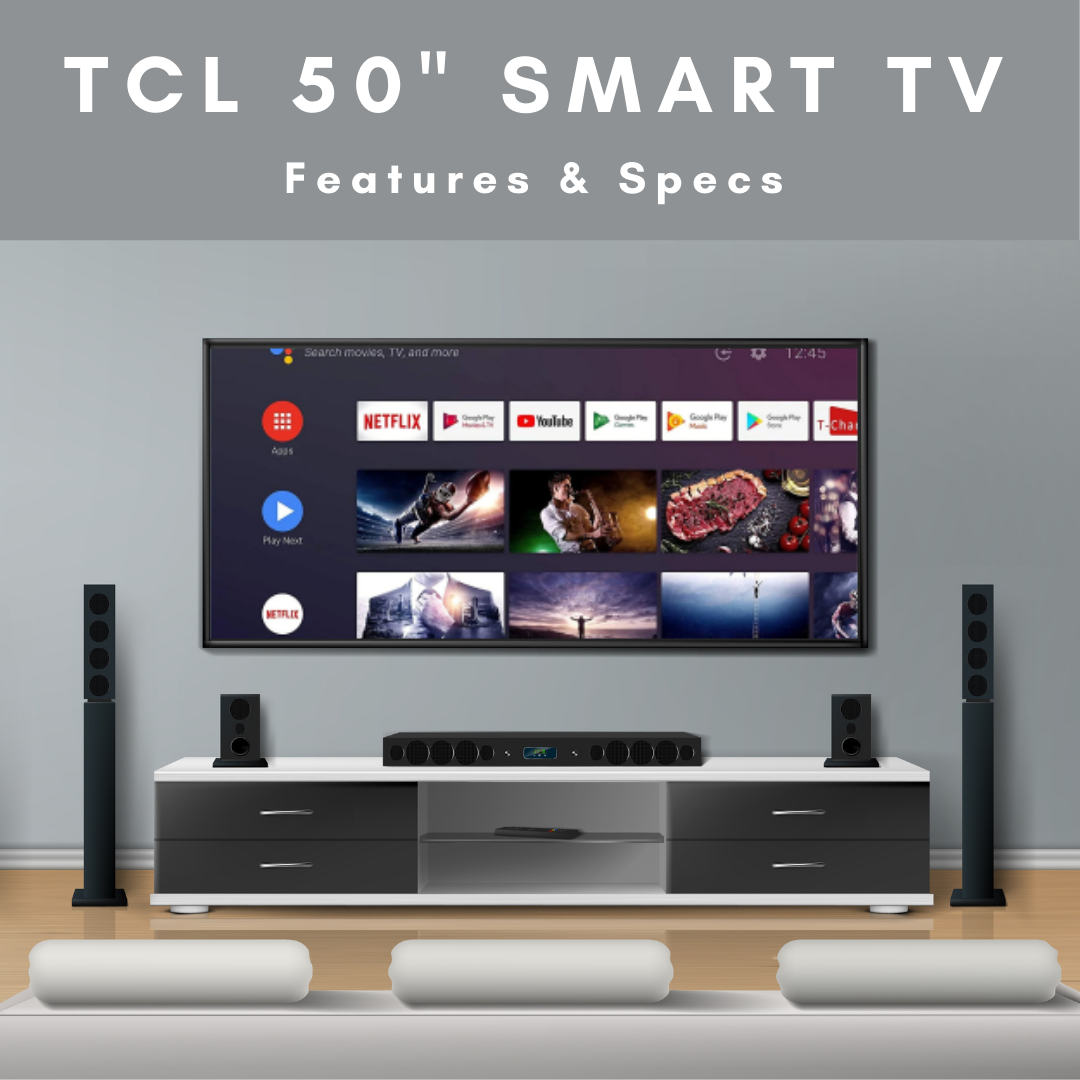 TV's have evolved from its humble beginnings as a little box with a picture tube that played grainy black and white video to our ever-iconic Elvis Presley Performing with a dash of Eastman Color to HD Ready, Full HD, and now recently with Ultra HD. The Ultra HD TV achieves amazing visual excellence with more pixels, crystal clear clarity, greater depth, incredible details, and wider color gamut compared to other smart TVs. If you are planning to buy a new smart TV then your obvious choice should be a UHD TV as it is the best when it comes to present day requirements. But it's not that easy to choose one as the market is flooded with smart featured TV's. These Ultra HD TVs may be a little expensive, but it is money well spent considering all its amazing features. But what are these features? This is exactly what we will be clearing up for you.
Here is everything you need to know about the all-new TCL Smart TV. It comes with a 50″ 4K Ultra HD display with a screen resolution of 3840 x 2160 pixels. It has an Aspect Ratio of 16:9 and a Refresh Rate of 60Hz. The TCL 50″ 4K UHD Smart has four times higher the number of pixels compared to a Full HD TV. Compared to other smart TVs, the TCL UHD LED TV delivers a much higher level of brightness via a unique algorithm to adjust the backlight of the TV panel. When the backlight is adjusted and dimmed, it helps to boost peak brightness. With the TCL UHD Smart Android LED TV, you can experience enhanced image details with vivid colors. It has a Micro Dimming feature that improves picture quality by analyzing TV content in hundreds of separate zones.
The TCL 50 inch Smart TV comes with Dolby technology that optimizes the TV's overall audio quality. It also has two inbuilt Stereo Surrounding Soundbox Speakers at the bottom with a Speaker Output RMS of 20 W supporting Audio Features like MP3, WMA, and AC3. It has a built-in Wi-Fi internet feature. You can now watch all your favorite content as it has access to Netflix, YouTube, among other content streaming platforms.
More often than not, we always end up having to search for the TV remote as we don't remember where we left it last time. But it is a whole different ball game when it comes to a smartphone because we always have it in our hands. Enough reason why the TCL Smart TV comes with an exclusive integrated T-cast feature that helps you to access your smart TV with the help of your smartphone. It also comes with Google Assistant so that you can access it through voice commands. The TCL smart TV 50 inch price in India is Rs.32,990, and you can buy it online at Poorvika with loads of exciting offers and deals that are sure to make your day. Usually, when you go online shopping, you end up having to wait a long time for delivery, but with Poorvika online shopping, you can make the best use of our 2 hours delivery option and have your desired product at your doorstep within 2 hours.