21 Dec 2020
Best Smart Speakers to Buy in 2020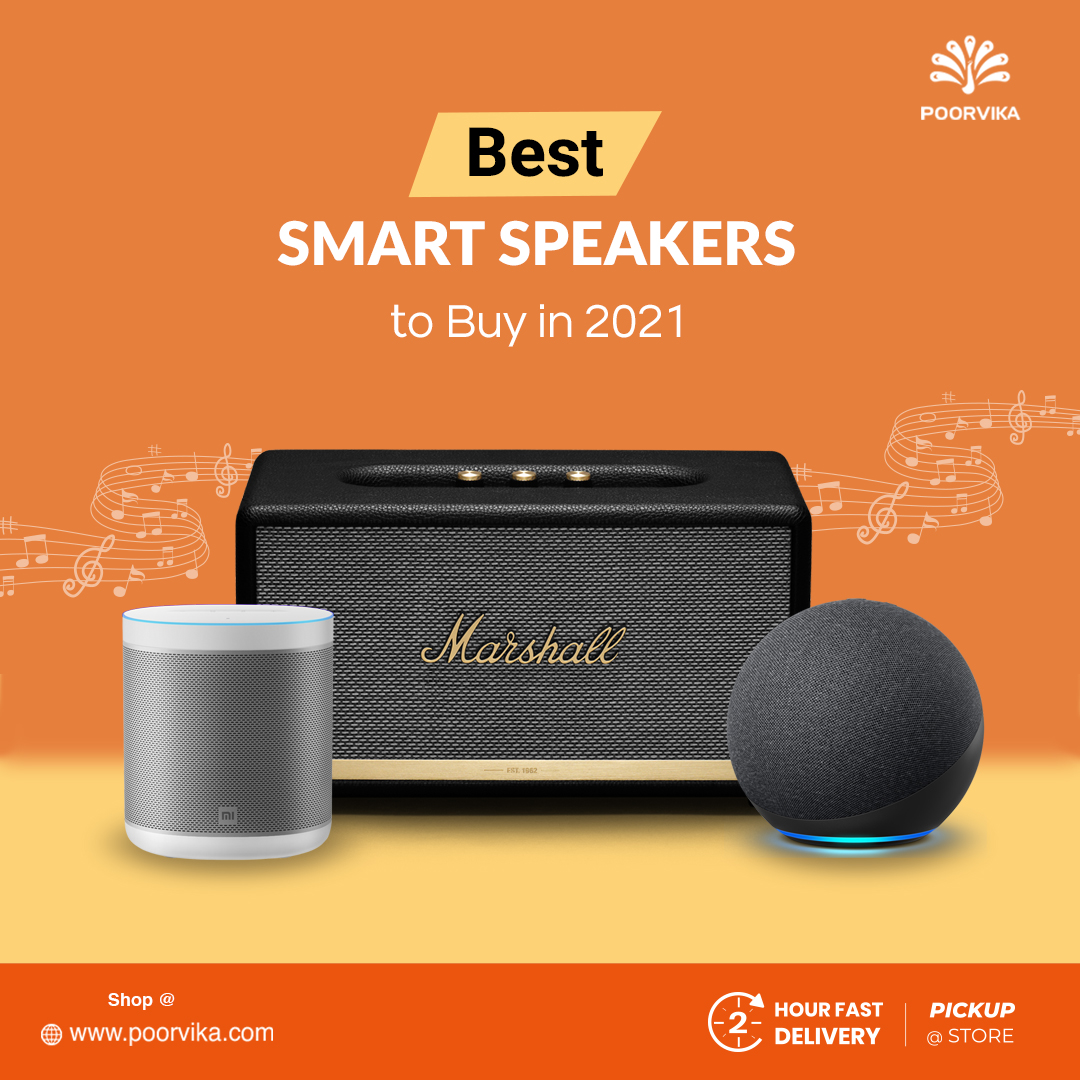 Normal speakers that deliver you music is now getting replaced with the most advanced smart speakers that are more than just speakers. It delivers the best combination of digital assistant and audio performance. Smart speakers will let you play and enjoy brilliant music in outstanding sound quality, and it helps you to control your smart home devices, tells you current news, and keeps you updated with the weather report.
You need not extend your hands to use these features in smart speakers. You just need to give a voice command to your device, and it works on your command as it is inbuilt with the voice assistant.
Check out some extraordinary Smart Speakers in 2020.
MARSHALL STANMORE II VOICE BLUETOOTH SPEAKER:
The Marshall Bluetooth speaker is one of the most versatile speakers in the lineup of Marshall. Are you planning to get a smart speaker for a big room? or planning for a small room? You can close your eyes and shop this device as it is perfect for any room, big or small. The device is coupled with Alexa, and so now you can play and control your music hands-free.
The smart speaker comes with a subwoofer that is the key component to a complete audio system. The subwoofers in the device will elevate your music experience. The Marshall Stanmore 2 speakers usually weigh 4 kg 690 g. These smart speakers do not depend on any kind of battery.
With this smart speaker, you can connect and switch between two Bluetooth devices as it comes with multi-host functionality. When you play music, you can easily control the bass and tribal via the rotating nobs. Marshall is best known for its vast amp range and you will find no distortion at maximum volume. The Marshall Stanmore 2 price in India is Rs.31,999. You can buy Marshall Stanmore 2 online from Poorvika and make the best use of the 2 hours delivery.
Also get to know about the detailed specifications and features of the Marshall Speaker here – Is the Marshall Stanmore II worth buying? The things you need to have a look at!
AMAZON ECHO DOT (4th GENERATION):
The latest Amazon Echo Dot is taken to the next level with the 4th generation technology. The brain behind the Echo Dot is the Alexa that lets you voice control your music and all your smart home devices like lights, ACs, TVs, geysers, and more. You can also increase or decrease the music bass, midrange, and treble of your Echo Dot either with the Alexa voice command or through the Alexa Audio Settings.
You can electronically disconnect the microphones with the microphone off button that is designed to protect the user's privacy. As the device comes with multiple layers of privacy protection it also allows you to view and delete your voice recordings.
The Amazon Echo Dot 4th generation comes with 4 microphones so that Alexa will able to respond to your command from any corner of the room. By getting an Amazon Echo Dot you make your life easier at home. The Echo Dot is available in two different colours like black and blue. Amazon Echo Dot price in India is Rs.4,499. Shop it online from Poorvika and get it delivered in 2 hours with the 2 hours delivery service.
MI SMART SPEAKER:
Mi smart speaker is one of the Powerful smart speakers with a 63.5mm Sound Driver with 12W Output. Let us look at the Mi smart speaker specifications. The device is tuned professionally with DTS sound.
The smart speaker comes with a modern stainless steel metal casing having far-field mics. The device supports connectivity through Wi-Fi & Bluetooth. The speaker comes with Touch Sensitive Buttons for easy user access. The device is based on Android 4.4 and iOS 9.0 operating system. This device lets you play and control music, media, smart devices. It also acts as your Daily Organiser.
The device is integrated with Google Assistant that supports Hindi. The Mi smart speaker comes in an attractive black shade. The Mi smart speaker price in India is Rs.3,999. Buy the Mi smart speaker from Poorvika online with the 2 hour fast delivery.