12 Jan 2021
What is Refresh Rate? Everything you have to know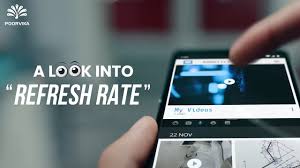 Smooth from the ground up! The refresh rate plays the main role when it comes to a device's display. The refresh rate signifies the number of times the images get refreshed to present a fresh screen. Checking refresh rates were one of the main requirements while we bought gaming PCs a few years back, but higher refresh rates are now a norm for smartphones.
Refresh Rate is a key spice for gaming devices that adds flavor to gaming. With High-fps games gaining traction in mobile devices and more interactive, AI based games popping up these days, manufacturers are developing gaming-centric and graphic-intensive smartphones to compete with other advanced manufacturers in the industry!
Having a speedy 60Hz refresh rate was the norm even in some of the industry-leading flagships for a while. But, now? We get devices on a budget with higher refresh-rates of 90Hz, 120 Hz, and 144 Hz. A phenomenal, first-of-its-kind refresh rate of 160Hz on a smartphone is still in the testing phase, but there are rumors running around the block that the upcoming Asus Rog Phone 3 has a refresh rate of 160Hz as its surprise hidden feature. But yeah, as performer official releases, it's still in the testing phase.
Refresh rate is a major phenomenon that enhances your viewing experience and lets you play high-fps games without interruptions backed by a good processor. Most devices in the current market provide options to switch between a given refresh rate to a lower one to save batteries and improve performance, for example, a 90Hz can be switched to 60Hz and still be clean with vibrant details. Refresh rate consumes a lot of power, so if you drain out of battery, just go to settings and adjust thhe device's refresh rate to save more energy.
Looking for a smartphone with reasonable refresh rate? Read the blog further to find out our suggestions
1, Mi 10T Pro 5G Specifications:
The Mi 10T smartphone has an extraordinary flagship display with advanced eye protection and an ultra-smooth finish. The Mi 10T 5G has refresh rates from 30Hz to 120Hz that lets you games on for hours and change them based on your needs. The Mi 10T Pro 5G Price in India is Rs.40,999.
2, OnePlus 8 Pro Specifications:
Swipe through the OnePlus 8 Pro like the wind with a 120Hz refresh rate. Paired up with the 6.78″ QHD+ display, the device makes you fall in love at the first swipe. Swiping and scrolling through the device feels smooth and effortless while switching between tasks. It comes with a Fluid Engine that ensures the content flows seamlessly from frame to frame. The OnePlus 8 Pro Price in India starts from Rs.54,999.
3, Samsung Galaxy S20 Ultra Specifications:
This high-responsive smartphone comes with a 6.9″ Dynamic AMOLED 2x display with a refresh rate of 120Hz. The Phone's display has 1440x3200pixels resolution, a 20:9 aspect ratio, and uupto 1400 nits of peak brightness. The Samsung Galaxy S20 Ultra Price in India is Rs. 77,999
4, Realme X50 Pro 5G Specifications:
The device comes with a 90Hz super AMOLED display with a 92% screen-to-body ratio. It has a 6.44″ Super AMOLED capacitive touchscreen display with Corning Gorilla Glass v5 protection. The Realme X50 Pro 5G Price in India is Rs.47,999.
Go for the device with a refresh rate backed by the right kind of battery and processors that suit your needs. Visit Poorvika's website where you can find a smartphone that fits you with tonnes of offers. Order them online and get them delivered at your doorsteps with our 2 hours delivery service.