18 Jan 2021
Apple Watch Series 6 – All you need to know!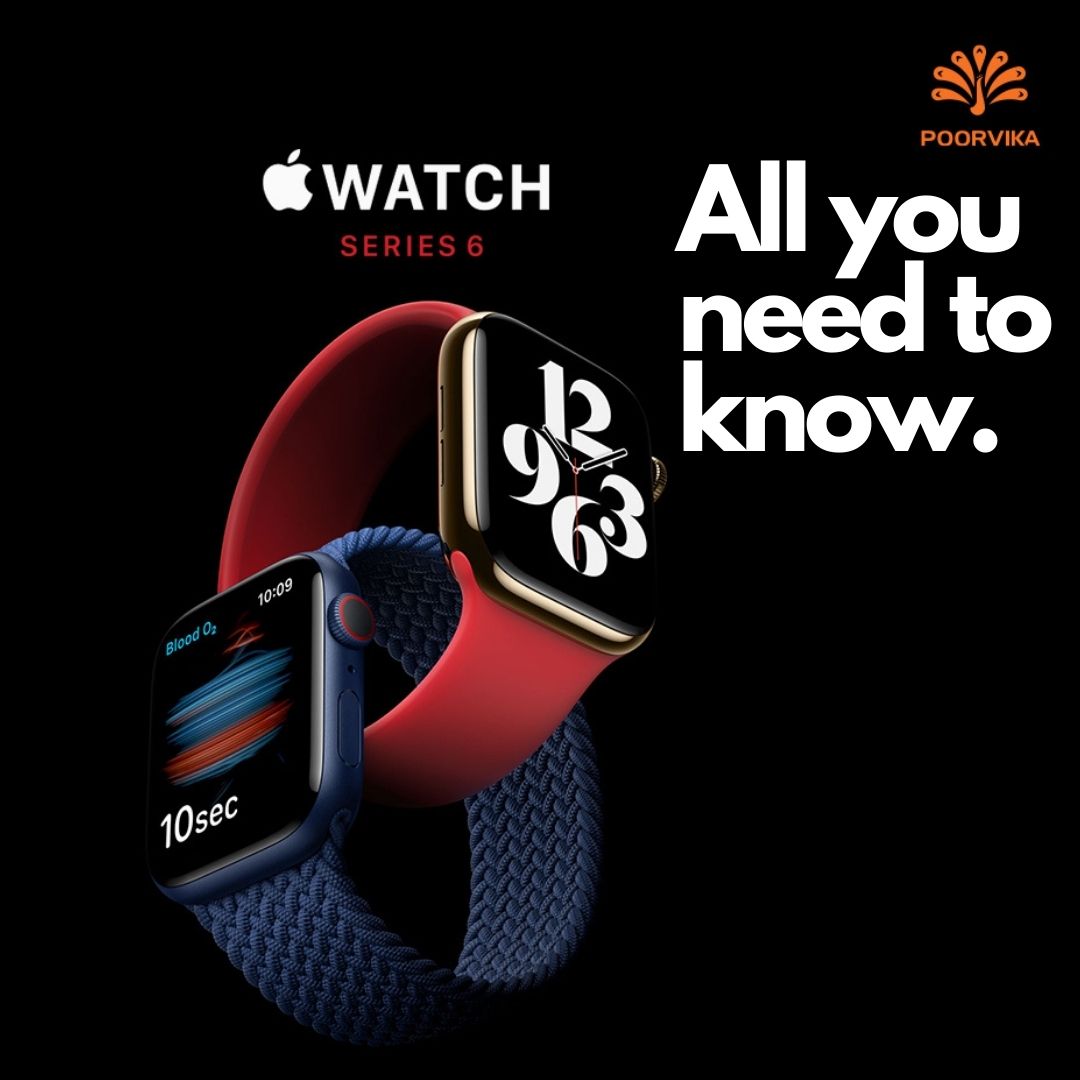 During their recent launch event, Apple unveiled its newest range of devices, amongst which the Apple Watch Series 6 made an entrance as well. In this blog, we'll look at what Apple has to bring to the table with their new Apple watch. At first glance, the device doesn't look any different from its predecessors. That would probably be the case because Apple doesn't really reinvent the wheel, but would rather just add a couple of new features into their previous model and send it out. So what did Apple add in around this time?
Apple Watch Series 6 Specifications:
The Apple Watch Series 6 comes with a 1.78″ LTPO Always On Retina Display that is significantly brighter than the Series 5. This feature allows for better visibility of the screen outdoors, especially in bright daylight. The build of the Series 6 is quite solid as usual with Apple providing their consumers an array of build materials to choose from like Stainless Steel, Titanium, and even 100 percent fully recycled Aluminium. The display has a sapphire crystal glass to protect it from harm.
The Apple Watch Series 6 comes with 1GB RAM and 32GB of Internal Storage, which comes in handy to store your music playlist and other content. What really takes the cake, is the updated S6 SOC that Apple has implemented into the Apple Watch Series 6. The S6 Chipset is based upon the A13 Bionic that powers the iPhone 11. It offers the same 18 hour all-day power reserve but is now 20 percent faster thanks to the efficiency of the S6 SOC. This, in turn, allows apps to open 20 percent faster, translating into much better responsiveness.
In addition to all this, Apple has packed the device to the brim with health-related features and applications, much to the delight of fitness-savvy individuals. Its latest feature is a Blood Oxygen Saturation Monitoring system that uses infrared LEDs positioned on the bottom of the watch to reflect light off the blood vessels in your wrist. The amount of reflected light is then picked up by photodiodes that converts this information into data to calculate the Blood Oxygen Level in the wearer's body. It also has an ECG System that measures your heart rate and signs of Atrial Fibrillation. Apple has cleverly integrated a sensor on the crown of the dial on the side of the watch where the user can place their finger to get a quick ECG reading at any point in time.
A host of other features like Sleep Tracker to track sleep patterns, Always on Altimeter that gives you live altitude data, Water and Swim Proof and even calling Emergency Services with an SOS if you've had a serious fall, among other features, make it a device that's been given some serious thought. It comes with Multiple easily interchangeable Strap options, colors and customizations as extensive as its list of features, making this a device to "watch" out for.
You can now get this feature-packed Apple Series 6 smartwatch from Poorvika at just ₹40,900 and have it delivered to your doorstep real fast with our 2 Hour Delivery Service. Make the most of our Republic Day Offers from available from 20th Jan to the 26th 2021