18 Jan 2021
Smartphones with best night mode camera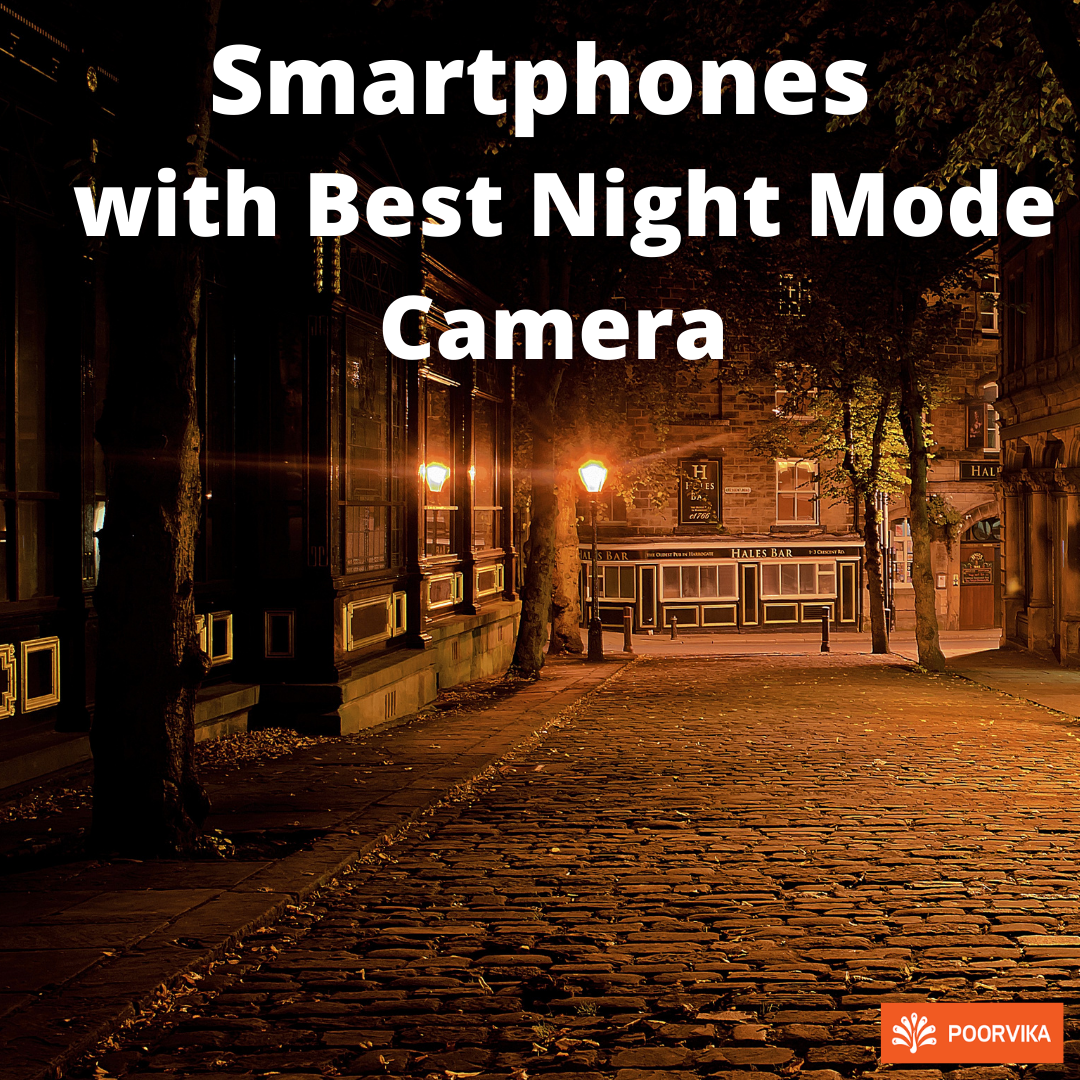 Are you the one who loves to snap pictures after dusk, looking for a phone that offers best night photography, Here we will discuss about the smartphones that offer best night mode in the industry.
Apple iPhone 12 Pro
Undeniably it is the fastest smartphone in the market. But if you think 11 trillion operations have got nothing to do with camera quality, you are wrong. New Image Signal Processing paves way to record Dolby Vision video recording. Sounds great right? Does it just sound or is it actually great? We will answer it for you.
The market is flooded with smartphones that can record HDR 10. It is in real world we can find the real difference between HDR 10 and Dolby Vision. Though both offer great control over color. Dolby Vision vigorously milks by offering specific instructions for every scene of the recorded video. This feature has narrowed the gap between reality and snapped images.
The sensor size of primary lens is1.7µ and all the lenses of iPhone 12 pro supports Deep Fusion, Night Mode. iPhone 12 pro is equipped with a LiDAR which greatly aids in producing outstanding Autofocus. It is a scanner that works on independent automated laser illumination which even NASA uses to create weather maps.
Exposure is bright and brilliant, even in pitch dark noise levels were barely noticeable. Grains in shots clicked during nighttime were definitely overdosed.
Shooting using RAW is definitely a tough nut to be cracked. But once cracked, it is going to be your everyday snack. Equipping all these sensors will have been only a dream without Bionic A14.Apple iPhone 12 Pro price in India is Rs.119,900. Order online from Porvika and get it delivered through our 2 hour delivery.
Samsung Galaxy S20 Ultra
Undoubtedly this is the best Android smartphone in the market. Jim Rohn says "You are the average of the five people you spend the most time with." The question, Is he right or not? is entirely debatable.
But the noted fact is, you cannot become the best through accumulation but through improvisation. Compared to the predecessor of S20, Samsung has entirely changed the scenario by equipping a quad camera setup like never before.
It flaunts a 100X Space Zoom allowing to reach ranges that has never been reached by any other camera. On paper, Samsung claims to have tripled the sensor size. As per the claim, night shots have drastically improved.
Without even turning on Night Mode S20 while we snapped shots by turning on Auto Flash. You know what? Color and detail levels were fantastic.
Initially we thought dynamic range can be better than this but after turning on Night Mode, dynamic range of the pictures stunned us, while stretch your thumb and the index finger on the Quad HD AMOLED display of GALAXY S20 noise level was clearly visible on street light shots. Samsung S20 Ultra price in India is Rs. 77,999. Order it from Poorvika and get it delivered through our 2 hour delivery.
Samsung Galaxy NOTE 20 Ultra 5G
Note series smartphones have never performed in contrary to our expectations. Like Muhammad Ali said 'It ain't bragging if you can back it up.' This will be the most appropriate tagline for this phone's Camera performance at Night.
Specifications are almost similar to its sibling Galaxy S20 but not the. After we vigorously shot countless pictures using Galaxy Note 20 Ultra exposure and color of the images shot in dark was a visual treat to the beholder's eyes and the quality of the images were phenomenal.
Laser autofocus does everything for you to focus on the subject making you just touch the small white circle on the display of your Galaxy Note 20 Ultra. At certain instances, auto flash can be annoying under because flash comes at the expense of underexposing background.
Once Night Mode is turned on, 108MP lens and its mighty f/1.8 aperture allows more light to the sensor which yields more exposure and without adding much noise to the images. Galaxy Note 20 Ultra 5G price in India is Rs.104,999. Order it from Poorvika and get it delivered home through our 2 hour delivery.
Vivo X50 Pro
Ever seen a meme with this saying. Everyone's gangster until the real gangster arrives. In 2020 the market is flooded with a lot of great smartphones but not every phone can snap great pictures at dusk.
This smartphone from Vivo is one such phone that can effortlessly capture brilliant photos at dusk. It flaunts a massive f/1.6 aperture. Gone are the days where photography was all about Sensor size, Quslity of lens and ISP (Image Signal Processing).
Whatever may be the requirements Vivo has made AI algorithm dynamically to ensure that shots leave no place for improvement. What makes it the real gangster? it is after extensive usage of X50 Pro we have affirmed this as a real gangster. We were not introduced to directly taught Calculus most of us will have spent our childhood by repeatedly attempting to count the stars. Through X50 Pro, Vivo gives us an opportunity to experience our Childhood at our convenience. Vivo X50 Pro price in India is Rs.49,990. Order it online or visit our stores to buy X50 Pro at Poorvika Mobiles. By availing our 2 hour delivery get your products delivered home within 2 hours.