18 Jan 2021
Is iPhone 12 mini 2020 worth buying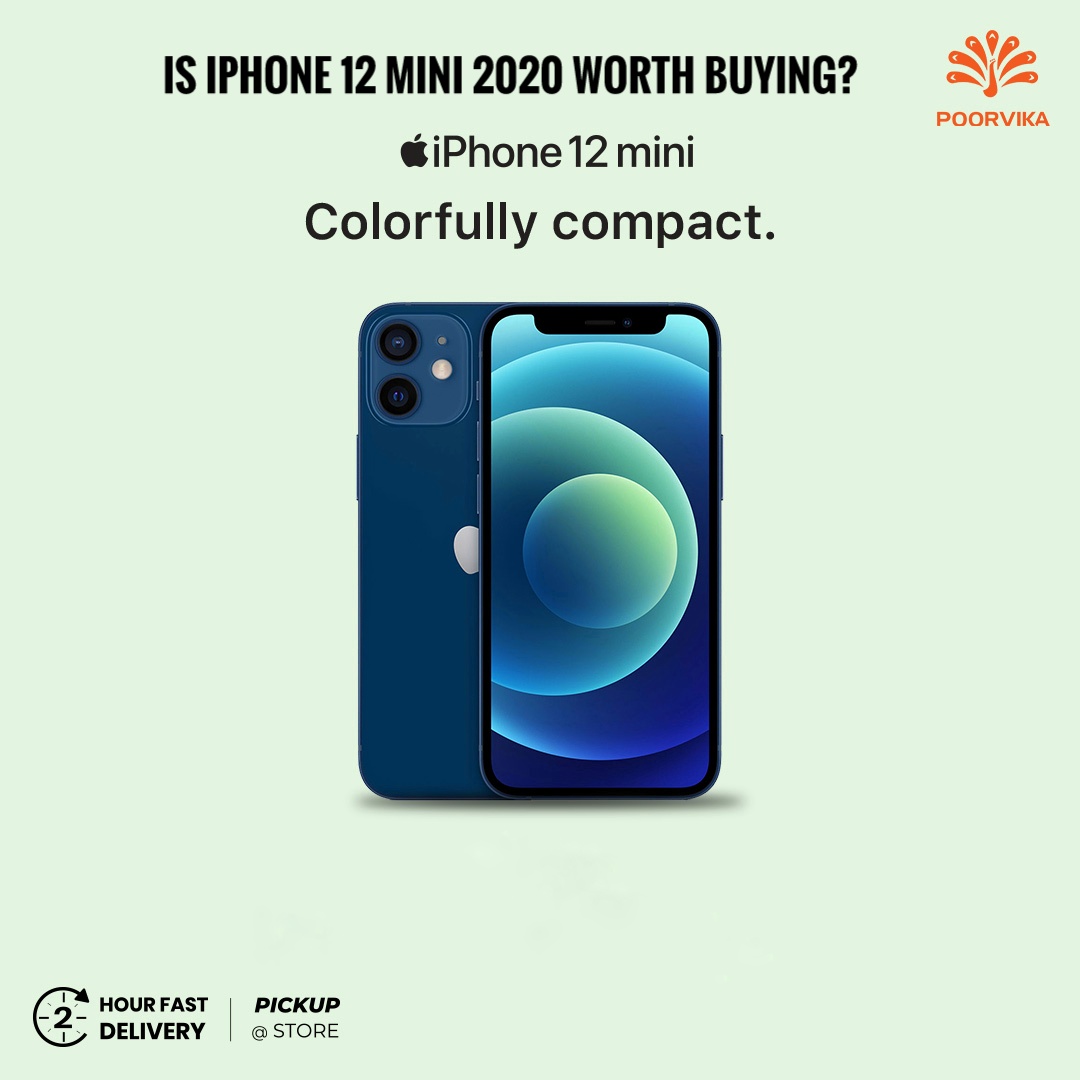 iPhone 12 mini enters the market with a bash and a catchy tagline of 'Mini but mighty'. Though it is mini, it rivals with all the big boys in the hood. Is the tagline just a marketing gimmick? Or fact We will answer it for you. It will be absolutely biased, to begin with, a definite answer, so let us explain to you the features of iPhone 12 mini just to be honest.
Why is it then named as iPhone 12 mini? To be precise, it is only because of its sibling iPhone 12. iPhone 12 mini is not exactly old wine in a new bottle but instead, it is new wine in a small bottle. This must be the appropriate analogy to spot the differences between iPhone 12 & iPhone 12 mini.
However, it is not just size there many differences between the two phones as well. We have also provided an in-depth review of iPhone 12 pro. You believe what you see this is a universal saying. And to an extent it is right. What is the first thing you notice when you hold a smartphone? Obviously display right?
Display
If the smartphone has an amazing display it is more than enough to bring a curve to your lip and hold the phone rather than instantly placing it somewhere. Traditionally Apple has fooled Customers by using this Retina which is no different from LCD. iPhone 12 mini brings a Super Retina XDR OLED display.
Each pixel of OLED display can emit its own light which obviously means better control over colors, more detailed pictures. For HDR content, brightness level reaches 1200 nits and the pixel density is 476 ppi (pixels per inch). Aspect ratio of iPhone 12 mini is 19.5:9 with a screen-to-body ratio of 85.1 %, and the resolution is (1080 x 2340). Because of all these top-notch specifications, visual experience of the 5.4-inch display of iPhone 12 is blissful.
Chipset & Variants
It is powered by Bionic A14, a 5nm (nanometer) chipset claimed to perform 11 trillion operations per second by the company. A whopping score of 589616 from AnTuTu also concretely affirms the claim made by Apple. It is available in three different variants of ROM. 4GB RAM/64GB ROM, 4GBRAM/128GB ROM, 4GB RAM/256GB ROM. UI is knitted based on iOS 14, it unlocks several features that iOS lacked for ages.
Camera
It has a dual-camera setup capable of shooting 4k videos at 24/30/60 fps and a dual-tone LED flash on the rear. Sensor size of each lens is 12MP. Primary lens features an aperture size of f/1.6 and the second lens is 120° with an aperture size of f/2.4. It comes with a 12MP camera on the front which can also shoot 4k videos at 24/30/60 frames per second. It is sandwiched using a 2227 mAh Lithium-Ion battery that supports 20W fast charging. The 12 mini comes in 5 different colors named PRODUCT (RED), Blue, Black, Green, White. 64GB ROM variant of iPhone 12 mini is price in India Rs. 67,900 and 256GB ROM variant is priced Rs. 82,900 at Poorvika.
Verdict
Now it is time to answer the question Is it worth buying? The answer is definitely yeah. It offers more than what even many Android flagships offer. At the price of an Android flagship, you can buy the fastest ever smartphone available in the market. Buy iPhone 12 mini Online and get it delivered to your home through our 2 hour delivery service.