19 Jan 2021
BoAt Airdopes 443 Earbuds with IWP Technology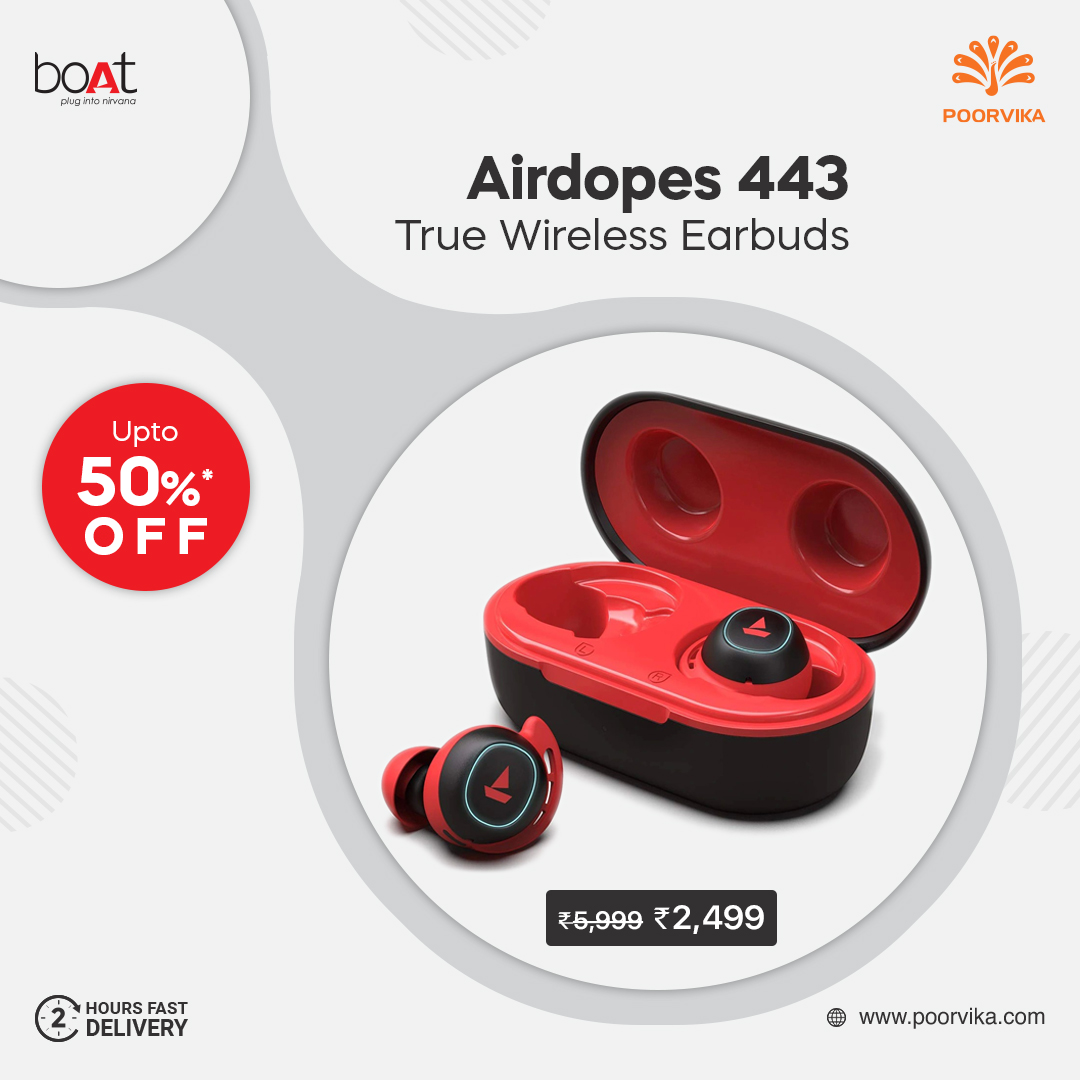 Though there are giant speakers that produce outstanding sound quality, why do we prefer headphones? Especially why are TWS Earbuds so popular? Is there something special about it? Yes, these earbuds give you complete freedom to move even while wearing them as it is truly wireless. This may be the top reason for the TWS earbuds to be the current best-selling headphones.
The boAt has come up with a new masterpiece – BoAt Airdopes 443 TWS Ear-Buds that will rule TWS Earbuds' platform. The BoAt Airdopes 443 lets you enjoy the music in a truly wireless way as it comes with Deep Bass and HD sound quality. It supports an audio frequency of between 20Hz to 20KHz. It is beautifully designed with Touch Controls through which you can easily activate the Instant Voice Assistant.
Let it be headphones, mobiles, or any other gadgets; we always fear dropping them in water, and finally, the device gets damaged. But in the case of BoAt true wireless, you need not worry about water or sweat damage as it comes with IPX7 Water & Sweat Resistance. It supports connectivity through Bluetooth Version v5.0 with a range of 10m. You can experience immersive sound with the BoAt Airdopes 443 as it is equipped with 6mm drivers.
The BoAt earbuds comprise a Sports-friendly design that supports an (IWP) Insta Wake N' Pair technology. With this technology, as soon as you open the charging case's lid, the earbud's power turns on, and it enters into the connection mode. It also has a Microphone and a LED indicator. The battery of the device is made with Lithium Polymer. The earbuds have a Battery Capacity of 35 mAh x 2, and the Charging Case has a Battery Capacity of 500 mAh. You can now enjoy continuous music for 5 hours with a charging time of 1.5 hours.
The BoAt Airdopes 443 is now available in two different attractive colors, Black and Red. BoAt Airdopes 443 price in India is Rs.2,199. Buy it from Poorvika online with some great offers. Also, make the best use of the 2 hours delivery option to get your products at your doorstep within 2 hours of order time.