19 Jan 2021
Best battery backup mobile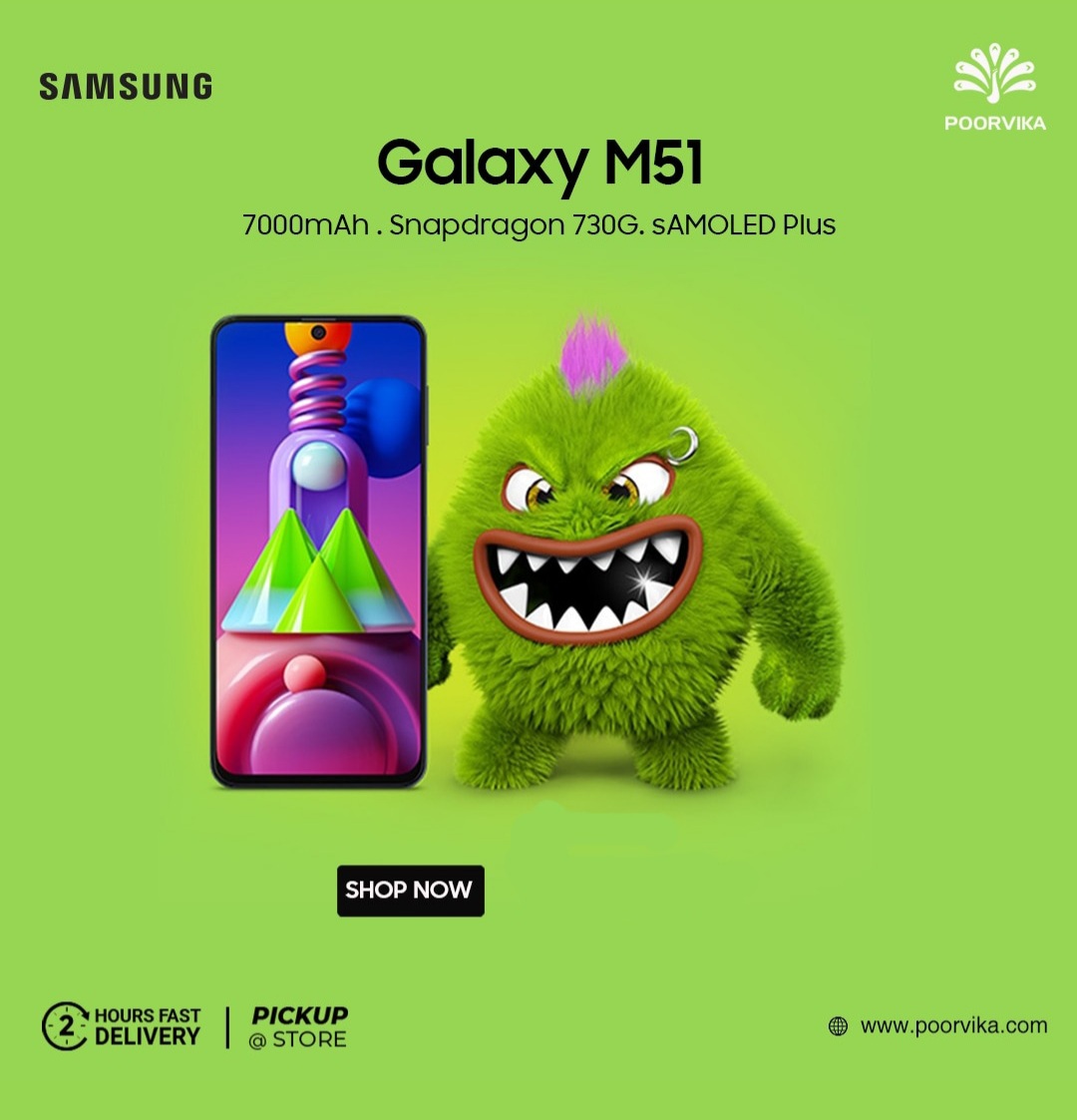 Athletes and smartphone users cannot afford two things. What are they? You are going to say Wow I knew this but didn't realize it all these days. Let us state what it is, and we will comprehend the reason why can't they afford it.
Both cannot afford to have a sluggish start and then outperform others. Bolt losing to Gatlin at London and Galaxy Note 20 Ultra losing speed test to iPhone 12 Pro are the two instances that can be used to concretize our affirmation.
Next thing which both cannot afford is running out of steam. This is the sole reason why notorious Conor McGregor is ridiculed and why he must not have been in the squared circle with the defense wizard Floyd "Money" Mayweather. Though nature of the job remains the same, intensity has surged. We are bringing the best battery backup mobile.
Samsung Galaxy M51
Samsung has used the phrase MEANEST MONSTER EVER. In terms of aesthetics this tagline doesn't fit the Smartphone because a monster is intimidating yet this tagline must be the most appropriate one liner to describe the battery under its Glasstic back panel.
Aesthetically it doesn't differ much from its elder siblings M30S, M31, M21 except for the placement of flash at the rear. Its 8 nanometer Qualcomm Snapdragon 730G refuses to miserly sip battery.
Features:
Sharing the phone's power is now possible by connecting USB Type C to Type C to reverse charge or share your charge to another phone. AMOLED display can illuminate each pixel of the display and doesn't need a backlit so whenever black image needs to be displayed AMOLED display turns off instead of displaying a black color.
To explain the difference in power efficiency between AMOLED vs LCD, an analogy of Drip irrigation and Flood irrigation must be the best. AMOLED is something similar to Drip irrigation since it illuminates only wherever required but LCD illuminates the entire backlit through which the image is displayed.
Apart from a great battery, it flaunts a quad-camera setup on the rear. Dedicated Night Mode greatly interferes to arrest phenomenal low light photographs.
25W fast charger took around 2 hours to fill its ambitious gut was abstemious for two days. So whenever you hold it high, you will be reminded of carrying a Maharaja Mac.
No not at all, we are just kidding ya! Agreed it is heavier than most of the smartphones in the market. It weighs about 213 grams. Currently, it is unarguably the best smartphone in terms of battery backup.
It is available in Electric Blue, Celestial Black colors. Order 6GB RAM/ 128GB ROM variant of Samsung Galaxy M51 price in India is Rs. 23,999 and 8GB RAM/128GB ROM variant of Samsung Galaxy M51 price in India is Rs. 25,399
Buy Samsung Galaxy M51 online from Poorvika Mobiles. Avail our 2 hour delivery to get your products delivered to your home.