19 Jan 2021
Mi Smart Band 5: The Total Spec Sheet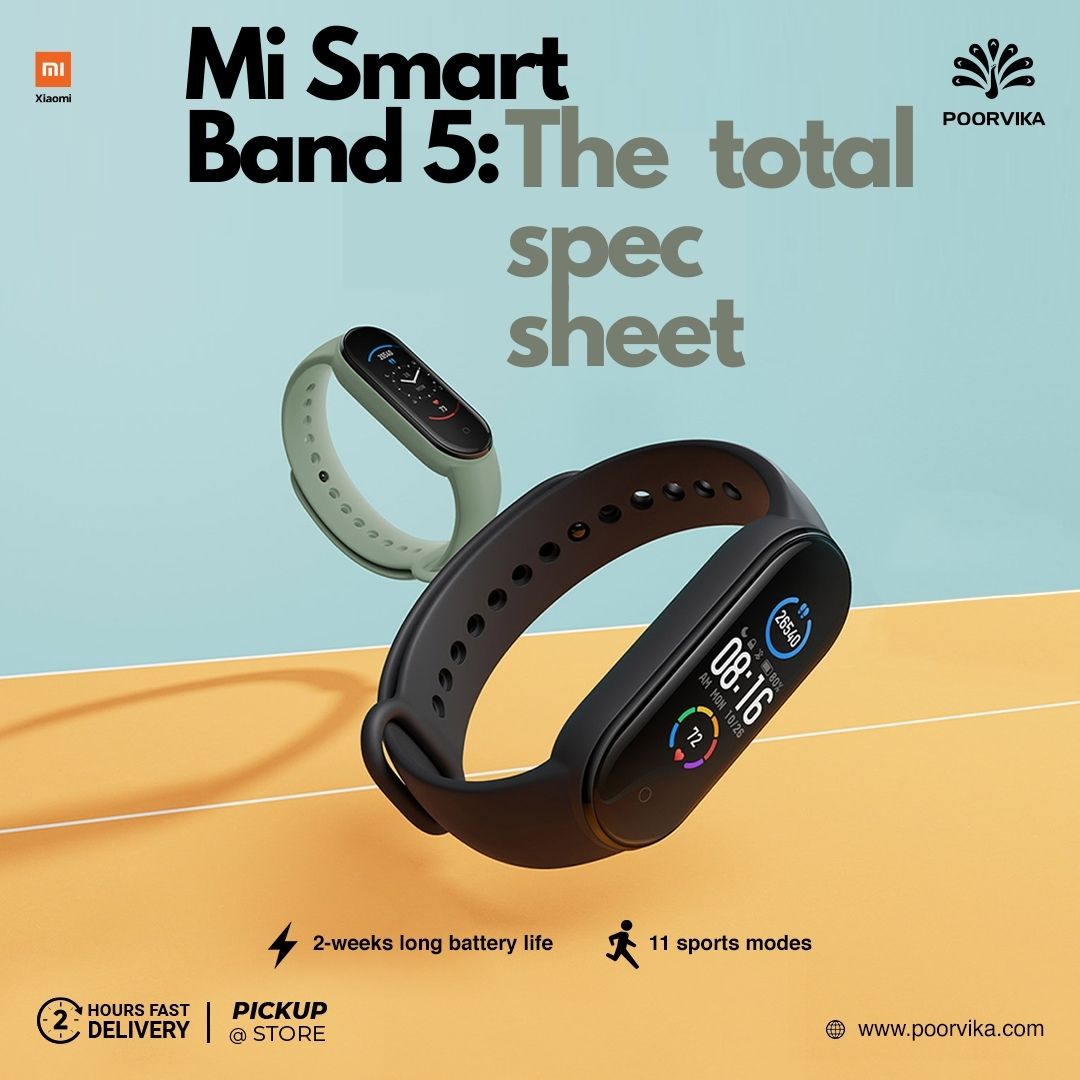 Easier said than done, keeping up with time, work, and everything in between is a tedious task, especially in today's fast-paced world. Fitness tracking? Well, more of an added chore than anything else, with everything else taking up every ounce of one's time. Mi has come up with their one-stop solution to take the load off with their Mi Smart Band 5.
The Mi Smart Band 5 features a 1.1″ Dynamic AMOLED Color display that is vertically oriented with a 20% increase in a display area. This makes it much easier to see incoming messages, alerts, and other notifications. The Display is protected by a scratch-resistant 2.5D glass. The Smart band also comes with a host of new dynamic animated watch faces.
Health Tracking:
It has a 24-hour smart heart rate monitoring system that picks up any anomalies in terms of a spike in heart rate or abnormal rhythm. The upgraded algorithm and PPG Biosensors* allows for 50% more accuracy. The Photoplethysmogram tracks irregular heart rate patterns and sends vibrating notifications when it detects abnormally high heart rates. Sleep tracking has also gotten a lot more accurate with the upgrade, achieving better reads on the hours of REM sleep by the user other than just deep and light sleep pattern
The Smart Band 5 has a plethora of modes that cater to almost any outdoor activity. A whopping 11 modes, to be precise. Outdoor Running, Elliptical, Rowing modes monitor sports and outdoor activities that follow irregular activity patterns. Using the special algorithm, the Mi Smart Band 5 assesses movements pertaining to the mode activated and provides accurate info based on the data that the algorithm picks up. Calories burnt, heart rate, amongst a host of other information is what the Smart Band 5 displays.
It even has 3 dedicated modes that monitor the overall health of the wearer. Personal Activity Intelligence suggests the wearer the best activity type based on data such as heart rate, Age, sex, etc. Breathing Exercises feature a set of preloaded breathing programs for guided breathing, and Stress Monitoring does the same by measuring stress levels and suggesting exercises to help reduce them.
The Mi Smart Band 5 has even put in a health-tracking system that caters to women by regularly recording and checking ovulation phases and menstrual cycles. Using the data gathered over time, the Smart Band 5 gives out more accurate notifications beforehand*. The mi smart band 5
also has a dedicated app called the Mi Fit App that synchronizes the band with the wearer's phone. The app records all the data that has been picked up by the smart band, from sports distances all the way to irregular sleeping patterns.
Battery Life and Colors:
The Mi smart band 5 specification in terms of battery life exceeds the norm maxing out at a whopping 14 days with normal usage; and 20 days on battery saver mode. Charging the Smart Band 5 becomes even easier with the new snap-on charging mechanism making it nothing short of well, a snap. The band comes in exciting new color options like Yellow, Teal, Navy Blue, Mint Green, Orange, and Black to suit your mood for the day
The Mi Smart Band 5 Price in India comes at Rs.2,499. It is available online at Poorvika or at the nearest outlet with a host of amazing offers and discounts. Get the Mi Smart Band 5 even faster with the prompt 2 hours delivery promise by Poorvika by opting for 2 Hour Fast Delivery