21 Jan 2021
The Latest Oppo Smartwatches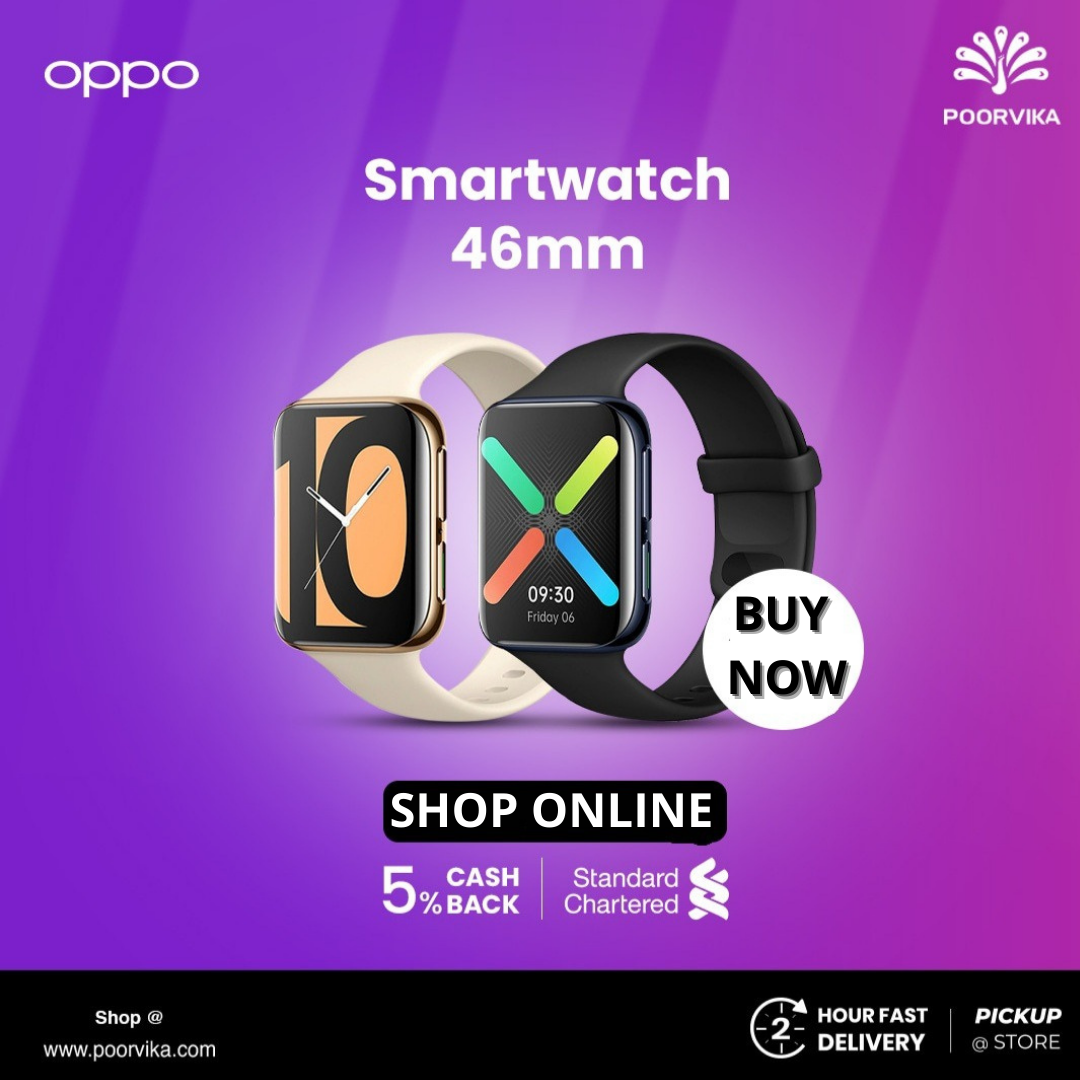 From sundial to smartwatches, humans have evolved so much. Brute strength is sufficient to strive hard. Quality, intensity of work has rapidly elated in recent years. To meet work standard, humans had to invent something that can work on their behalf.
Anything that simplifies human labor can be considered as a machine. Machines had to undergo a lot of improvisation to attain this surname Smart. Toiling hard without knowing the areas to improve is absolutely flawed and useless.
After becoming fastest growing premium segment smartphone manufacturer. The Cantonese electronic manufacturer are exerting their dominance in smartwatch industry. Its frost finish Aluminum body and dramatic fluororubber straps will be the first thing you will notice.
Specification:
Displays have never been prime feature of smartwatches. But 1.96 inch variant Oppo smartwatch has a curved AMOLED display with a pixel density of 326. 1.6 inch variant is also equipped with rigid AMOLED display and it has a pixel density of 301. Traditional flaw of smartwatches is now knocked out cold by Oppo.
Special imaging algorithm creates unique watch face to suit your outfit. All you need to do is snap your outfit using your Smartphone. Its 32-bit, 28 nanometer Qualcomm Snapdragon wear 3100 processor galloped aggressively.
Feature:
Oppo must be aware that fitness is the first requisite of happiness. On its AMOLED panel. It displays the letter 'X'. The letter 'X' grows big based on the intensity of workout session. Google fit is in-built in Oppo smartwatches. It monitors your workout and displays the progress in real time. In addition to this sync watch with your smartphone to get a comprehensive data of your workout.
It is compatible with Android devices operating on 6.0 version or above for Apple devices your device must run on iOS 12.0 or above. Are you aware of the fact? Sitting for long duration reduces mortality. Stop worrying about this lethal element anymore. Because Oppo reminds you to have a walk, if you are sitting in a place more than an hour.1.6 inch variant offers 30 meter water resistance. 1.96 variant offers 50 meter water resistance.
Battery:
On paper both the variants are equipped with different battery capacity. 1.6 inch variant offers 300 mah battery. 1.96 inch variant has a 430 mah battery inside its hood. With just one hour of charge. Battery lasted for 18 hours.
Price:
Two variants of Oppo Smartwatches are currently available in the market. 1.6 inch Oppo smartwatch price in India is Rs. 13,990. You can buy it online from Poorvika. It is only available in Black color.
And 1.96-inch variant is available in Black and Glossy Gold colors. 1.96-inch variant Oppo Smartwatch price in India is Rs.19,490. Buy Oppo smartwatch from Poorvika.
Use your HDFC card to get 5 percent discount on both variants. By availing our 2 hour delivery service, you will get your products delivered home.