22 Jan 2021
Republic Day Special Sale- Offers available at Poorvika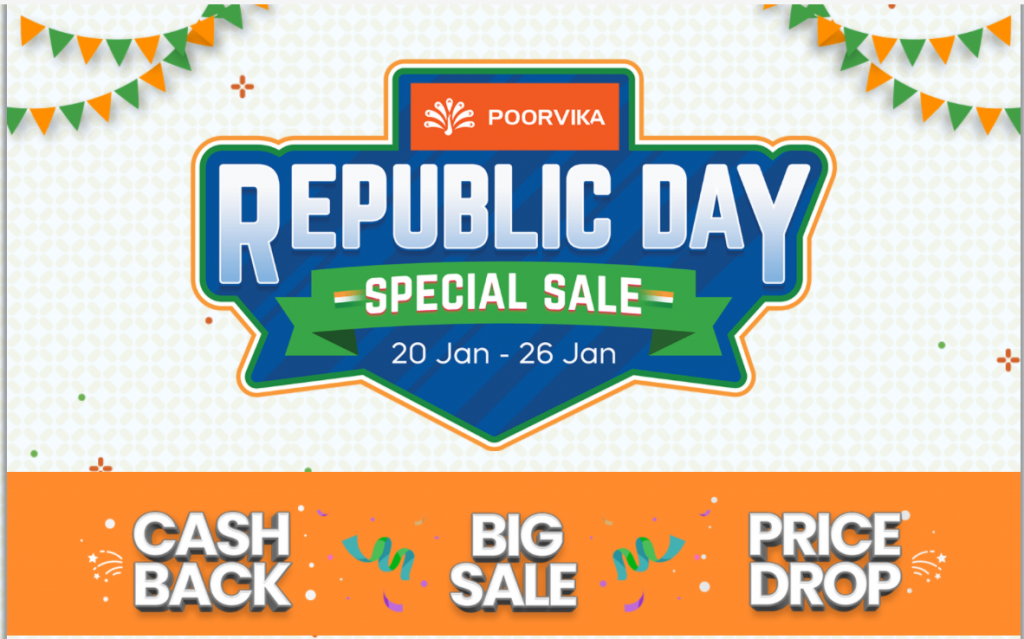 Poorvika's special sale is back to immerse you with happiness!
Poorvika never fails to make its customers happy with its great deals and offers and this Republic day special sale is of no exception to it!
When the whole India celebrates "Republic Day", we at Poorvika, celebrate "Republic week" from 20th January 2021 to 26th January 2021, giving all our customers the happiness of purchasing at slashed price for a week.
Let us walk you through the variety of discounts, deals, cash backs and offers that Poorvika provides you in this write up.
Get ready to get excited!
Poorvika's offer on premium products:
Will you say no to a premium product when it is offered at a slashed price along with great deals?
Well, its high time for you to own your very own premium product!
Excited?
Let's have a look at what Poorvika has in store for you!
iPhone 12:
We understand that it is quite difficult for you to believe but it is a fact that this 1,60,000 INR iPhone 12 mobile is now starting at just 79,900 INR* at Poorvika as a part of its Republic day Mobile offer. Not just that you get to enjoy more if you are a HDFC client as we provide 6000 INR cash back exclusively for you along with no cost EMI.
iPhone 12 Mini:
Poorvika's Republic day sale lets you buy this cute looking Apple iPhone 12 Mini mobile starting from just Rs.67,900* whereas, it is actual priced around Rs.84,900. As a HDFC card holder you are entitled upto Rs.9000 cash back and no cost EMI. Make utmost use of this deal as it is available only till 26th January 2020.
MacBook Air:
If you are a secret admirer of Macbook air and if you are waiting for the right opportunity to make it your own; Knock! Knock!! You opportunity has finally arrived as you can buy this premium product starting from just 65,990 INR* (MRP 1,22,900). As a privileged HDFC cardholder, you can get a cash back upto 6000 INR.
iPhone 11:
Will you believe if we say that, as a part of Republic day offer, we provide the recent iPhone 11 starting from just 53,400* INR?
Also if you are a HDFC bank customer, your happiness just got doubled as we provide Rs.5000 cash back on HDFC bank cards and literally, no cost EMI! Avail this deal now, as offers don't knock your door every now and then!
Apple watch Series 6:
It all started from smart phone but the most trending topic right now is the smart watch. Specially, Apple smart watches have a separate fan base! The latest Apple's series-6 smart watch is ruling the world and you get a chance to own this high-end product starting at just 40,900* INR (MRP:77,900). Our tie up with HDFC bank lets us provide you cash back upto 3,000 INR.
Poorvika's Cashback offers:
Poorvika's Republic day offer includes wide cash backs on top branded products. Utilize these cash back offers to get your most wanted gadgets at your most loved price!
Samsung:
This Republic day sale, as a HDFC card holder, you get a cash back upto 9,000 INR on the Samsung Galaxy Note 20 Ultra, one of the top rated mobiles of 2020.
Oppo:
Are you a customer of ICICI Bank or HDFC Bank?
If yes, You get upto 10% cash back on *Oppo Reno 4 Pro*
Not just that.
Being a customer of ICICI Bank or Bank of Baroda will fetch you a cash back upto 5% on *Oppo A 53*!
Vivo:
Vivo's latest model mobile phones are made much more affordable. Having a HDFC Bank card will fetch you 1000 INR cash back on *Vivo Y series* and 2000 INR cash back on *Vivo V series* only at Poorvika!
iPad Air:
Get iPad Air, the most stylish and premium model tablet at a cash back of 4000 INR available only for HDFC bank customers.
Samsung Galaxy Watch 3:
Get upto 4,000 INR cash back on Samsung Galaxy watch 3 only with HDFC bank card.
Power Bank price slash:
The biggest concern for any smart gadget user is the device's battery life. Having understood this, Poorvika in its Republic day sale included offers for Top branded Power banks thereby giving you the confidence to roam without the worry of the battery getting drained.
5000 Mah Power bank – Starting from Rs.399/-
Mi Power bank – Starting from Rs.799/-
Realme Power bank – Starting from Rs.999/-
Oppo Power bank – Starting from Rs.1,299/-
Grab your power bank by utilizing this Republic day offer and save lots and lots of money!
Price drop on Headphones, wireless and speakers:
Is it even a Republic day sale if it doesn't count on music lovers?
Get to live in your world of music without any disturbance from the outside world with a much lower price than before, as we are making available the wired, wireless, truly wireless head phones and speakers at a never expected lower price than before.
Wired Headphones – Starting from 99 INR
Wireless Headphone – Starting from 499 INR
Bluetooth Speaker – Starting from 589 INR
TWS Wireless – Starting from 1,275 INR
Hope, your Republic day is made even more special with Poorvika's exclusive cash backs, Price drops and more importantly the offers on the premium brands!
Gift your loved one their most wanted gadget while you still save on your pocket.
Order online from Poorvika.com and get the products at your doorsteps by availing our 2 hour delivery option.