22 Jan 2021
The Best Selling Samsung Galaxy Z Fold 2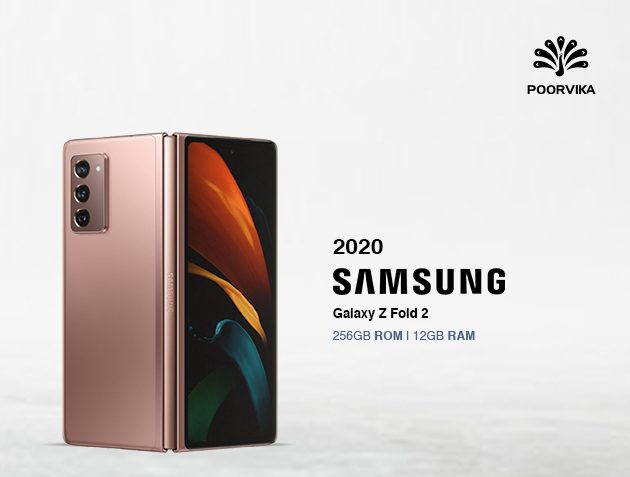 I am sure there are a lot of Samsung fans as it never fails to offer highlights that are interesting from other brands. Likewise, Samsung smartphones think of arrangements that settle key problem areas buyers face with the current phones. To feed its fans' enthusiasm, Samsung has dispatched its fourth folding telephone in the Indian versatile market a couple of days back – Galaxy Z Fold 2. The mobile is built with new features, design changes, and a blistering new chipset. It is planned with a thought of two in one. When collapsed, it's a smartphone; when unfurled, it's a tablet.
When folded, Galaxy Z Fold 2 accompanies a cutting-edge 6.2″ Super AMOLED display. The display is combined with 816 x 2260 pixels screen resolution and a 25:9 aspect ratio. This is ideal for messaging, talking, and gaming. Samsung has strengthened this new model with super-slender glass on the unfurling part. There are just limited visual interruptions in the unfurled display as it doesn't convey any minuscule camera hole, notch, or bezels.
The mobile is equipped with a flex mode that lets you fold Galaxy Z Fold 2 5G at any angle. If you open any of the apps on the cover display, just unfold the phone to see it on the bigger screen. Both the displays work seamlessly to maintain the app continuity. With the upgraded multi-window layout and App Continuity, you can split the main screen and launch multiple apps at once to efficiently perform multitasking. You can now watch your favorite movies on the Galaxy Z Fold 2 hands-free.
The Galaxy Z Fold 2 5G has five unique cameras on it. Two are front-facing, punch hole selfie cameras with one on the outside display and one on the main display. Both of these cameras have a 10 MP wide lens with an aperture of f/2.2. The gadget likewise has three back confronting cameras. A 12 MP wide lens camera with an aperture of f/1.8, a 12 MP telephoto lens camera with an aperture of f/2.4, and a 12 MP ultrawide lens camera with an aperture of f/2.2. As you click a picture of your friend, not just you, your friend can see the with the outward display picture's preview.
The Galaxy Z Fold 2 offers a 120Hz Main Screen that is perfect for gaming as it results in fast response times and smooth action. The only worry of gammers is the dropping of charge. But there is nothing to worry about anymore; the Galaxy Z Fold 2 has a long-lasting 4500mAh non-removable battery supporting 25W Fast charging, 11W Fast wireless charging, and 4.5W Reverse wireless charging. The Smartphone is now available in Mystic Black and Mystic Bronze colors. The Samsung Galaxy Z Fold 2 price in India is Rs.149999. Buy from Poorvika online at the best price and make the best use of the 2 hours delivery option.