22 Jan 2021
Top 5 Power Banks of 2021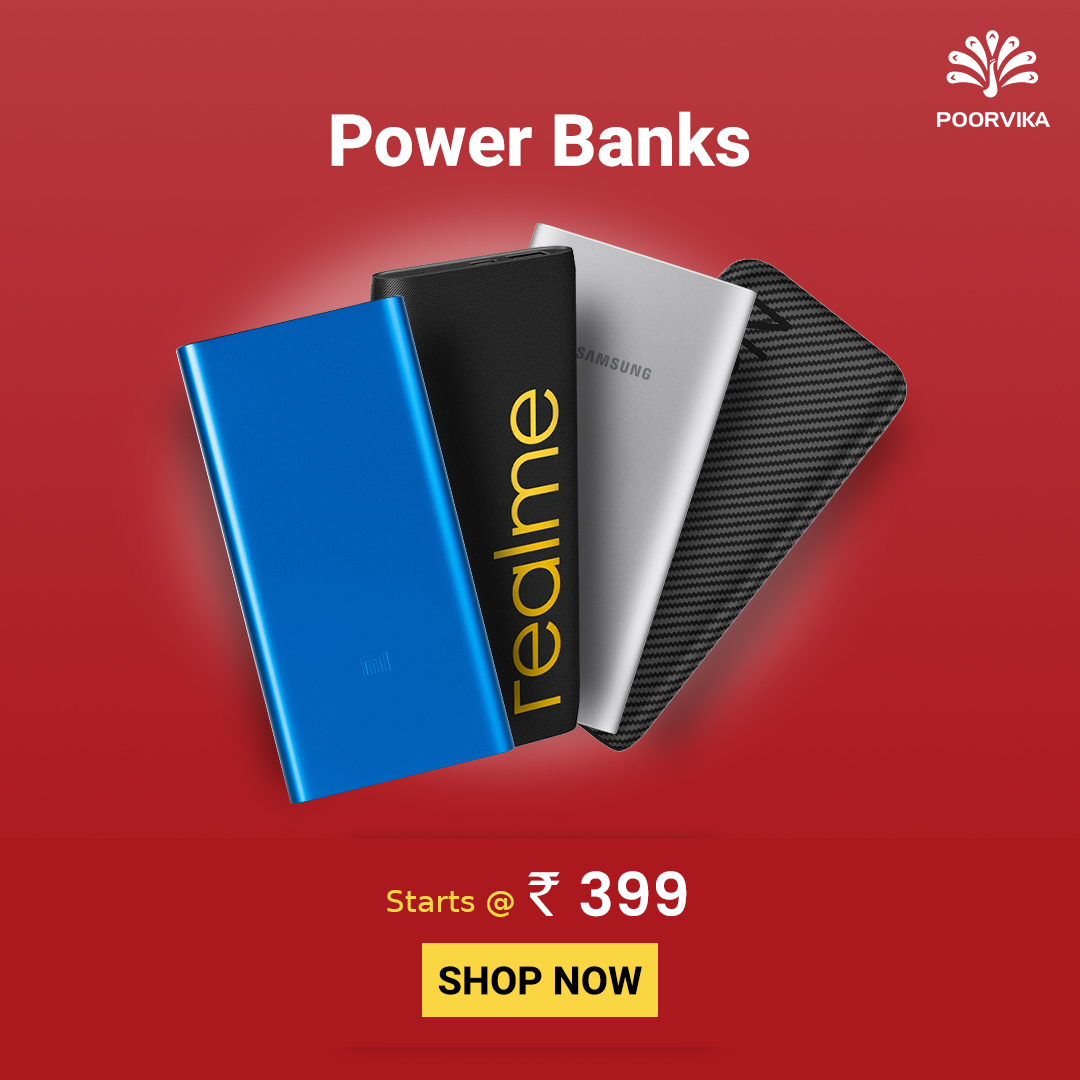 Even the most advanced smartphone with amazing performance is of no use if the battery drains out. It is actually fine when your battery falls below 20% when you are relaxing on your sofa with your legs stretched and watching TV. But there can be nothing worse than traveling with a phone having a low battery. You can't play your favorite game, no movies, no music, no Whatsapp, and no Instagram, simply no entertainment. I mean, how long can you peep through the window and enjoy nature. Though you enjoy it, there is no satisfying enjoyment without clicking photos. Oh my god, I can't even imagine how horrible the travel time could be.
But to keep a halt to this issue, the only way is to charge your mobile before you step out to travel. But to forget is the common habit of humans we may fail to charge our device or sometimes to turn on the switch even after you plug in to charge. This happens to me often; though I plug in, I forget to switch on. No worries, there is an alternate way to manage even if the battery falls in between your sightseeing. Along with your smartphone, pack your power bank that appears to be a savior in times.
Now let us have a look at the Top 5 Power Banks to buy in 2021
Mi 10000 mAh Power Bank 3i
The Mi 10000 mAh Power Bank 3i is one of the 'Made in India' Powerbank available in Midnight Black and Metallic Blue colors. The power bank's physical dimensions are 147.8 x 73.2 x 15.3mm, and its weight is 251 grams. The device comes with a dual input port supporting 18W and 10W fast-charging. The power bank is featured with 12 layers of Advanced Circuit Protection. With the Mi Power Bank 3i, you can also charge Mi Band and Mi Bluetooth headset using the low-power mode. To activate the low-power mode, press the power button twice. The Mi Power Bank 3i price in India is around Rs.799.

2. OnePlus 10000mAh Power Bank
The OnePlus 10000mAh Power Bank comes with an 18W fast charging, and it is available in two different colors Black and Green. It has dual-USB ports that let you charge two devices simultaneously. You need not worry about any problems as the device is safeguarded with almost 12 circuit protection layers. The device appears precisely like a smartphone as it is designed with a sleek look. The weight of the power bank is 225 grams and has a 3D curved body. The OnePlus Power Bank price in India is Rs.1,099.

3. Fingers C10 10000 mAh Power Bank
The Fingers C10 10000 mAh Power Bank comes with A-grade batteries and guaranteed capacities in two different colors Blue and pink. The device lets you charge multiple devices simultaneously without overcharging or heating your smartphones. The Fingers C10 Power Bank comes with some trendy stickers that are so attractive. It is packed with a battery life of >= 300 times, and the Fingers C10 Power Bank price in India is Rs.785.

4. OPPO 10000 mAh Power Bank
The OPPO 10000 mAh Power Bank features 18W Fast Charging available in Black and white color. The device is compatible with various mainstream protocols, such as PD and QC. The power bank comes with a power button on the side and an LED indicator on the front. You get dual USB ports and a Type-C port in the power bank to charge itself. As it comes with a 2-in-one charging cable, you can connect different compatible Micro-USB and USB-C devices to it without any trouble. The OPPO Power Bank price in India is Rs.1,299.

5. Realme 30W Dart Charge 10000mAh Power Bank
The Realme 10000mAh Power Bank comes with a long-term battery life available in Black and Yellow color. You can charge all IoT devices and accessories with the Realme Power Bank using the low-current mode. The device comes with a USB-A port and a USB-C charging port. The device is built with 15 layers of charging protection. With the help of the USB Port, you can charge the power bank up to 30W. The power bank is compatible with Dart Charge, VOOC, SuperVOOC, Quick Charge, AFC, and USB Power Delivery. The Realme 30W dart Power Bank price in India is Rs.1,999.
You can get any of these stunning Power Banks from Poorvika online with the 2 hours delivery service. Poorvika has advertised a grand and Republic Day Special Sale. You can now collect your favorite power bank with extraordinary deals and discounts from 20th January to 26th January. Click to know more about the Republic Day Special Sale.