23 Jan 2021
Best Premium Smart Speakers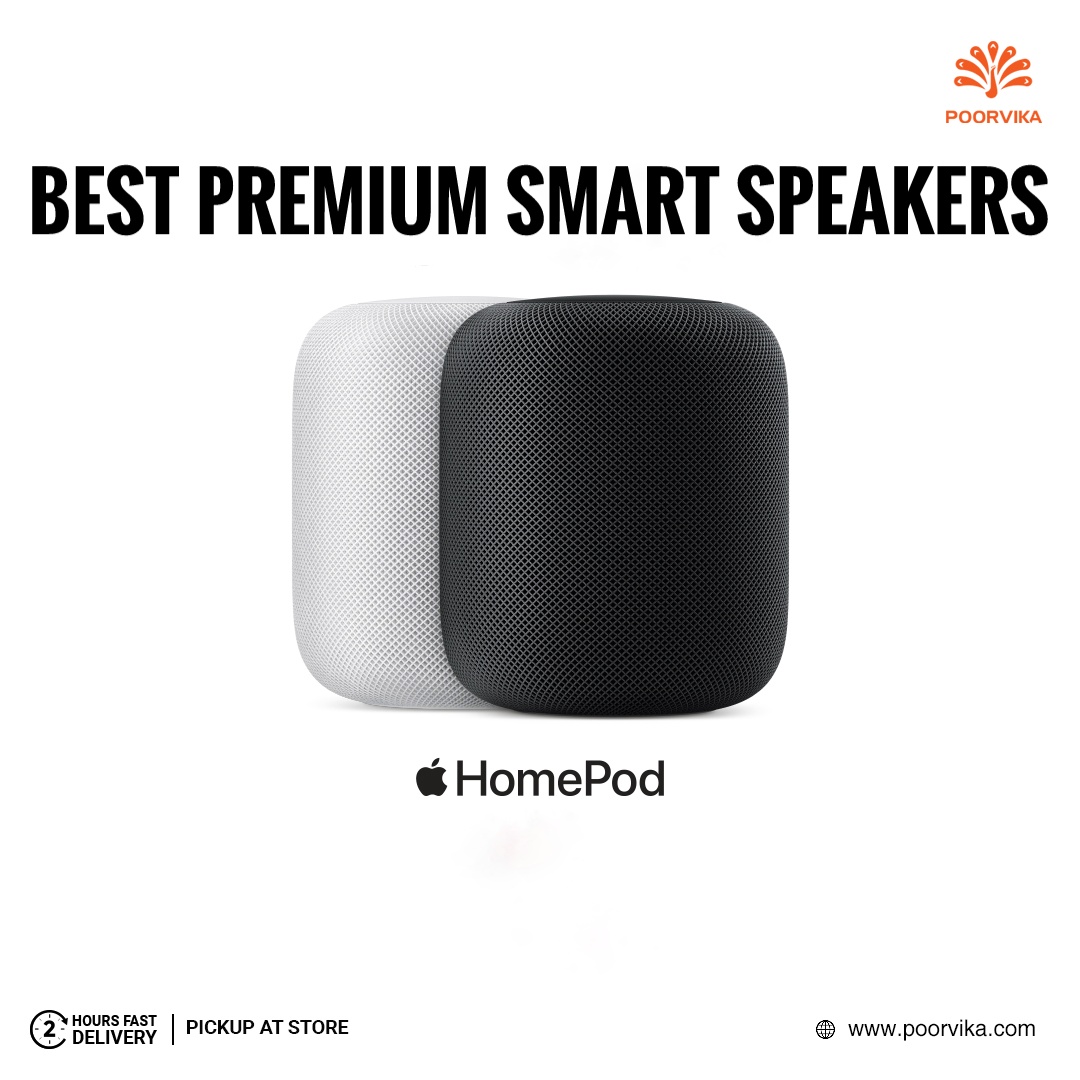 In general all gadget manufacturers tend to compromise on some factor while manufacturing a product. Stop right there! before you create a conspiracy theory out of the previously mentioned statement. It is said we humans are made to make mistake and we cannot be error free always.
So if we humans cannot be error free. What about machines? How come machines that are created by us can be perfect? Obviously it cannot be perfect. Then how do you buy a great product? Selecting a product that will satisfy your needs perfectly, hope you go got to know how to buy a good product correctly.
There is also a fact about premium products which we cannot deny. Let us first explain the characteristics of premium products. Price of premium products is intimidating many times. We are sure you might have thought that, premium products are overrated. But trust us, they are definitely not.
The production cost, research & development companies invest to manufacture a premium product is amazingly high. It is because it is the premium segment companies utilize all of their resources. So the product stays out of the crowd even after years.
Let us now give you an example. Samsung Galaxy S10 lite is knocking cold out all upper mid-range smartphones. Though S10 lite was launched a year ago. It still remains relevant and sensible. And companies offer updates for a very long time for premium products. Scroll down to know about the best premium speakers.
Marshall Stanmore II Voice Bluetooth Speaker
Music enthusiasts will immediately recognize the moment they hear the name Marshall. Most of the leading musicians during early 70's used Marshall amplifiers. Yet they stepped into the category wireless speaker only in 2018.
Features:
When we saw it for the first time, we said to ourselves that "it surely doesn't look like any of the smart speaker currently available. Design is retro but it is equipped with some advanced presently available features. You can control the speaker using Alexa or Google assistant. In general romantic songs don't have thumping bass. Because of this factor, you need to turn volume button clockwise often while listening to romantic songs.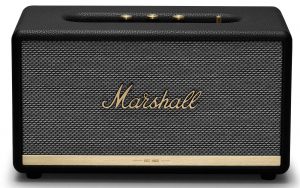 We will say this is history. History is not going to repeat anymore. Stanmore II constantly reached 101dB even while playing Abhay Jodhpurkar's songs.  It operates on a 50W D amplifier and two tweeters with a 15W D amplifier. Connectivity via Bluetooth version 5.0 is as easy as picking up and chewing the cherry on top of Falooda.
This is the right moment to tell you about how we created an entire ecosystem. We placed a 5.1 speaker at our room, using this speaker we were able to play same songs or different song at each room. On the rear it has a bass reflex port, pair of RCA jacks. 3.5mm input is on the top of the speaker.
It nimbly responded to all voice commands. With, in-built Alexa it lets you take complete control over other smart devices you own. Carrying it as wish is not always possible, because it weighs around 4.65 kilograms. So everytime you carry it is going to be somewhere close to your hammer curl session. It is only available in Black color. Marshall Stanmore II price in India is Rs. 31,999. Buy it online from Poorvika. Avail our 2 hour delivery service to get products delivered home.
Apple phones are generally faster than Android. This fact now continues even in smart speaker category. A8 processor powers Homepod. Apple has used same processor that was used in iPhone 6 and 6 plus. Many mid-range phones screamed and they were unable to run the game called call of duty. Explore much more about the Marshall Stanmore here – Is the Marshall Stanmore II worth buying?! The things you need to have a look at!
Apple Homepod:
We did this out of curiosity and it ended up becoming as a lesson of lifetime. There was no lag and frame drop throughout 45 minute gaming. A8 powered phone was able to comfortably run a intensive, graphically demanding game like call of duty.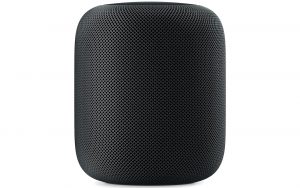 Only then we realized how Siri processed our voice command within a blink. For connectivity, it uses Bluetooth version 5.0. It has seven tweeters each tweeter has a separate amplifier. It uses spatial awareness to adjust volume, bass levels and other equalizer settings on its own. Its music library has access to more than 60 million songs. You need to use this phrase 'Hey Siri' before you proceed to say play Watermelon Sugar by Harry Styles.
Apple Homepod price in India is Rs. 19,499. Buy Homepod online from Poorvika and get it delivered home by availing our 2-hour delivery service.
Lenovo Smart Display 7
Specification:
Undeniably this speaker tops the category: good looking smart speaker. Scroll down to know whether it just looks good or is actually good. Display quality resembles to lower midrange smartphones. 7 inch IPS display does a pretty good job. 2GB RAM matted with MediaTek 8167S ambitiously accelerates while processing commands received through Google assistant.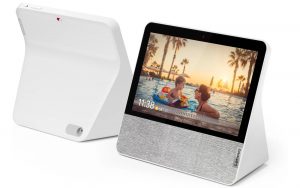 Feature & Price:
Another great feature is Bluetooth version 5.0, for which Lenovo need to be appreciated. Lights were turned off and still clarity of google duo video call was amazing. Attend calls without touching the screen. It offers supreme privacy with a camera shutter and physical button to mute microphone. Whatever you do will stay with you there is no way others can get to know about it. Smart Display 7 is available only in Grey color. Lenovo Smart Display 7 price in India is Rs. 7,999. Buy Smart display 7 online from Poorvika and we will deliver your products through our 2 hour delivery service.
Apple Homepod Mini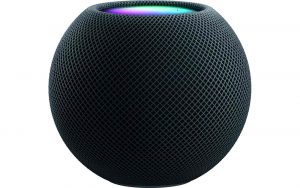 This device will surely fit into a cargo pant. It also has an in-built siri to let you take control over other smart gadgets in your home. It will give more information about your location. Homepod mini is no slouch yet compared to 64-bit A8 processor, S5 processor of Homepod mini has lesser clock speed. Apple Homepod mini price in India is Rs. 9,900.
To know more about Apple Homepod Mini, read our detailed blog here – Apple Homepod Mini Review – Features and Specifications
Amazon Echo Show 8
It was amazon that initially launched the concept of the smart speaker. After the launch of this product, many customers have testified their smartphones remained untouched for most of the time. This definitely a must-buy product for the techies.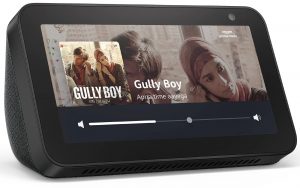 Click here to read the detailed blog on Amazon Echo Show 8
Amazon Echo Show 8 price in India is Rs. 7,999. Avail our 2 hour delivery service, we will deliver your products to your doorstep.
Amazon Echo Show 5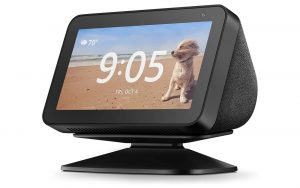 Echo Show is exactly a younger sibling of Echo Show 8 It shares similar specifications with Echo Show 8. After a week of product testing we spotted a difference between two products. Other than clarity of video call and display size, we will say this product doesn't differ much from its elder sibling. It has a list of online entertainment platforms include amazon music, prime video, CNBC, Bloomberg, i-tunes, Spotify. Amazon Echo Show 5 price in India is Rs. 5,000. Buy it online from Poorvika. Avail our 2 hour delivery service so that we can deliver your products to your home.
Amazon Echo Spot: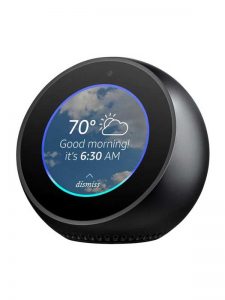 It is almost impossible not to fall for its design. Alarm clock inspired design will surely draw attention of Tom, Dick, and Harry. After an intensive banter, I got the opportunity to do the initial product testing. After connecting this device, We were wondering, why do we need a mobile if this minion is let me watch Rishabh Pant's exceptional 89 knock of 138 balls at Brisbane. It offers every other feature of its siblings. Amazon Echo Spot price in India is Rs. 6,499. Buy Echo Spot online from Poorvika, you can avail our 2 hour delivery service to get it delivered home.
Amazon Echo Plus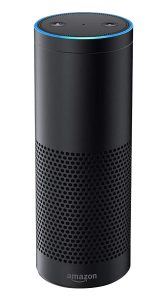 It has not become ponderous even after years of launch. On paper this may seem like it is on the verge of retiring. It can play songs both from Amazon's own platform Amazon music and third party platform like Spotify. Its cylindrical shaped metal body offers a 360 ° audio output. Amazon Echo Plus price in India is Rs. 5,999. To know more about read our blog titled Amazon Echo Plus- one stop shop for all your needs.
Buy Echo plus online from Poorvika. You can avail our 2 hour delivery service so that we can deliver your products to your doorstep.