27 Jan 2021
Fitbit Versa 2: Your Fitness Companion is here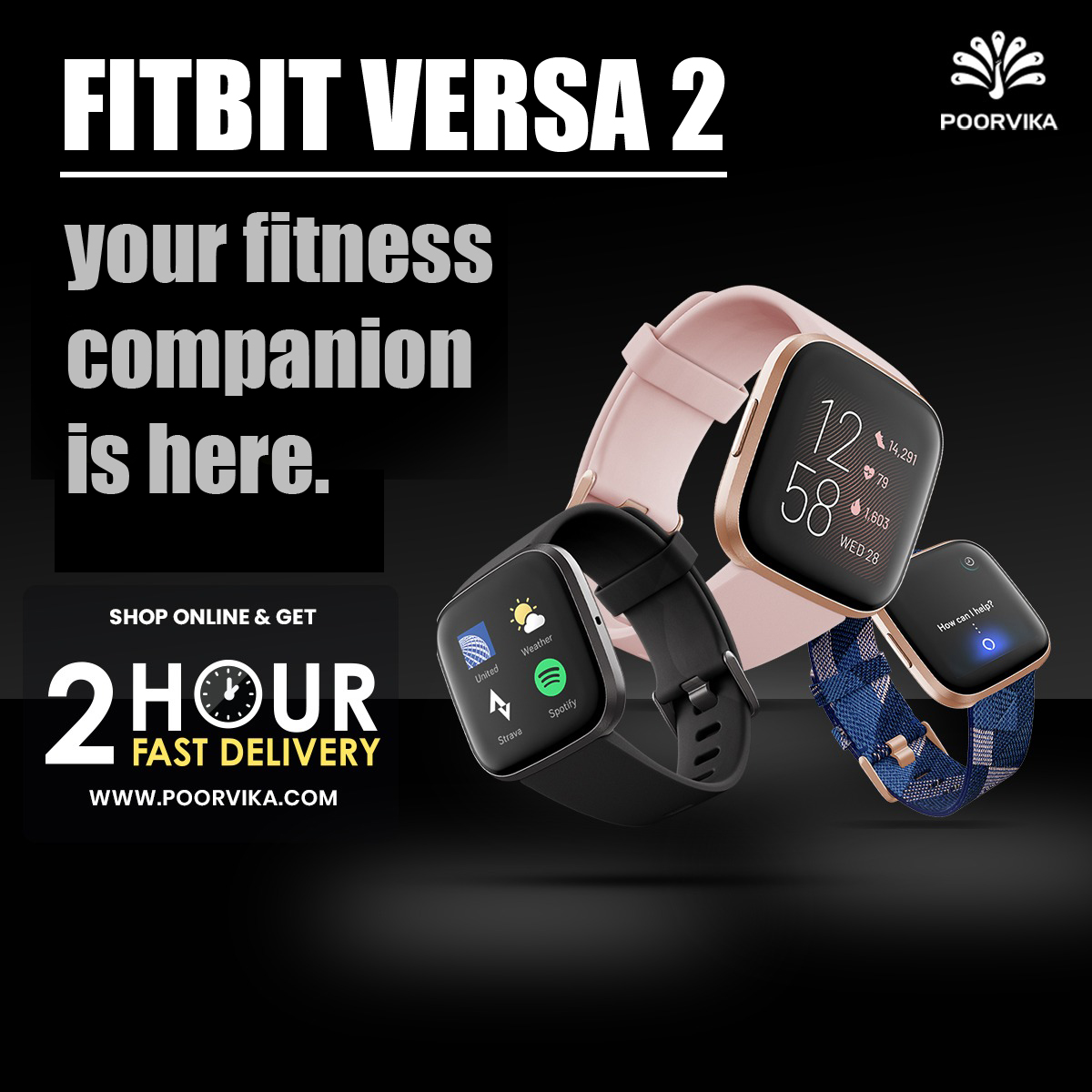 Elevate. That's the word Fitbit Versa 2 advertises itself with, and rightly so, as every option that comes with it does just that, Elevate. From monitoring your Health to achieving your everyday goals, the Fitbit versa 2 has a solution for it all.
It's a love at first sight experience with the Versa 2 as it exudes opulence in simplicity with its precision-crafted casing with beautiful colors in a slightly muted finish. The bands that adorn your wrist are no less either, as they complement the watches and the colors the casings come in, leaving little room for fashion blunders any way you wear it, making it a no brainer for even your average Joe or Betty to add a little oomph to their outfits.
Features and Specifications:
The screen is quite large, featuring a dome-shaped 1″ square AMOLED display with a screen resolution of 300×300 pixels. The AMOLED display comes as every bit of an advantage. Colors get a vibrant lease of life, and this also helps with the brightness as AMOLED screens are better when it comes to visibility under strong lights. It also has an Always-On display feature that makes sure you can use it, well.. just as a regular watch should function. Always show the information it's designed to show.
The Versa 2 comes with Alexa built-in configured into a single button on the side of the watch, allowing you to summon it with a single touch. Upon activating Alexa, the inbuilt mic picks up your voice commands allowing you to perform a host of different functions like setting alarms, ask how the weather is going to be, and probably even set a reminder for that ever-elusive water break you keep telling yourself you are going to take but never happens. No water sipper? Well, Alexa can help add that and anything else you need onto your that shopping cart as well. Farewell, excuses.
Fitness Tracking:
Speaking of excuses, the Fitbit Versa 2 doesn't give much room to put off your fitness goals either, as it comes with functions and modes predominantly based on fitness tracking, as its name suggests. 15+ exercise modes if you'd fancy numbers. The Fitbit Versa 2 Has 24×7 Heart Rate monitoring that gives heart rate readings in real-time. Swim all you like as the Versa 2 has a swimming tracker for all your underwater sporting ventures with up to 50m Water resistance.
The pace tracker gives you real-time information regarding running pace and more. There are even preloaded fitness programs that provide onscreen workouts. If that did not suffice, there are many more onscreen workout programs that can be downloaded. All the information gets compiled with detailed reports and much more on your smartphone with the Fitbit app.
The Sleep Mode on the device comes as an advantage to individuals who would like to track their sleep as it provides in-depth information on the Quality of their sleep patterns by the app compiling the number of hours of REM, deep and light sleep. It even disables quick pop-up notifications and other interruptions that may disrupt your sleep, ensuring you get a good night's rest. Other than this, the Fitbit Versa 2 can control your music and comes with a host of watch faces that are customizable. You can even make payments or purchases with Fitbit Pay.
Battery:
The Fitbit Versa 2 has a Lithium Polymer battery that can stay alive for 5 days at a stretch on a single charge and comes with a range of colored straps, and even includes a woven variant that adds a bit of pizzazz to that evening outfit.
Price and Offers:
The Fitbit Versa 2 price in India is Rs.13,999. You can buy it at Poorvika Online with a host of exciting offers and discounts curated just for you. Right now we have our Republic Day Offers from 20th to 26th Jan 2021 curated just for you. Get it even faster with our 2 hour delivery promise as you opt for Poorvikas 2 Hour Fast Delivery when ordering.