27 Jan 2021
Why Should You Buy the 2020 MacBook Air?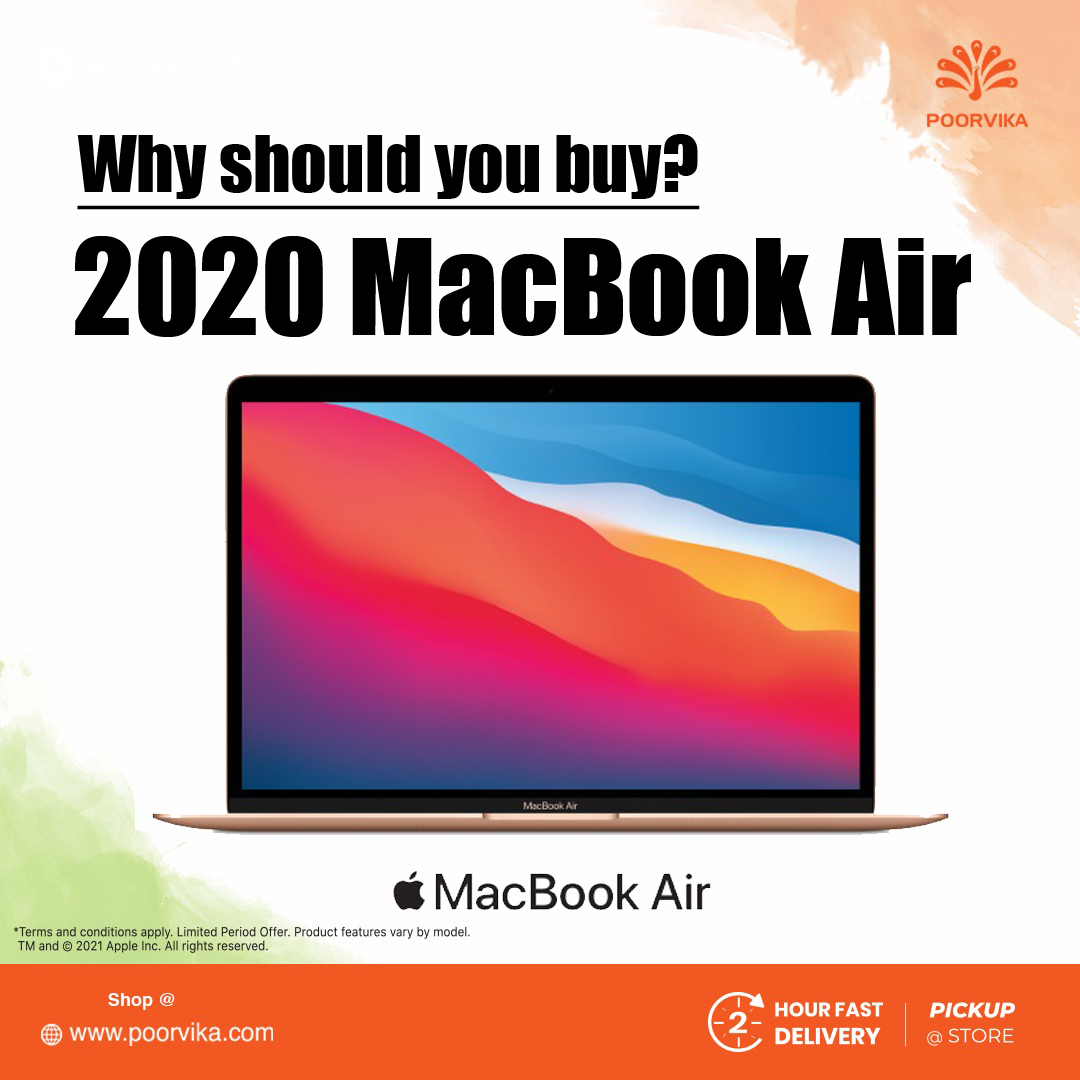 Why should you buy the Mac Book Air 2020? That's a question that is extremely easy to answer with a load of reasons to justify the same, especially when it comes to Apple. Apple stirred up quite a storm last year with their new series of Apple notebooks and phones, and the Apple MacBook Air came as no exception.
From the outside, the MacBook Air is designed to make anyone go Ga-Ga with its sleek minimalist oriented design. Weighing just 1.28Kgs it comes as one of the thinnest and lightest notebooks that are available in the market today. The MacBook Air 2020 features a 13″ LED Backlit Retina Display with a Screen Resolution of 2560×1600 pixels and a pixel density of 227PPI ensuring sharp picture quality. The display has 400 nits brightness, a wide P3 color gamut, and comes with True Tone Technology. A handy feature that adjusts the color temperature of the screen according to the ambient light available in the users immediate surroundings. It makes a large difference as it adjusts the color temperature in real-time, but can sometimes get in the way when editing an image as whites end up getting tainted with a yellowish tinge.
What the MacBook Air really hides beneath its slim silhouette is the 8 core 5nm M1 Chipset designed by Apple as they bid a final farewell to the intel chipsets they previously used. Apple's new M1 Chip comes with 8 cores out of which 4 are Efficiency cores, and 4 are Performance-based cores. It has a 16 core neural engine that allows for 9 times faster machine learning capabilities and comes packed with 16 billion transistors. The new neural engine can perform up to 11 trillion operations per second, resulting in 3.5 times faster computing. Where the M1 really shines is how the 4 performance cores and 4 efficiency cores balance the elements of performance while using just one-tenth of the power. The Performance cores take up heavy tasks such as recording, mixing, and mastering in software like Logic Pro. The Efficiency cores, on the other hand, take-up the much lighter everyday tasks.

Apple's very own Big Sur OS is designed specifically to harness every ounce of power from the M1 and optimize it to lure out the beastly performance the M1 chipset is built for. The end product? Blazing fast performance with the best of security!
The MacBook Air's GPU is another powerhouse that houses 8 cores and can handle any category of tasks that are assigned to it and plow through with ease. It has 8GB of unified memory that is configurable up to 16GB with an SSD storage capacity of up to 2TB. The keyboard is backlit and has a good hand and typing-feel with its all-new scissor mechanism, although the keyboard does seem to be a tad bit cramped, having one think twice if they are hitting the right keys. But then, that is something that users will get used to overtime.
The battery life stands at a whopping 18 hours but comes as no surprise as the M1 chipset has every tick up its sleeve to optimize power consumption. With all this power packed in, there is the looming question of thermal efficiency. Well, that gets answered with Apple not even putting in a fan to cool the MacBook Air's innards but rather an Aluminium Heat Spreader that acts as the module for heat dissipation making this the quietest of notebooks. Talk about that calm before the storm.
All said and done, the only aspect that shouldn't be taken so lightly other than its weight is the Apple MacBook Air 2020's performance. It is what most would call an amalgam of both functionality and science, yet artistically and tastefully put together, allowing any user who gets their hands on the device to be in for a real treat.
You can get the new 2020 MacBook Air with the M1 Chip right here at Poorvika. Make the most of our Republic Day Offers from 20th to the 26th of Jan 2021. Get your products even faster with Poorvikas 2 hour delivery promise as you opt for the 2 Hour Fast Delivery option during the time of ordering.