04 Feb 2021
Amazfit GTS 2e – Full Features, Specifications and Price in India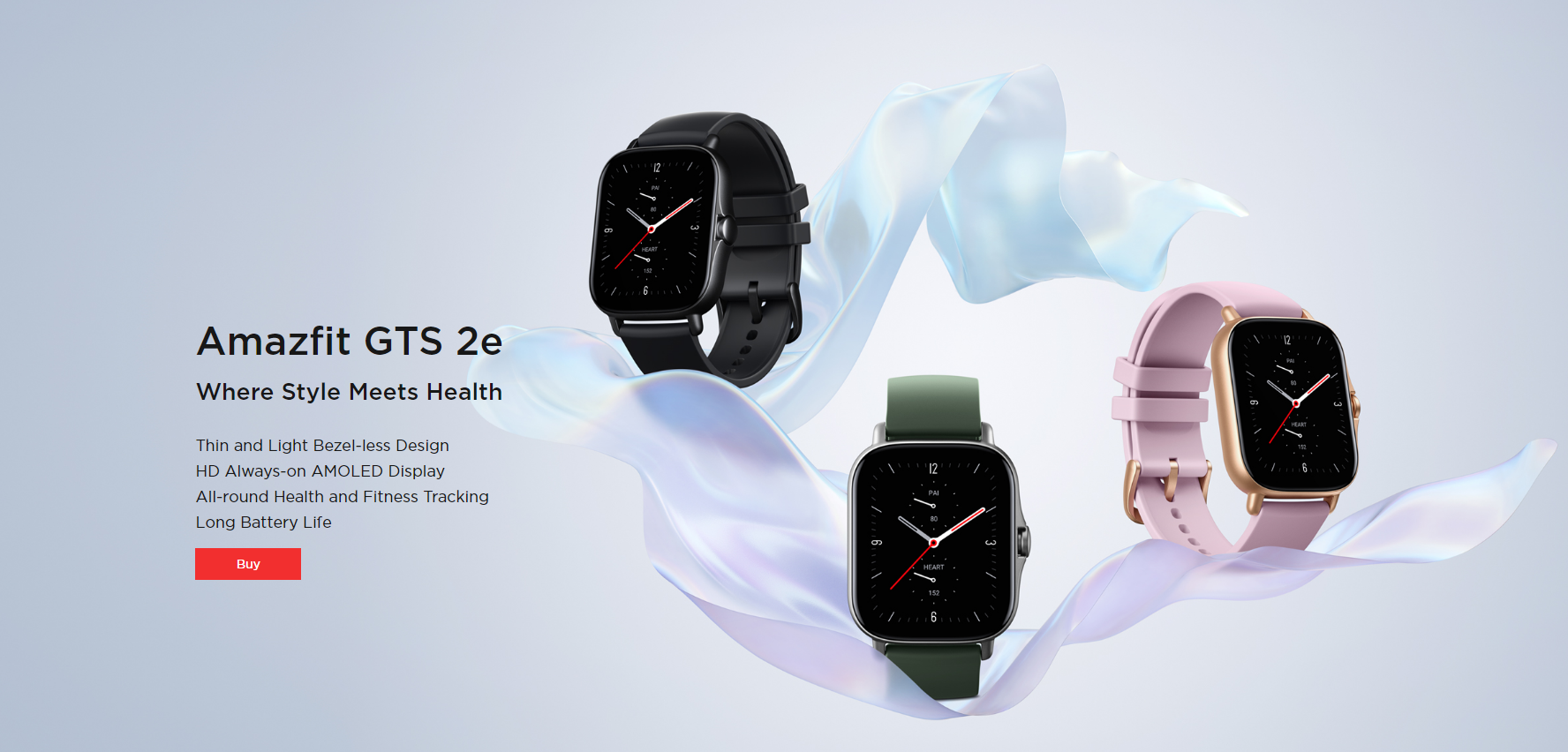 Amazfit, as they say 'Where Style meets Health', has never failed to amaze us with the blend of style and Health in any smart device they create. We all know the Huami Amazfit GTS 2 version has seen a big hit in the world of Smart Watches, and to prolong the success, Huami proudly launched their next enhanced version, Huami Amazfit GTS 2e. Let's deep dive and explore the excellence that Amazfit has introduced into the new device.
DISPLAY AND DESIGN:
This uber-cool smartwatch features a sleek rectangular display that bears the 2.5 curved edge-to-edge glass with a Glass vacuum coating. Huami's team of experts go an extra mile this time on fashion and style by integrating a crafted curved glass on the borderless design to impress the Gen Z audience. The light-weight and curve-rich aluminum alloy body with Plastic matte bottom case promotes comfortability and weighs less (25g) when the wrist carries it. The display's clarity and brightness are some notable features to look for in smartwatches, and I say Huami Amazfit has played it well. The stunning 1.65-inch HD AMOLED Screen with 341ppi Pixel Density has extra room to display metrics, and you get to experience word vibrancy with vivid colors. Fashionistas out there! Lilac Purple, Moss Green, and Obsidian Black are the variants available for you to decide which goes best with your funky outfits. You'll not get bored with monotonous watch faces, as Huami Amazfit throws a set of personalized watch faces at you to pick one or let out your creative side with a custom watch face. You decide what you want on the Home screen, like PAI or just a dial clock on the Always-on Display.
HEALTH TRACKING:
Health Tracking is a priority here, as Amazfit equips this Smart Watch with the latest Bio Tracker 2 PPG high-precision optical sensor to deliver comprehensive Health Protection. Professionals indulging in intense workout schedules need the Health Data handy for things not to go haywire. Amazfit again amazes you with the Blood-Oxygen Saturation measurement (SpO2) level that gives you hassle-free workouts and a precision 24-hour Heart Rate monitoring to alert you on abnormal Heart Rates. Personal Activity Intelligence (PAI) saves your busy schedule by displaying a customized health evaluation score based on your Heart Rate, Workout time, and other complex health information with an algorithm. Do technological advancements include features like Stress Detection and Sleep Quality Monitoring? Absolutely YES! Check how stressed out you're from a relaxed, normal, medium, to high scale when your Boss screams and monitor your sleep quality with stages like light sleep, deep sleep and REM periods, and even a 20-minute nap.
FITNESS TRACKING
Guess what?! You're provided with 90 Built-in Sports modes along with 6 Smart Recognition Sports modes that include Outdoor Running, Treadmill, Walking, Outdoor Cycling, Pool Swimming, and Elliptical. You don't have to limit yourself to indoor workout sessions; the 5ATM Waterproof feature offers protection up to a depth of 50 meters. And it doesn't look good when something hinders the motivated tiger inside you! Hence, the 246mAh Battery capacity can give you 14 days of Typical Usage, 24 days of Basic Usage, and at least seven days of Heavy usage. Making sure to discard clutters, Amazfit GTS 2e added a Quick Access to Key information that lets you access Shortcut Cards when swiped right and the Quick Access app for a secondary screen when swiped left.
FEATURES THAT AMAZES YOU:
What else can you expect out of the fantastic Amazfit GTS 2e?! The outstanding features that contribute to raising the bars of expectations high are Customizing Alerts duration and intensity, Rotating the screen to 180°, and even Locking the screen with a password. And the perks extent with features like Personal Agendas, Incoming call, message notifications, Reminders, DND, Stopwatch, and Weather forecasts. No hands; voice out and get things done! Thanks to the intelligent Voice Assistant, who can work offline to access the features and answer calls via Bluetooth with an integrated speaker. Zepp App, the genie that does everything, literally everything, by conducting a Comprehensive Analysis of multiple data sources. Connect your Android smartphone with version5.0 or an Apple smartphone with version10.0 or above with the Bluetooth 5.0 connectivity.
PRICE:
The Amazfit GTS 2e price in India is Rs.9,999. Can't wait to experience the latest Technologies to stay upgraded? Visit your nearby Poorvika Store or just head on to our Poorvika Website in no time and buy the Huami Amazfit GTS 2e Smartwatch Online. Do not forget to claim our exclusive deals and offers for this product and get it delivered to your doorstep with the 2 Hour Delivery service
How do other Amazfit GTS Smartwatches differ?! Read our latest blog on all the Huami Amazfit GTS Smartwatches, their specifications and Features