04 Feb 2021
Mi TV 4A PRO 80cm HD Ready Smart TV. What does it pack?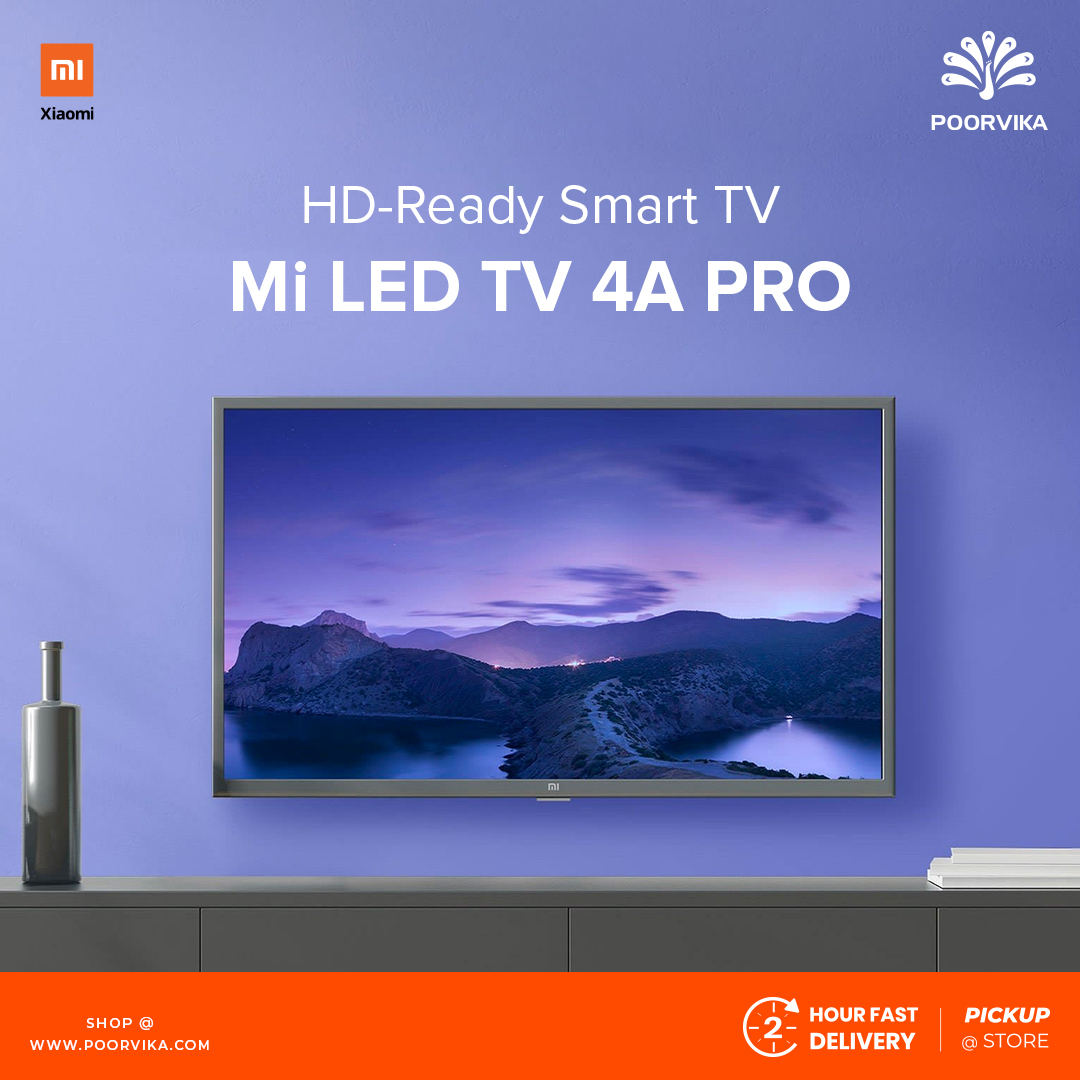 Smart. The word has become synonymous with everything that is now tech-oriented. From basic gadgets to entirely automated homes, "Smart" is where the world is headed, and that includes TVs. In this blog, we specifically take a look at one such TV from Mi. The Mi TV 4A PRO 80 Cm (32 Inch) HD-Ready Smart TV.
Display and Processor
The Mi TV 4A PRO HD-Ready Smart TV features a brilliant 32″ Ultra-bright HD-Ready display, beautifully framed in a sleek bezel design, making it nothing short of a style statement. Its display boasts a resolution of 1366 x 768 pixels and a Refresh Rate of 60Hz that brings out details in utmost clarity.
Thanks to its Amlogic Cortex A53 quad-core Processor and the Mali-450 MP3 GPU, the duo makes sure that lags are "out of the picture" in quite a literal sense. It comes with 1GB RAM and 8 GB storage for all your content.
Smart functions
Mi's own Android TV operating system Patchwall 3.0 provides a massive content catalog. This allows you to access and stream all your favorite shows and automatically curates the hottest trending and most relevant content for you, based on your previous searches.
A lot of regional content is also available with Patchwall, which comes as a bonus, making it a preferable choice. Searching for content gets simple as the TV comes with the ever-helpful Google assistant that can be summoned via Google Voice Search built-in amongst various other preloaded Google services.
How? The TV comes with the Mi One Remote with a Voice Search feature that can control the TV, set-top box, and much more. Press the voice search button on the One Remote to activate Google Assistant on the TV, and you are all set. Easy enough.
Audio and Connectivity
With all these features packed in, the question of audio quality remains. The Mi TV 4A PRO comes with two 10W Stereo Speakers that may not sound like much but are loud enough to fill the room with relatively decent audio.
It has multiple connectivity options that include a Network Port, a set of AV Ports, 3x HDMI Ports, 2x USB 2.0, Bluetooth 4.2, Wi-Fi, and an output slot for Headphones just in case you fancy a little late-night entertainment but have neighbors that frown at the drop of a pin.
The Verdict
Considering the TV has impressive visuals and is packed to the brim with many features, it carries a surprisingly light price tag that puts it in the budget-friendly category. Well, that's Mi for you.
The Mi TV 4A PRO 80 Cm (32 Inch) HD-Ready Smart TV is available at Poorvika for just Rs.13,999. Hop over to our Poorvika site or your nearest Poorvika outlet and get yours today with our exciting offers and have it delivered right at your doorstep with our 2 Hour Fast Delivery service.