04 Feb 2021
Samsung Galaxy Watch Active 2: All you need to know.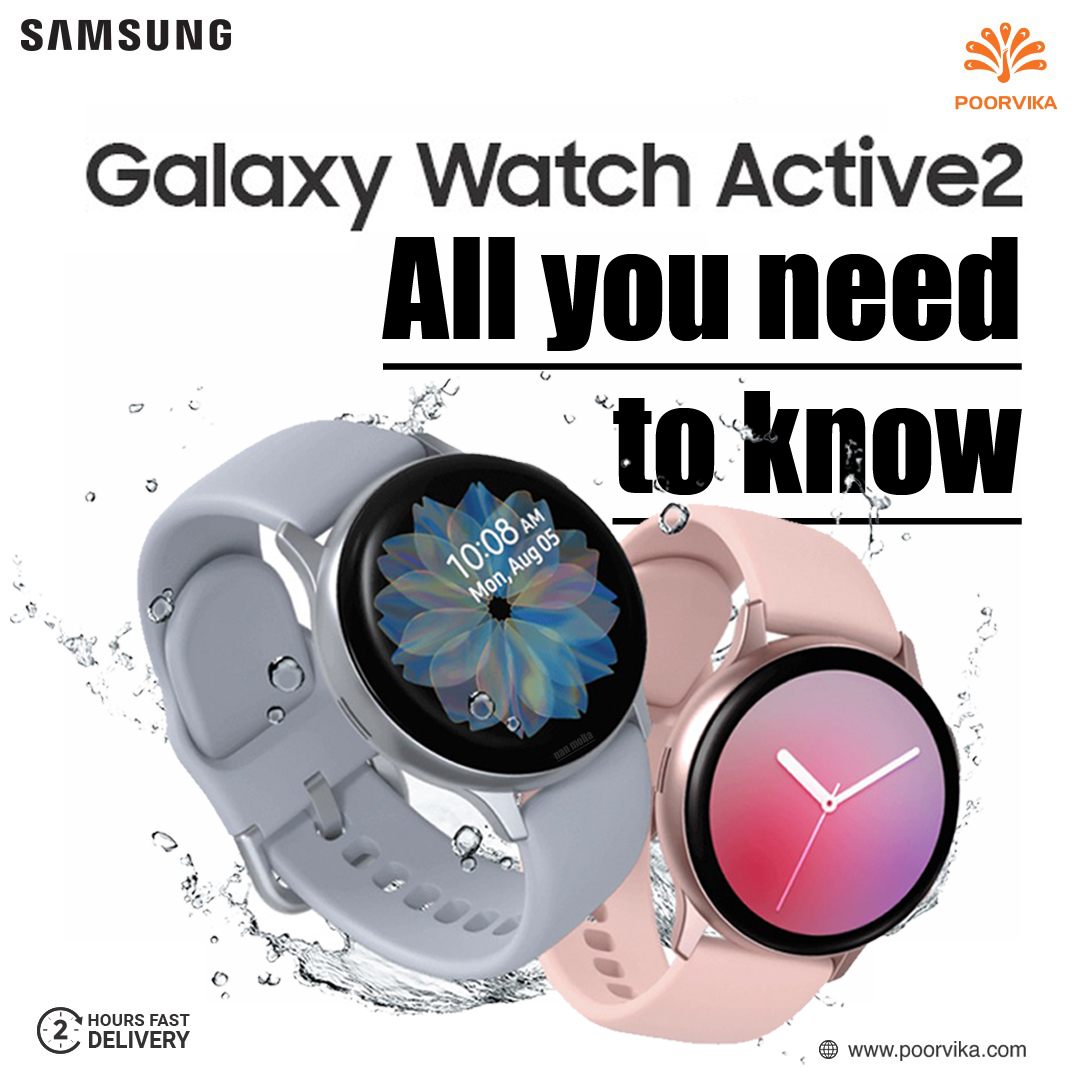 The Samsung Galaxy Active2 released last year is a Smartwatch that can rival some of the market's best. Loaded with features as extensive as the never-ending string of ribbons pulled out of a magician's pocket, the Samsung Galaxy Watch Active2 keeps it coming with functions that cater to almost any task you could probably throw at it.
The Samsung galaxy watche active 2 features a 1.4″ Super AMOLED Display with a screen resolution of 360×360 pixels and a pixel density of 364ppi. The sleek body of the smartwatch encases a display with minimal bezels resulting in more space and allowing for a larger screen. Therefore, more space for content and notifications to be displayed.
The device has a beautiful fit and feel. It comes with plenty of customizable options and materials and finishes to choose from, like sturdy stainless steel or lightweight aluminum. Straps are aplenty with a range of various colors to choose from. If that's not enough to satiate the fashion aficionado in you, then here's the banger. It has a system that allows you to literally take a picture of your outfit, and the watch Active 2 analyses the pattern and puts together a watch face to match your outfit with a similar pattern and color palatte.
But what if you want something that matches your watch strap? The Samsung Galaxy Watch Active 2 has you covered there as well. Its well thought-out design, oriented towards fashion makes itself known here, as each strap has a QR code that comes with it. This QR code can be scanned to receive a link to download watch faces that match the color and material of the strap you own. Yes, you read that right, not only colour but the material of the watch strap as well.
That's just the looks. Take a look under the hood, and you realize this is no show pony. It comes loaded with the Exynos 9110 and a Mali T-720 GPU, making this quite a powerhouse. The storage capacity of the Active 2 is pretty good as well and is available in 2 variants. 4GB ROM with 768MB RAM and 4GB ROM with 1.5GB of RAM, respectively. More than enough power to take on tasks with all the space you need for your music on the go.
Health monitoring and fitness tracking are what the Active 2 stands out for. It has an improved heart rate monitor that is more accurate during workouts thanks to the 8 photodiodes on the rear in comparison to the original Galaxy Active that had only 4 of them. Heart rate monitoring is pretty accurate, and the running coach that comes in the form of a Bixby voice guiding you through various running modes and programs is more of a 'take it or leave it' feature. The curved design adds to the accuracy of the readings. The Active 2 also stands in the same ring as the Apple watch with abnormal heart rate rhythm detection and also an inbuilt ECG that can detect Atrial Fibrillation.
The Galaxy Active 2 also has 7 different modes and programs for fitness tracking like Walking, Running, Cycling, Rowing, Elliptical, Dynamic, and Swimming. All while giving out tips and advice via the Running coach that tells you if your running pace is fast or slow. It sort of even tries motivating the wearer with preloaded phrases and quotes, which more often than not can infuriate rather than motivate. Well, what can you expect when it says, "Try to smile if you can" while you sweat buckets gasping for breath like a fish out of water.
Speaking of water, the Samsung Watch Active 2 has an IP68 and 5ATM water resistance and dust resistance rating with military-grade durability, allowing it to handle most conditions with no dips in performance.
The power reserve is also quite good for a smartwatch of this capability, allowing it to easily last you a whole day and more on a single charge.
Overall this device is worth the money when looking at its capabilities and is available at Poorvika. The starting samsung galaxy watch active 2 price in india stands at Rs.22,990. Order yours today and get it even faster with Poorvika's 2 hours delivery promise as you opt for the 2 Hour Fast Delivery option. We even have host of other deals you can check out from our Republic Day Offer starting on 20th Jan to 26th Jan 2021.