08 Feb 2021
Best Valentine's Day Deals and Offer 2021 – Poorvika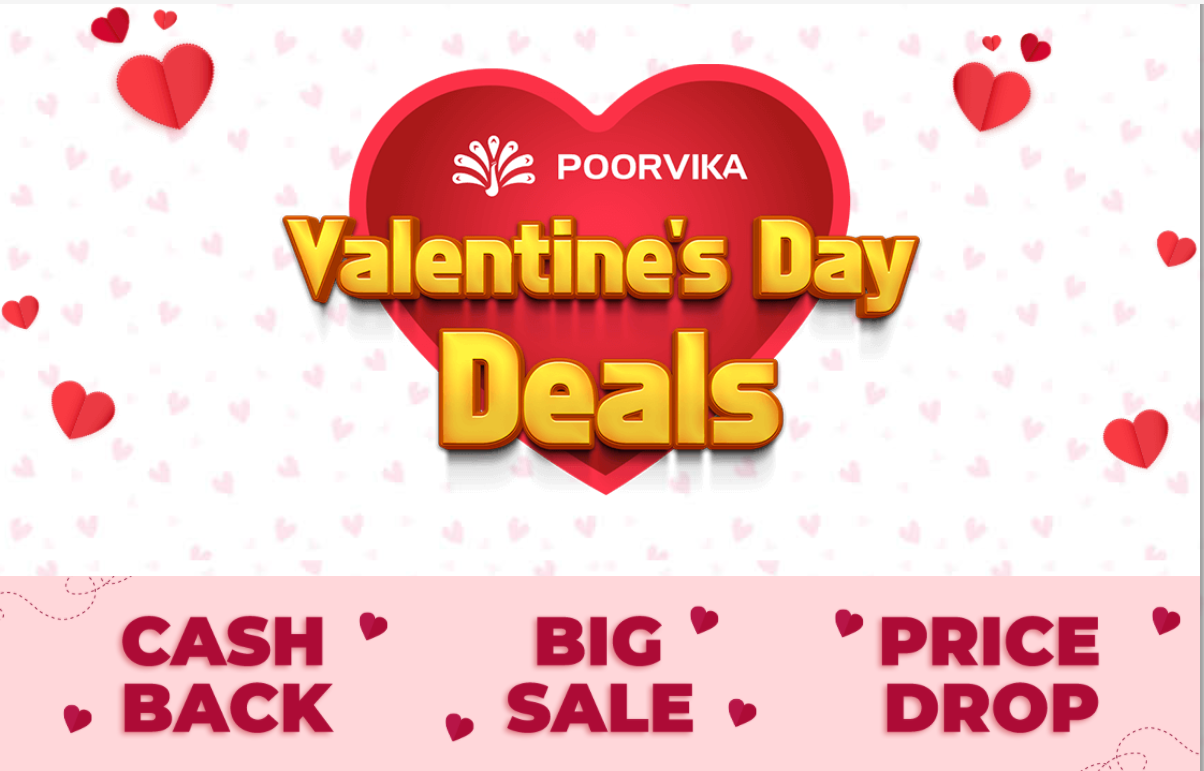 Valentine's day is the celebration of love and romance. Though you are a workaholic, your inner heart wishes to be with your soulmate on this loveable day. It is the perfect day to express your love and care to your better half and the best day to ask, "Will you be my Valentine?"
Rather than proposing the love of your life with just words, it would be great to propose them with a gift, as gifts speak your heart and make the moment more special and memorable. Gifts are the memories that always cherish your relationships and make them stronger. Getting a gift that is close to heart and at an affordable price is quite challenging but not impossible.
Poorvika has collated the best Valentine's day offers for you to take advantage of and gift your significant other nothing but love. The Poorvika Valentine's Day deal is a cool wrap filled with exciting cashback, big sales and price drops. You can now gift a keepsake to your girlfriend or boyfriend in the form of their favorite gadgets from Poorvika online with some exciting offers. Let us see all the impressive deals for the sweetest day of the year in detail.
New Arrival Deals:
Presenting something extremely new is the real surprise. The new arrival deals bring you all the latest gadgets like Samsung Galaxy S21 Series. Buy Mi 10i 5G for Rs. 21,999 and Galaxy M02S for Rs. 8,999.
Order Galaxy S21 Series at Rs. 69,999 and get up to Rs. 10,000 cashback on HDFC Bank.
Real Pictures Real Sound Deal:
Enjoy your favorite movies at your home with your mate and experience the effect of a theater with Real pictures and Real sounds. We help you bring theater to your home at an affordable cost as Realme Android TV is now available starting at Rs. 14,999 and OnePlus TV U and Y Series is starting at Rs. 15,999.
Music on Fest Sale:
Love is all about the music! The Music on Fest Sale offers mind-blowing headphones and speakers at the best price to enjoy your close to heart love melodies with stunning bass and sound quality. Buy Wireless Bluetooth at a starting price of Rs. 499. Get up to 70% discount on True Wireless Headphones and up to 50% discount on Bluetooth Speakers.
Mobile Accessory Deals:
Everyone has smartphones, so you lose the chance of surprising your romantic partner with a striking mobile. No problem, as you have the option to gift any of their desired Mobile Accessories. The Mobile Accessories deals give you tremendous discounts on power banks and many more. Buy 10000 mAh and 20000 mAh power banks at a starting price of Rs. 799 and Rs. 1,399. Buy pen drives with a 50% discount. You can also get tempered glass, mobile case and cover with a starting price of Rs. 199. Gift attractive smartwatches and smart bands starting from Rs. 2,499 and Rs. 799.
Powerful Laptop Deals:
If you are in a long-distance relationship, you will definitely spend a lot of time on video calling. Video calling on a smartphone is a bit annoying as you will have to hold it for a long time. But when it is on a laptop, it so comfortable and also easy. Gift your heart's desire an amazing laptop from the Powerful Laptop Deals. The Powerful Laptop Deals includes Budget Laptops, Gaming Laptops, Convertible Laptops and Apple MacBook at a reasonable price.
Special Deals:
The special deal is a collection of all your favorite gadgets at the best price. Buy iPhone 12 series and iPhone 11 with a cashback of up to Rs. 6000 and Rs. 5000. Also, buy iPhone XR and SE with a cashback of Rs. 4000. Buy Oppo Reno5 Pro, V-series, Y-series with an Rs. 2500, Rs. 3000, and Rs. 1000 cashback. Buy Oppo Reno4 Pro and 3 Pro with a cashback of up to 10%.
Love is the soul of life, and Valentine's day is the time to gift your loved one. Buy unique gifts from Poorvika online at a reasonable price on Valentine's day deals. Make the best use of our 2 hour delivery service to get your gifts much earlier.