09 Feb 2021
Best budget Smartwatches under Rs. 5000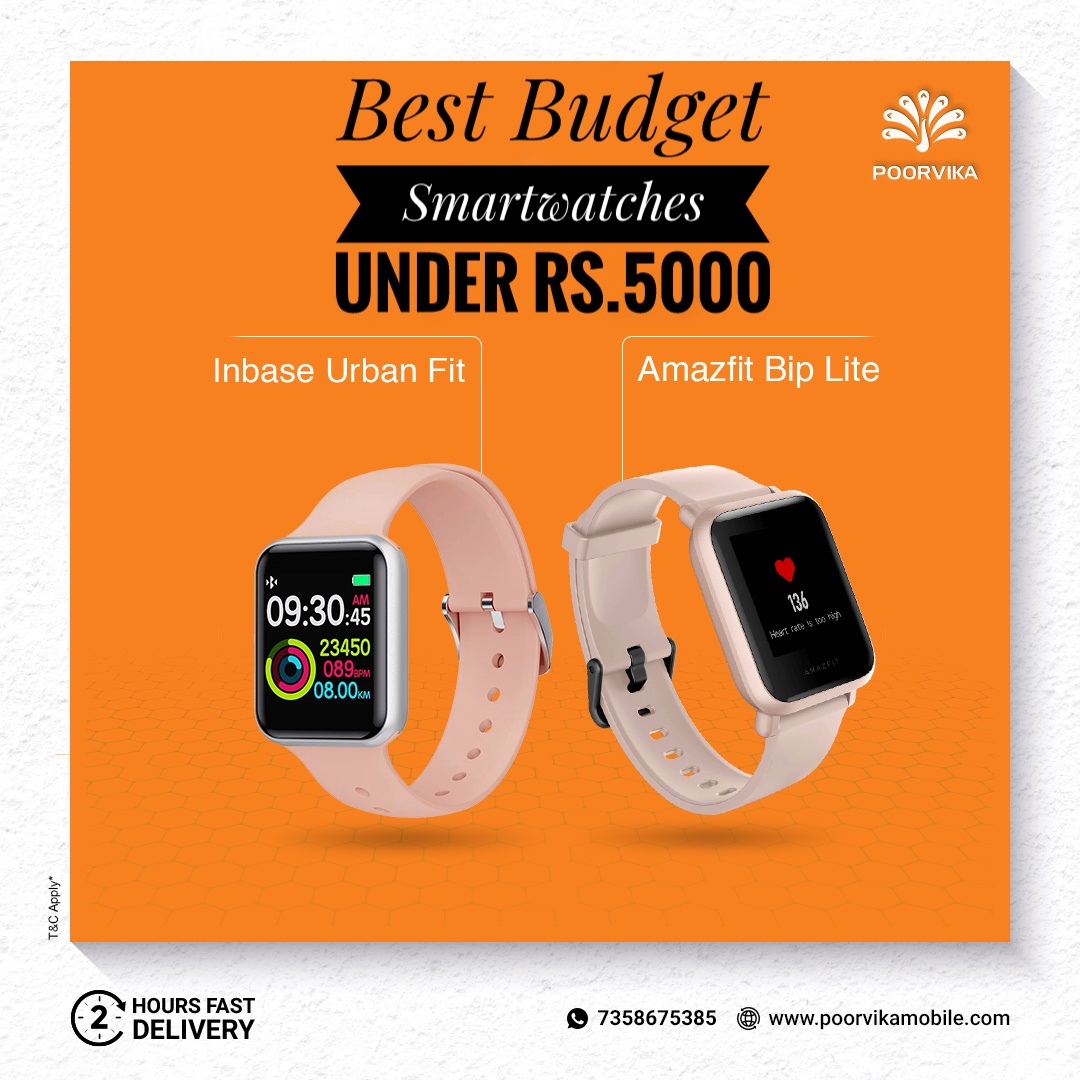 What is the first thing? You will have in your mind, before buying a product? It is obviously going to be price, not everyone can afford to be unbothered about price. Today we are going to present best budget smartwatches under 5,000. Our segregation will be based on the specification of a product and how well it was able to perform in our product testing session.
Huami Amazfit Bip Smartwatch
It remained completely intact to mild tap on the wooden table and we didn't have to wipe the screen even after touching the display multiple times with our bare hands. Seems like Gorilla glass 3 is doing its job perfectly. After getting to know the watch has IP68 certified water resistance. We dropped it inside a glass pitcher and let it inside the pitcher for around 10 minutes. Then we took it out and cleanly wiped off the screen and the straps. To everyone's surprise, it reacted like as if it was not even in water. Considering the price, we cannot comment about touch response. It also has 4 dedicated sports modes and a PPG heart sensor to monitor your body. You can also check call, message and notifications from other applications installed in your phone. It weighs just 32 grams, so you will not even feel like it is on your wrist. Colors Huami is offering for Amazfit Bip Smartwatch are, Onyx Black, White Cloud. You can buy Amafit Bip Smartwatch online for Rs.4,499 in India from Poorvika.
To know more about Amazfit Bip series smartwatch read our blog titled Huami Amazfit Bip smartwatches under Rs.5000 full features and price
Avail our 2 hour delivery service to get it delivered home.
Inbase Urban Pro Smartwatch
This surely doesn't look like most of the smartwatches. Then how does it looks like? Well, it looked like: it will go perfectly if you are wearing a maroon shirt and black cotton trouser, paired with brown lace-up leather shoes. If you ever happen to wear this combination. Then you need to have Urban Pro in your wrist. In addition to analog needle that displays time it also has a tiny digital console to display your blood pressure, heartbeat, calories burnt, step count, battery percentage, date, and day. Its IP67 offers water resistance to some extent. But your device will break for sure if the device stays in water for some time. Buy Inbase Urban Pro smartwatch online in India for Rs.3,499 from Poorvika.
Avail our 2 hour delivery service to get it delivered to your doorstep.
Huami Amazfit Bip S Lite Smartwatch
This will be a great companion during your workout. Since you can monitor your heartbeat, calorie intake, distance covered during your workout. It offers 10 sport modes to track workouts like running, outdoor cycling, indoor cycling, Treadmill, Walking, Elliptical training, Freestyle, Yoga. 5ATM water resistance can protect the watch from water only while swimming. Since 5ATM resistance cannot guard the watch during intense and tough scenarios manufacturers specify to what extent their products can survive. They are offering more than 150 watch faces.
But if you are using it with a preset watch face, battery will last for a month. Viewing experience was pleasant even in outdoors because of its Transflective display. If you ever happen to buy this product, you must download PAI Health mobile application. It will display your personal score. The score is based on how your body is reacting to workout. A study conducted by faculty members of medicine at Norwegian University of Science and Technology says people who maintained scores, more than 100 are less prone to obesity and other heart diseases. Buy Amazfit Bip S Lite Smartwatch for Rs.3,699 online in India from Poorvika.
Avail our 2 hour delivery service to get it delivered to your doorstep.
Inbase Urban Lite Smartwatch
We loved the analog inspired digital interface. It is equipped with a pedometer to detect motion of an object. It can monitor your heartbeat, blood pressure, and oxygen level in your blood. Smartphone camera can also be controlled using this watch. Regular feature of Urban Lite smartwatch includes 7 sport modes and 200 watch faces. It comes in 5 exquisite colors and they are Gold, Black, Blue, Grey, Pink. Buy Incase Urban Lite Smartwatch online in India for Rs.2,799 from Poorvika.
Avail our 2 hour delivery service to get it delivered to your doorstep.