09 Feb 2021
Best waterproof smartwatches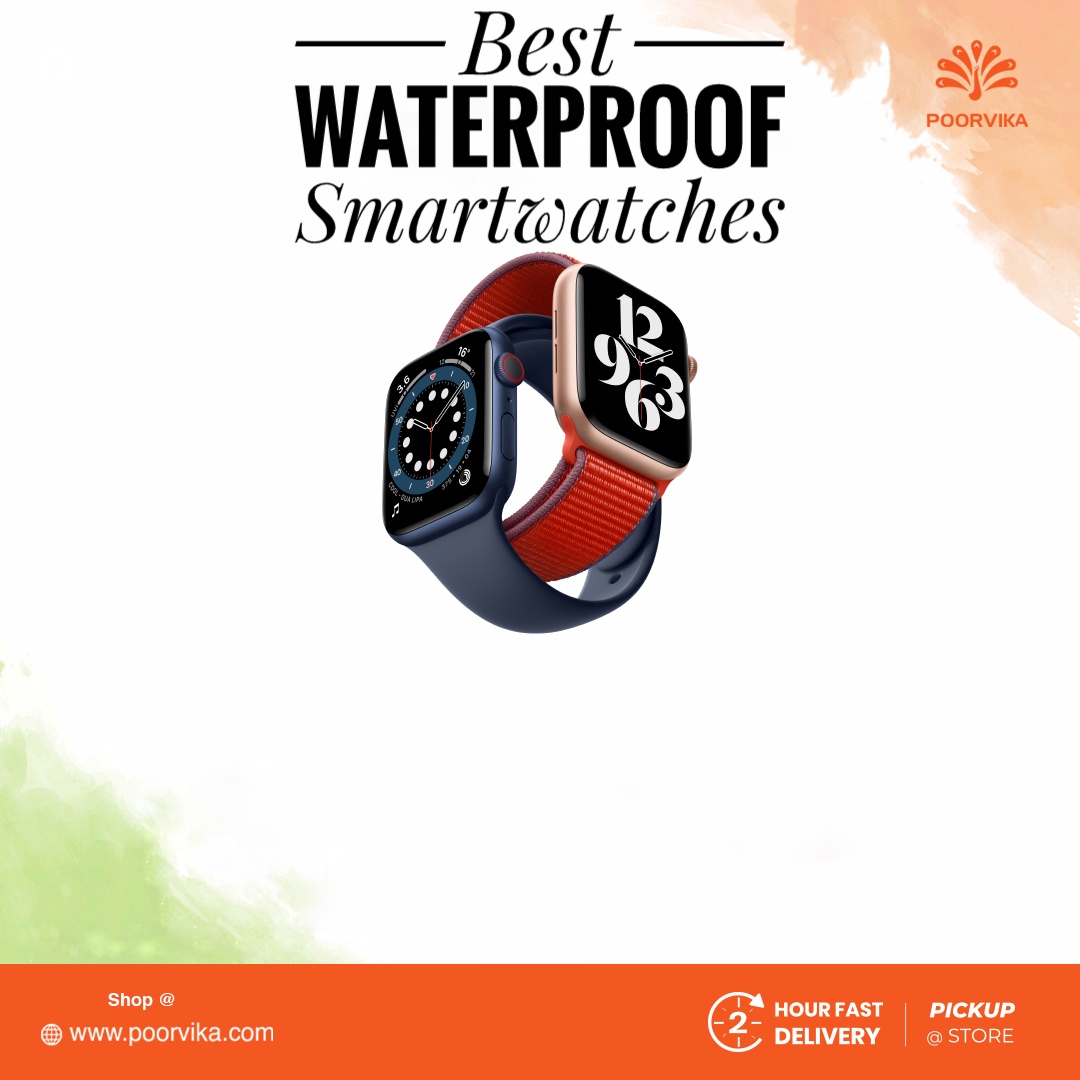 A smartwatch cannot tell how much load it can sustain or it will not know what its owner is going to bring tomorrow. But as a buyer you need to know how much it can sustain. Scroll down to know about best waterproof smartwatches you can buy in India.
To be honest, no device is completely waterproof. It is all about much they can resist and what they are offering will make them top this category.
Apple Watch Series 6
Apple has again used the same design that they have already used for the predecessor of Watch series 6. It runs on S6 processor which supports 5GHz Wi-fi band. Apple claims that S6 is 20 percent faster than S5 chip used in their watch series 5. Since the processor is equipped U1 ultra-wideband positioning chip. You can step into your car and even ignite the vehicle without a key. It operates on watchOS 7 and has an in-built ECG app. ECG is a method to monitor the rhythm and electric activity of your heart. It uses 4 LED clusters that are paired with photodiodes to accurately measure oxygen level in our blood.
It is currently available in two variants: a case made of Stainless Steel coated with Gold. The case of another variant is made of aluminum. Both the variant has two display sizes 40 and 44 mm. On paper 40 mm Stainless Steel variant is 7.4 grams heavier than 40 mm Aluminum variant. But while having it on your wrist, we are sure you cannot identify the difference. Build quality is dense and robust. All variants are equipped with 5ATM water resistance. This means the watch will be intact up to 50 meters inside water. Watch series 6 is available in Black, White, Pink, Red, Deep Navy colors. There are also Gold, Silver color metal straps available. Price of Apple Watch series 6 starts from Rs.40, 900 in India. Buy Apple watch series 6 online from Poorvika.
Avail our 2 hour delivery service to get it delivered to your doorstep.
Samsung Galaxy Watch 3
We will say not just appearance but also features are deceptive. As this watch from Samsung displays shadow of the watch's hands. You can also hear Ticking sound so you will feel like you are not wearing a smartwatch. The screen automatically switches off, if the watch remains inactive for five seconds. To know your status in real-time, you will have to turn on Always-on Display. Its algorithm will monitor and give you suggestions, prompts during your workout session. Its smart reply analyzes your texts and pops out suggestions based on meaning of a message. You only have to touch on it to reply to texts. The leather strap definitely looks and feels premium. It has both 5ATM & IP68 water resistance. Galaxy Watch 3 will survive even if you are swimming in world's deepest pool located in Poland. It is available in three colors named Mystic Silver, Mystic Black, and Mystic Bronze. Samsung Galaxy Watch 3 starts from Rs. 33,800. Buy Samsung Galaxy Watch 3 online in India from Poorvika.
Avail our 2 hour delivery service and get it delivered to your doorstep.
Huami Amazfit T-Rex
This rugged device from World's largest wearable manufacturer cannot be wholly regarded as a smartwatch. Because it lacks even general features like attending calls and replying to conversations through watch. Agreed it can monitor your workout and measure your heart beat and the results were pretty accurate. Even smart bands can do all of this. Considering its price this rugged smartwatch from Huami definitely deserves to be in this category. Its 12 Military Grade certifications can survive any kind of circumstance. 5ATM water resistance will guard the watch inside water up to 50 meters. Buy Huami Amazfit T-Rex smartwatch for Rs.9,999 in India from Poorvika.
Avail our 2 hour delivery service to get it delivered to your doorstep.