10 Feb 2021
Apple Airpods Max review- The Hearable at its Best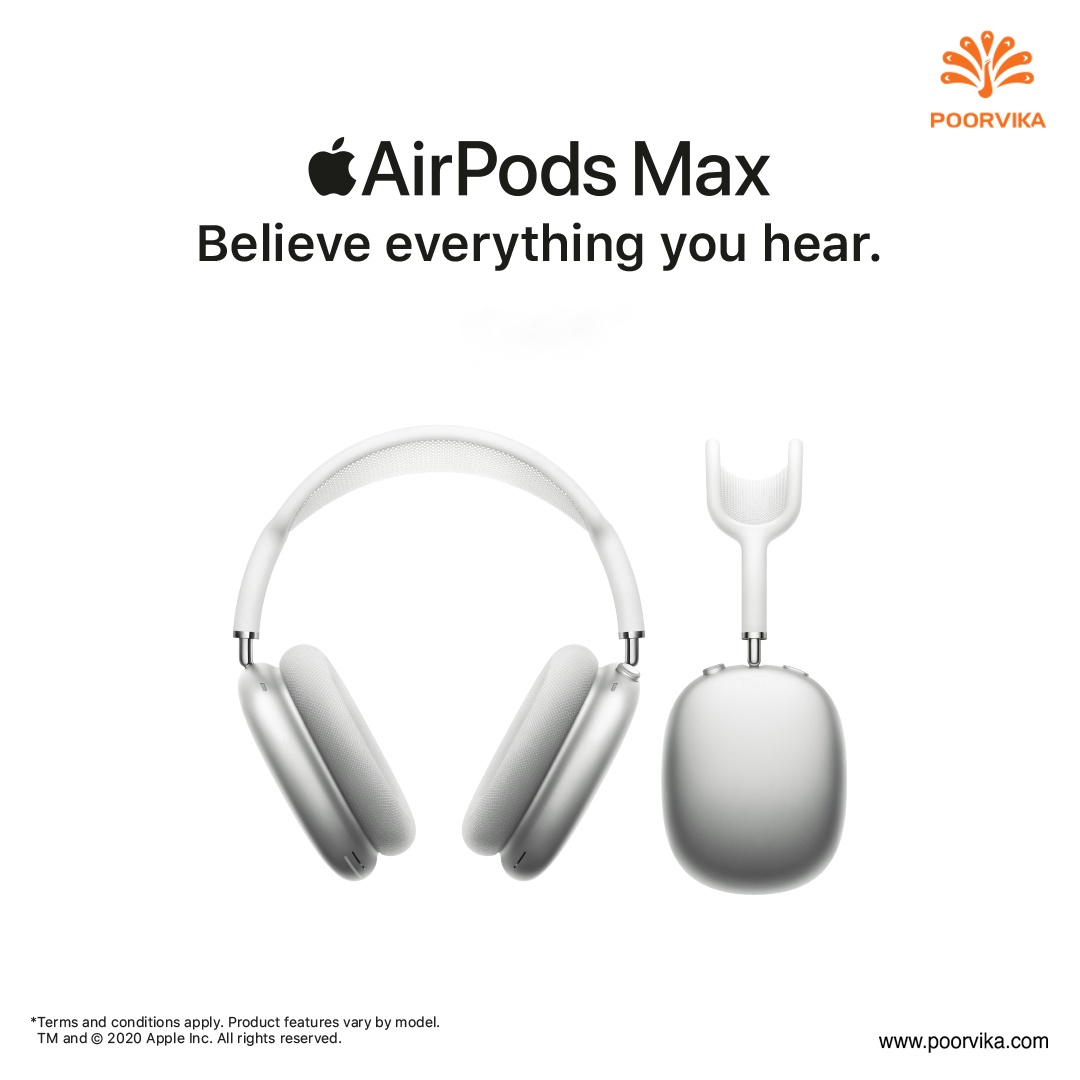 We are sure most of us will have heard the proverb: An apple a day keeps doctor away. When you hear the word Apple? What is the first thing that comes to your mind? Fruit or the Trillion-Dollar Company from Silicon Valley, California, United States of America. After seeing several memes on social media about the company called Apple. We understood it is the fruit called apple that keeps doctor away. Now let us get back to the topic. Scroll down to know why Airpods max is the best.
Apple Airpods Max
Apple has arrived late to the league.  A league which is dominated by a company founded by a professor from Massachusetts Institute of Technology. Curious to know the name of the professor and the company? You will know his name while you read the next sentence. Name of the professor is Amar Bose, we hope you will have guessed name of the company. Not yet guessed? Don't stress much or open another tab to find out the answer. Bose is name of the company. Can Airpods Max share the market or will Bose continue its superstar status? We cannot affirm whether a product can stun the market or not.
Then what can we affirm? We can affirm a product is good or bad based on, how it performed in our product testing session.  Apple Airpods Max is made of steel, it weighs heavier than other headphones. But an electronic product made of steel or aluminum lets a consumer comfortably show off their products. Since metal offers textured finish to a product that plastic can only dream of offering. A combination of glossy handle and oval-shaped ceramic finish steel, makes the product stand apart from other products. Steel build implicates craftsmanship, manufacturer's obsession towards quality.
Sewn mesh on the top neutralizes the weight while having them on our head. And its oval-shaped memory foam is made of a breathable fabric that generously lets air in. So your ears are not going to feel warm or get hurt. Folding the headphone is impossible because its rotatable ear cups are attached to a pillar made of steel. It will only let you adjust length.
So whenever you are carrying it along with its case, you will feel like carrying bags from luxury brands like Louis Vuitton, Dolce & Gabanna. It only has two buttons named Digital crown and a button to switch between noise cancellation and transparency mode. Initially, it was very hard to find the placement of digital crown. As it is placed adjacently to the steel pillar of earcup.
By using digital crown button you can increase or decrease volume by pressing it once, it will play and pause a song. To activate Siri you need to hold the digital crown for a moment. Out of its 9 microphones, 8 of them works to vacuum external noise around you. We will say it was able to do the job assigned to it flawlessly. We wore this headphone in traffic and could not hear noise of any vehicle's honk. And there is a 40 mm driver made of neodymium magnets.
The driver is so massive for a headphone because driver size of most of the beginner level Bluetooth speakers are 40mm. This could be the reason why we were not able to identify any kind of distortion. It also manages to perfectly balance between any highs and lows. Apple has effectively used H1 processor because it is able to adjust equalizer settings based on how tightly Airpods Max fit on your ears. Even at maximum volume, audio output was refined like how it was at lower volume level. After listening to heavy metal music, bass was crisp and it was never deafening. Spatial audio is definitely addictive and words are not going to do any justice if we were to describe it. Amazing, phenomenal will be the two words we will use to describe spatial audio.
Apple's claim about battery life is partially true since it was able to last for 14 hours straight. Once it completely ran out of steam, we charged it for 5 minutes to check how far it can go, it survived for another 90 minutes. To know the real potentiality of Airpods Max and to agree to the title of this blog, you will have to use Amazon Music instead of Apple Music, since Apple Music is still offering 256kbps AAA files. Considering its weight, we will recommend it to use it while you are comfortably relaxing or even while traveling. A plain 'no' will be our answer if you are asking us, whether it can be used while jogging or during any physical workout. Apple Airpods Max price in India for Rs.59,900 from Poorvika.
Avail our 2 hour delivery service to get it delivered home.