10 Feb 2021
VALENTINE'S DAY SPECIAL DEALS 2021 AT POORVIKA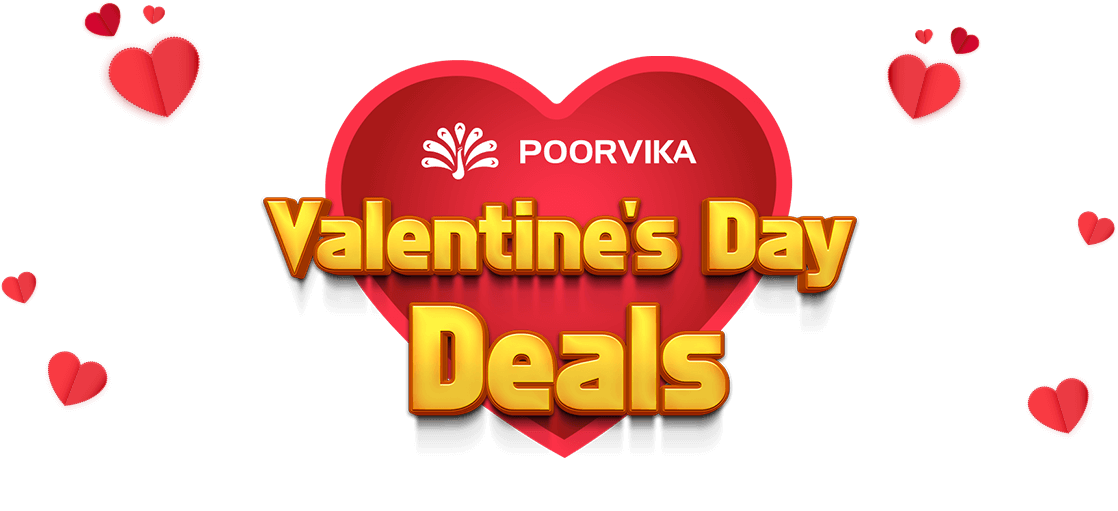 The month of Love is here!
On Valentine's day, people share their love for each other and make their loved ones feel special! Even though you are busy with your work, your inner heart desires to be with your true love on this adorable day.
Rather than proposing just with words, it would be great to propose your loved one with gifts.

Gifts help you express your feeling vividly and make the moment more adorable and beautiful. Gifts will help you to remember the past and you will cherish your relationship that makes it even more romantic!
Getting a gift that is near to your heart and at an affordable price is a bit difficult but it is very much possible.
New Arrival Deals:

Present your loved one the latest technology. The new arrival deals give you the latest mobiles like Samsung Galaxy S21 Series.
Buy Mi 10i 5G for Rs. 21,999 and Galaxy M02S for Rs. 8,999.
Buy your Galaxy S21 Series at Rs. 69,999 and get up to Rs. 10,000 cashback on HDFC Bank.
REAL PICTURES REAL SOUND DEAL:

Bringing a Cinematic experience to your room is the best gift that you can give to your loved one. And, We here at Poorvika help you get it at a much affordable cost. Realme Android TV is now available starting at Rs. 14,999 and OnePlus TV U and Y Series are starting at Rs. 15,999.

MUSIC ON FEST SALE:

You can dance with your loved one on Valentine's day as we provide you with "The Music on Fest Sale" which offers mind-blowing headphones and speakers at the best price to enjoy your close to heart love melodies with stunning bass and sound quality.

Get Wireless Bluetooth at a starting price of Rs. 499 only. Get up to 70% discount on True Wireless Headphones and up to 50% discount on Bluetooth Speakers.
MOBILE ACCESSORY DEALS:

Buy cool accessories for your partner and surprise your loved one on this great occasion. The Mobile Accessory deals give you discounts on power banks and much more.

Buy 10000 mAh and 20000 mAh power banks at a starting price of Rs. 799 and Rs. 1,399.

Buy pen drives with a 50% discount. You can also get tempered glass, mobile case and cover with a starting price of Rs. 199. Present an attractive smartwatches and smart bands starting from Rs. 2,499 and Rs. 799.
POWERFUL LAPTOP DEALS:

Video-calling is connecting all the long-distance relationship. Video calling on a smartphone is give bit bad experience as you will have to hold it for a long time.. So make your loved one comfortable gift an amazing laptop from the Powerful Laptop Deals. The Powerful Laptop Deals includes Budget Laptops, Gaming Laptops, Convertible Laptops and Apple MacBook at an affordable price.
SPECIAL DEALS:

In special deal you can buy all your collections at one place. Collect your favorite gadgets at the cool price. Buy iPhone 12 series and iPhone 11 with a cashback of up to Rs. 6000 and Rs. 5000. Also, buy iPhone XR and SE with a cashback of Rs. 4000. Buy Reno5 Pro, V-series, Y-series with an Rs. 2500, Rs. 3000, and Rs. 1000 cashback. Buy Oppo Reno4 Pro and 3 Pro with a cashback of up to 10%.
Enjoy this Valentine's day with your loved one!
Gift the most needed electronics and accessories from Poorvika and make your better half the happiest!
Avail our 2-hour delivery service and your gifts delivered at your doorsteps.
Click here to check out my other blogs to stay on top of Upcoming Smartphones, Earphones, and many more gadgets. Get the latest Tech News and Updates, all in one go!