11 Feb 2021
Everything You Need to Know About Dell Inspiron 3505 Ryzen R5 3450U Windows 10 Laptop D5600390WIN9SL (8GB RAM, 256GB SSD, 15.6 inch, Soft Mint)

We are not sure whether Mr. Michael Dell believed his company will become the most trusted personal computer manufacturer in the world. Dell was the first company to sell products worth 1 million dollars a day via e-commerce.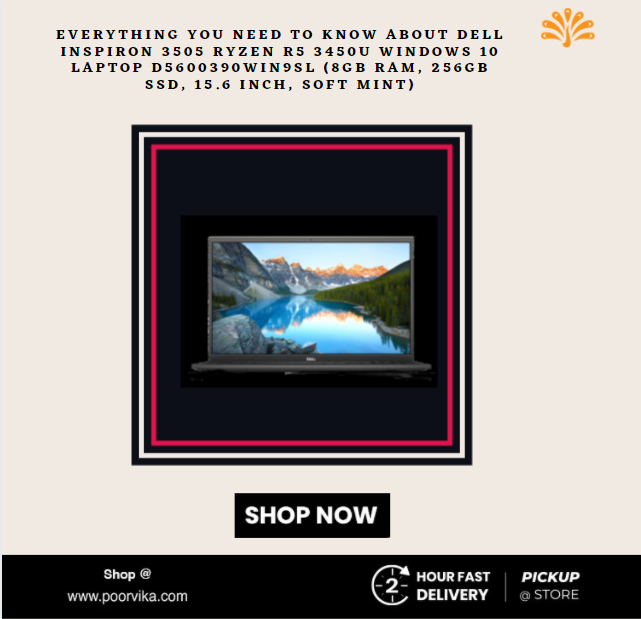 It is a noted fact that generation X, Y, Z and even millennium children are badly in need of a personal computer or laptop. For a millennium and post-millennium children, this is unquestionably the best budget laptop. Since they only need a laptop to attend online classes and surf extensively on the web.
Though it is made of plastic, soft mint color makes the Inspiron 3505 look like, as if it is made of aluminum. It has a 15.6-inch wide-viewing display with a resolution of Full HD (1920 x 1080). And the visual experience was pleasant because of its anti-glare display. Video calls were bright and clear.
Thin bezels gives the laptop a futuristic notion. Keys on the keyboard was light and nimble. The wide trackpad is responsive and accurate. You can start typing even without staying connected to the internet because it has Microsoft Office Home and Microsoft Office Student.
On the left side of Dell Inspiron 3505 Ryzen5 3450U Windows 10 Home laptop, there are two USB Type-A ports, a 3.5mm headphone jack, a charging port, a port to plug into Ethernet, and an HDMI port to stream media across multiple devices. Right side houses a SD card slot and a lock slot. Not many people are aware of the purpose of the lock slot. Are you one among them? If yeah, swipe your thumb slightly to know about its purpose.
The manufacturer will only provide a slot to install the lock. You will have to purchase the lock to install it, in your laptop. The anchor of the lock is made of a metal that is connected to a cable, which is made of braided metal. Braided metal is wrapped using thick rubber. You need a key to open the lock. After installing the lock, it is impossible to steal your laptop. We hope you have understood the purpose of the lock slot. This laptop has a wedge shape lock slot. The laptop is powered by a quad (4) core 12 nanometer AMD Ryzen R5 3450U processor, which is built using 8 threads.
However, its processing power cannot be underestimated. Because it was able to convert 600 pages MS Word document into Pdf under 4 seconds. The laptop is equipped with AMD Vega 8 which is an integrated GPU. It is definitely not powerful enough to run the game: 'The Witcher 3: Wild Hunt' yet while playing the game 'Fifa 14,' controls and gameplay was smooth. Without connecting the laptop to the adapter, the battery lasted for almost 4 hours. Dell Inspiron 3505 Ryzen 55 3450U price in India is Rs. 42,999. You can buy it online in India from Poorvika.
Avail our 2-hour delivery service, to get it delivered home.