11 Feb 2021
Everything You Need to Know About HP 15s Intel Core I5 11th Gen Windows 10 Laptop 15s-du3060TX (8GB RAM, 1TB HDD, 2 GB Graphics, 15.6 Inch, Jet Black, 1.77 Kg)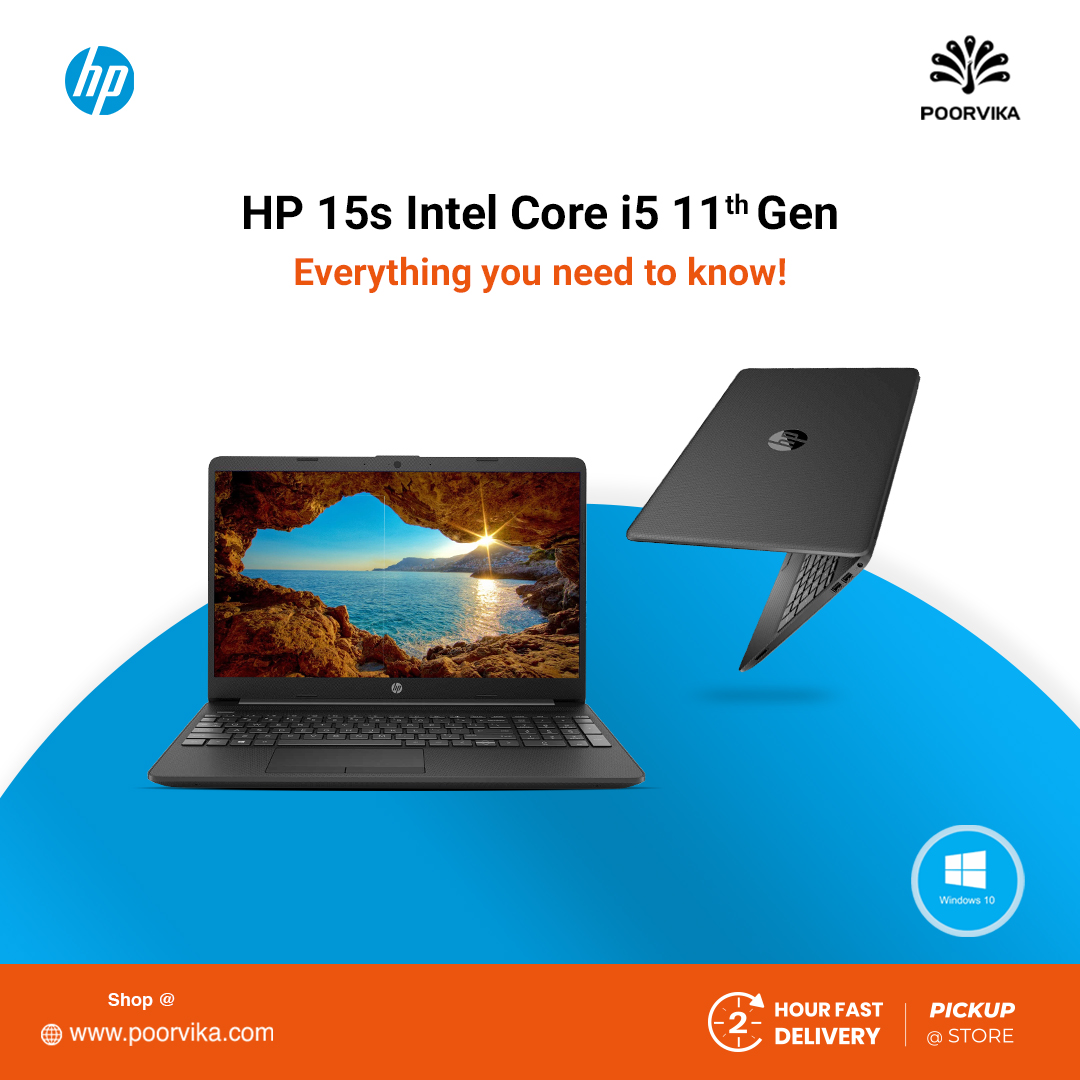 After the stroke of COVID-19, demand for Laptops has swollen. Why? It is because we human beings cannot afford to compromise our work, academics for some random invisible enemy. We are closing the performance gap using personal computers and laptop.It is said no machine is perfect. So choosing a perfect machine for you, is completely based on what you are prioritizing.
Today we are going to present you a product from the most popular Laptop brand in India. Founded by Bill Hewlett and David Packard at Palo Alto, California, the United States of America in the year 1939. Also known as HP. In 2020 they owned 28.2% of the market share.
HP 15s Intel Core i5 11th Gen Windows 10 Laptop has a 15.6 inch LED-backlit IPS anti-glare IPS micro-edge display. This surely sounds like a specification sheet right? We will explain what it is to you. IPS panel manipulates liquid crystal that is placed behind the panel. Through this process, IPS panels were able to achieve more vibrant colours, sharper images.
Since this laptop has a LED-backlit IPS panel does not have to manipulate crystal because crystal does not exist behind the panel. LED-backlit behind the panel are made up of several pixels. They are brighter and each pixel can illuminate on their own.
But the problem of LED lights is: they cannot be used individually. Because of their prongy light projection can harm our eyes. But you don't have to be worried.
As the laptop's display has an anti-glare display. It sweeps light from the panel to make your eyes feel comfortable. Its Intel Core i5 11th generation is paired with a DDR4 8GB RAM. DDR4 offers more bandwidth, also it consumes less power, thicker than its predecessor DDR3.
Quick search results, no slouching while opening many applications are the differences we were able to identify while using a laptop that has a DDR4 RAM. These differences were visibly noticeable.
Chipset of HP 15S
The 10 nanometer, quad core, octa threaded processor achieved a total score of 4904 in our multicore benchmark test. However real-life performance is a lot different from benchmark. The laptop did very well in our product testing session.
We had no issues while opening a 1632 page Microsoft excel sheet, 13 Google Chrome tabs, music was playing in the background.
Graphics Card
NVIDIA GeForce MX350 was able to cooperate well while playing light games like Dead Space, Hearthstone. It is a noted fact that the a microprocessor with dedicated GPU is more powerful than the integrated GPU. Also in real life performance of Integrated Graphics Card is comparatively lower than Dedicated GPU.
Though MX350 is a discrete GPU. It did not slouch at any point of time. However, the 64-bit memory bus limits its potentiality of MX350. The limitation can be explicitly seen especially while playing intensive games like The Witcher3: The Wild Hunt, laptop struggled a lot. Yet it could not remain modest in high graphic settings. However the laptop didn't even struggle a bit while playing heavier games in low and medium graphic settings.
Since the laptop has a 1TB storage, we are sure most of us are not going to look for other storage options. With 1TB of storage you can almost store 6.5 million pages in a MS Word document. Though image processing of 720p front camera was grainy, it is definitely not worth of complaining.
The Webcam of the laptop is amazing and the faces were clearly visible over Skype video calls. Touch control worked like how a butter will react? If it is placed on a hot pan. Since Alexa is learning more skills, so its functionality cannot be narrowed down.
The laptop has an in-built Alexa through which you can listen to music, watch videos from your favourite platform without even connecting an external speaker, as the built-in speakers can fill any room ranging from 300 to 450 square feet.
There are two USB Type-A, one Type-C, HDMI, 3.5mm headphone/microphone jack, and an SD card reader. You can buy HP Windows 10 15s-du3060TX laptop in India online from Poorvika. Avail our 2 hour delivery service, we will deliver products to your doorstep.