11 Feb 2021
OnePlus U Series Ultra HD 4K LED Smart Android TV 55U1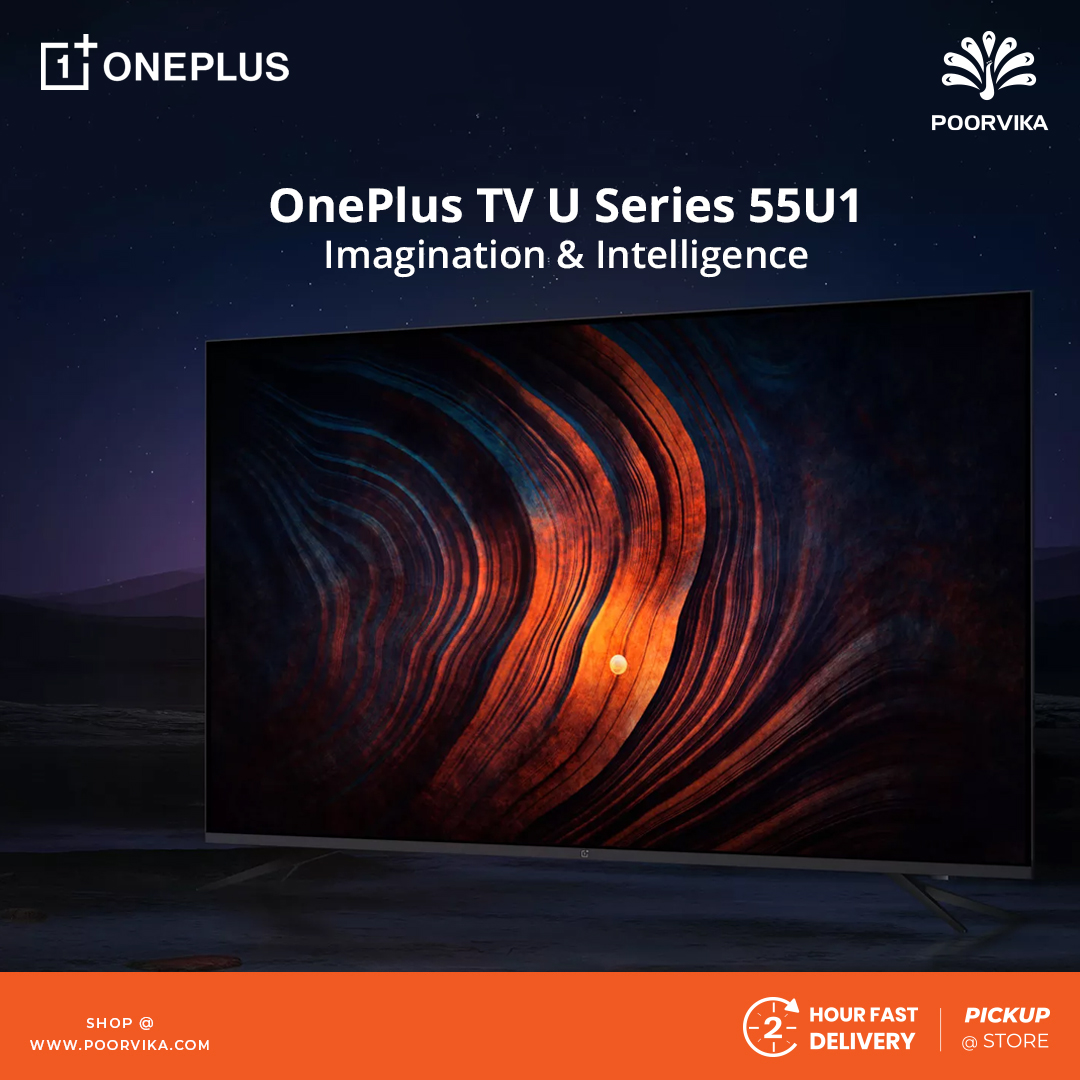 We still remember a time when an individual gets the curated invite from OnePlus when a new smartphone is on the market, and the interested person has to sign the invitation. Back then, the company was a startup, so it was their newfound way of marketing their products to create that much-needed hype. OnePlus televison unquestionably deserves a standing ovation for that strategy. It got the GP's attention. Despite a strong aversion towards Chinese products and the launch of Samsung's M series, OnePlus managed to bag a total share of 33 percent in the Indian market.
After their debut in the year 2013, they gradually climbed on to become the number one premium smartphone manufacturer in India. Their marketing strategies, target sectors, and product quality became an enormous factor. The success of OnePlus surely sounds like a motivational story, but some might term it as sheer luck. So, which category do they come under? Even if they employed diverse marketing strategies, their products spoke for themselves.
The market got piled up with a lot of 4K TVs. But only a few could offer an exceptional picture quality that satisfies our thirst for super-high-resolution. Why? I hope you all remember what great ol' Odin said. You don't? Don't worry; we got you! All high and mighty with his chin up high, he said, "Whosoever holds this hammer, if they are worthy, shall possess the power of Thor". You might slightly wonder how the picture quality of 4K TV is relevant to be worthy of a hammer from old literature? Well.
This dialogue is absolutely relevant to the question: Why is the picture quality of most 4K televisions bad? Well, to be honest, it is not exactly because those televisions are not worthy. We can't come to that conclusion yet, but they don't actually have what it takes to be a perfect 4K TV though. They're more like fake gimmicks. They come with poor wide colour gamut. Many of them have this idea that the quality of HDR and WCG are the 'same.
Though both do share a few similarities, they exhibit a slight difference. The said slight difference is: dynamic range enhances the overall colour reproduction of a picture. The colour gamut increases the size of the colour palette that concentrates on millions of colours on a picture. So, by enlarging a palette, colour representation in a picture will be more intense. That's how you produce top quality images.
To understand how WCG produces a better picture quality, another analogy of how LED and LCD differ from each other might be necessary. Since LED displays are not backlit, pixels inside the panel actually switches off while displaying black colour, but LCDs that are Backlit reflects black colour much clearly. The OnePlus 4K LED is that brilliant. The screen responds nimbly to all commands equally via remote. You also don't need a remote to control it every time, since you can make each and every command through the Oneplus connect mobile application.
The MMEC uses frame interpolation so there are no lags even while streaming online. It has 4 speakers that produce 30W output, of which 2 are full range, and the remaining two are downward-firing tweeters that produce a strong kick while you play heavy metal songs. However, don't expect the volume to weaken your knees. The bass levels were superb, which we were able to experience while sitting a solid 6 feet away from the TV, it's that loud. It also has Dolby Atmos and DTS HD support providing surround sound that makes you feel like you're at a theatre.
Metal like plastic remote houses separate buttons for Netflix, Amazon Prime and Google Assistant. The Smart Volume Control is our favorite feature. When you receive a call on your smartphone while it's connected to the TV, it automatically adjusts the volume level to suit the environment. The TV has 16GB internal storage and 2GB RAM, which made sure we faced no issues while playing videos using an external USB.
The 4K TV houses a composite AVI port, an Ethernet jack, and three HDMI ports. You will have no mess while using HDMI, as one of the HDMI port is ARC compatible. Sound travels both ways from the TV's speaker, and that means it was introduced to lessen the number of cables while using HDMI. Less add-ons, less messier. Though it has two USB ports, only one of them sports our regular USB 3.0. Through its file manager, you can effortlessly find the content you're looking for from your external USB storage. All connectivity ports stay entirely modest under the carbon fiber back panel.
While seated away, the bezels around the TV are almost non-existent. A thin 6.9 millimeter aluminum chassis is lovely on the eyes and seems like it weighs almost nothing. After making a straight cut, we lifted the TV from the box. Our palms and shoulder strained to a great extent, so yeah, it's not exactly lightweight. Oneplus offers two metal stands to mount the UHD 4K Android TV. And, if you wish to install it on the wall? Well, you got to pay additional charges to the manufacturer.
The Oneplus U series 55 inch Smart Tv price in India is Rs. 52,999. You can even buy the TV now and pay the amount later, isn't that so convenient? We also offer 5 % cashback on Standard Chartered Bank, Bank of Baroda, and Yes Bank Credit Cards. Customers of Kotak Mahindra Bank gets up to 5% cashback on credit and debit card transactions. Buy the TV from Poorvika online and choose our 2 Hour Fast Delivery service to have it delivered to your doorstep.