16 Feb 2021
Best Budget Power banks in India to Buy 2021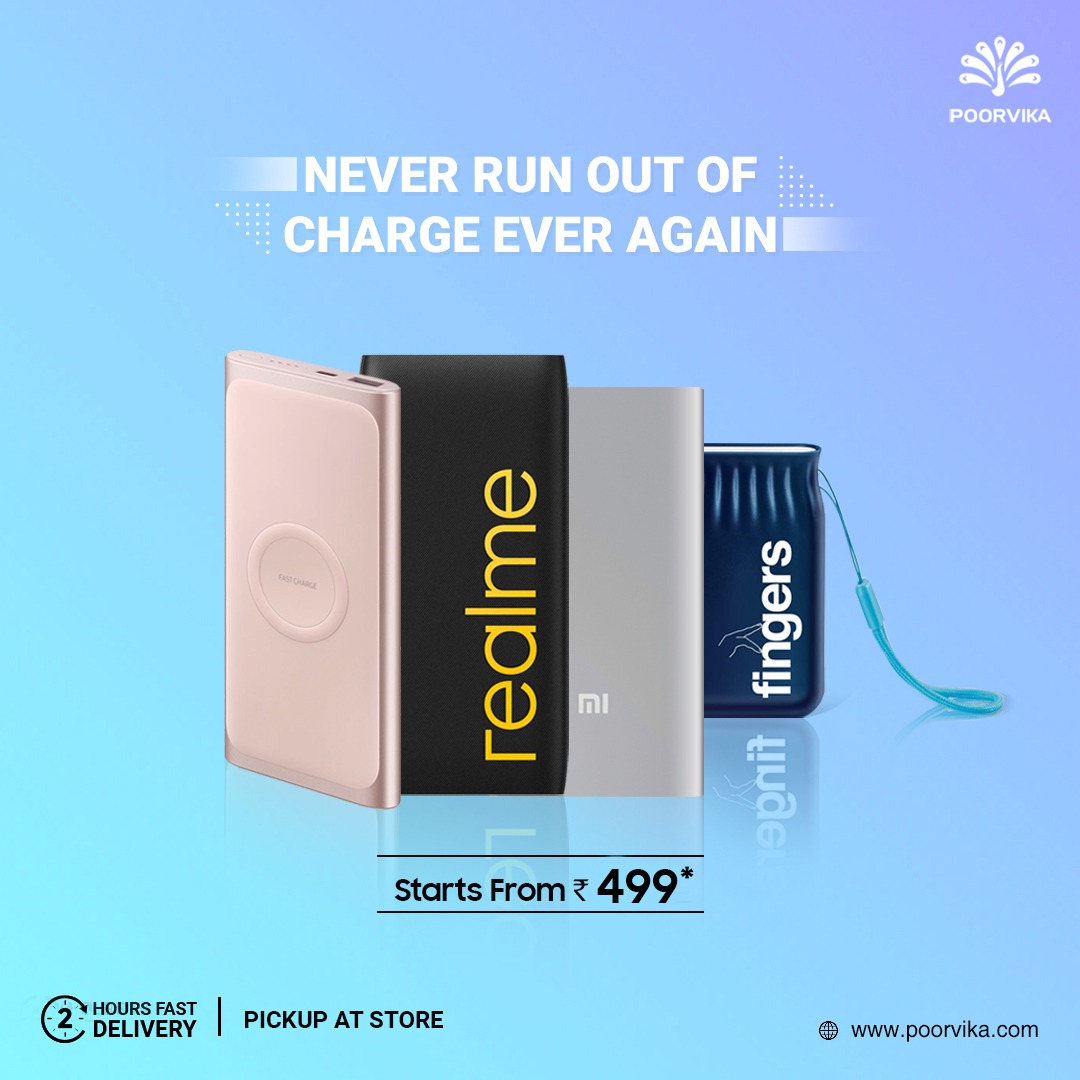 The modern world made modern people use technology for every single work. We are glued with our laptops, mobiles, or with our tablets all the time. We keep on using gadgets for playing games, researching, or making presentations to connect with our colleagues.
Sometimes these types of modern technology will give one big heart attack by having low battery power. Just think, you are in the middle of your presentation and a low battery notification pops up stating that you only have about 3% of battery left. What will you do? This is where a power bank comes to the rescue and boosts your battery power and saves you from a shutting down scene.
If you don't want this type of nightmare get the best power bank to recharge your phone and laptop.
Here is a blog that particularly listed out the best power bank that is available in the market.
Realme 30W Dart Charge 10000mAh Power Bank
Realme is known for its real super cool carbon fiber texture design that is sculpted exclusively for the users to get a grip while using your mobile with a power bank.
This realme power bank comes in yellow and in black color with Realme's brand name which is really awesome. The weight of this power bank is just 230 grams where you will not feel that you are holding a power bank in your hand. Realme 30W Dart Charge 10000mAh Power Bank is looking and feels like a thin notebook. 13 layers of circuit protection will give extra safety protection for your power bank as well for your gadgets.
A high-density lithium polymer battery will provide a powerful stable charging experience at any time anywhere.
Overcharge and Over-discharge, features are available to prevent battery bulging. You can easily charge your mobiles, tablets, and smart devices in real-time.
Click here to get your amazing Realme 30W Dart Charge Power Bank price in India which is exclusively available at Poorvika.
Mi 20000 mAh Power Bank 3i

The mi power bank comes with innovative designs and excellent quality.

Mi 20000 mAh Power Bank 3i is born to give an extreme amount of power to your phone and tablets. Xiaomi makes this world's best power bank in India.
Yes, it is a "Make in India" power bank that is available in the market. This power bank is powered by a Lithium polymer battery. Lithium polymer battery is really good for its safety and also to stabilize the discharge voltage fluctuation which will ensure long battery life.
It comes with 18W fast charge support where your gadgets will get 100% in a matter of hours. Triple Port output will allow you to charge three devices at the same time. You can charge your smartphone, smartwatch, and a tab at the same time.
This power bank has dual input support where you can charge your power bank with your micro USB or with your Type-C charging port, so you don't want to search for a particular set of the wire during your charging time.
This power bank will provide non-stop power to your phone, tablets, and smart gadgets every-time everywhere.
Get this amazing Mi Power Bank 20000mAh price in India especially here at Poorvika.

Get exciting cashback, discounts, and offers and avail our 2 hour delivery and get your power bank on time.