16 Feb 2021
Realme – best true wireless earbuds 2021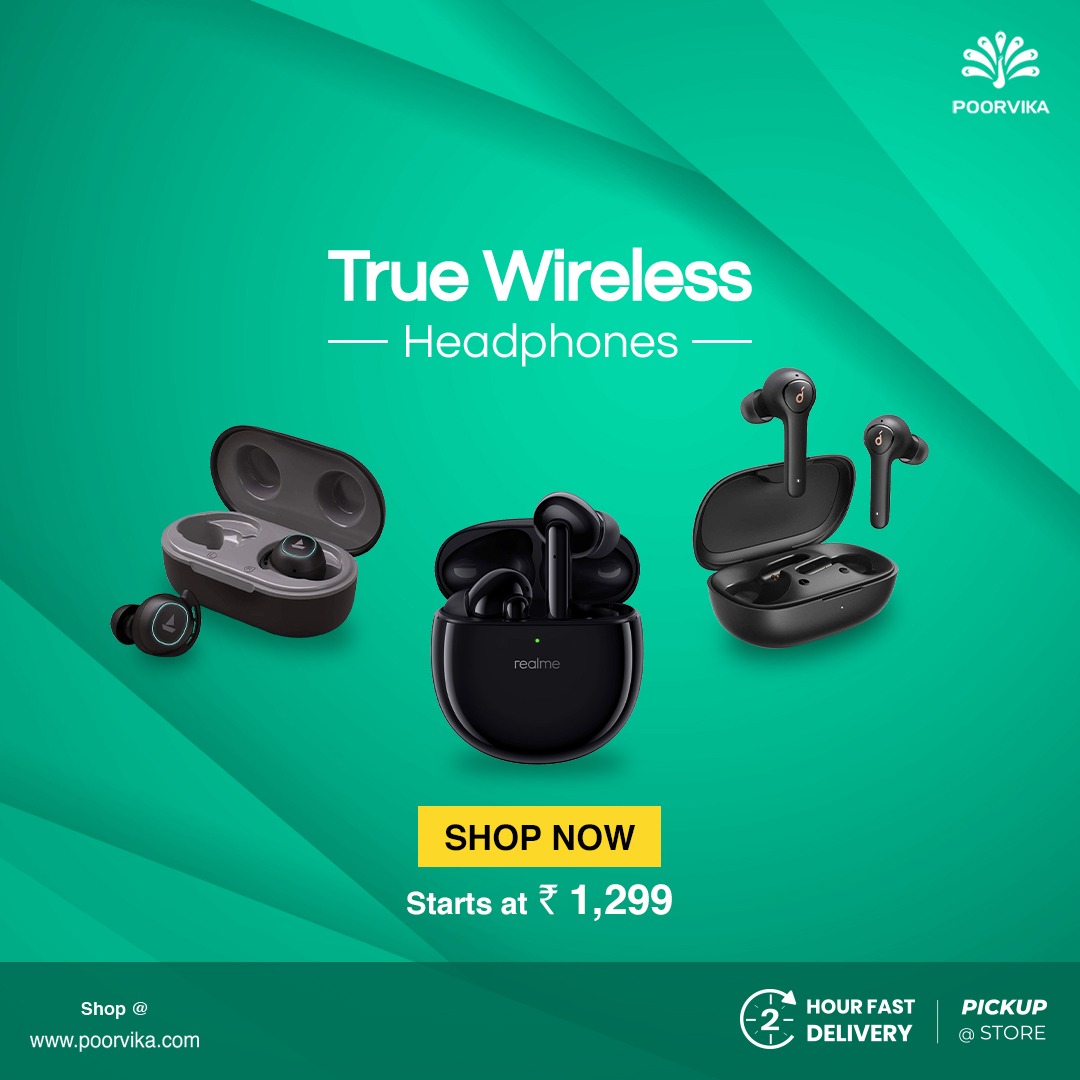 Are you searching for the best true wireless earbuds (TWS) of 2021? Read further to know why we have the perfect answer for you!
True wireless earbuds look like a little piece of technology with a couple of little LED lights, but this headset's potential is unthinkable. People use wireless earbuds every single day as they get genuinely amazed with their performance.
True wireless earbuds are tangle-free; you literally don't have to worry about wires as there aren't any, so you can just listen to your music on one go, even in crowded areas.
The technology that goes into true wireless earbuds is expensive, but realme offers high-grade TWS for affordable prices. Read more to explore various true wireless headphones produced by realme and the ones that top the market in 2021, along with upcoming ones for this year.
Realme Buds Q

We have the Realme Buds Q, a charging case, a warranty card, tips card, Type-C cable, and ear tips on opening the package. The Realme Buds Q is a true trendsetter with its unique design.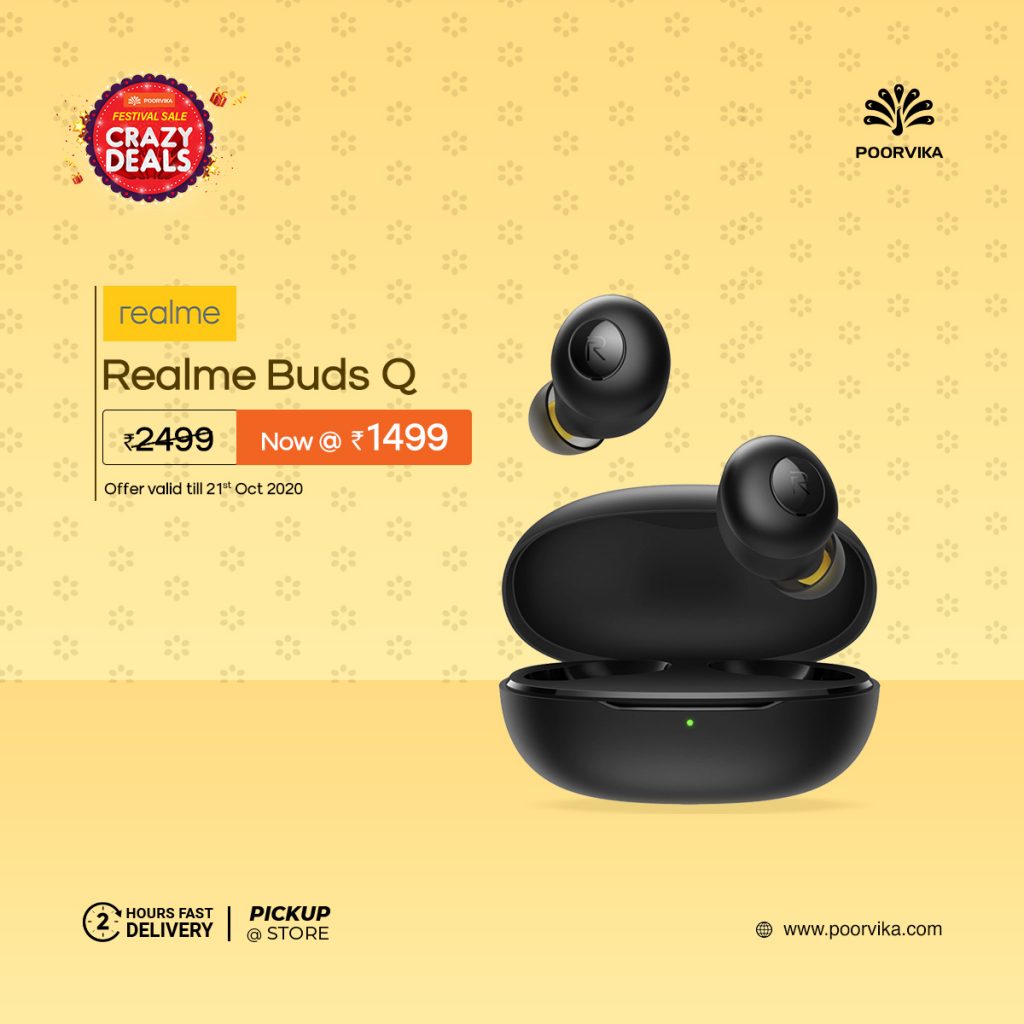 These earbuds weigh just about 3.6 grams, so you won't feel a thing and might even forget you're wearing them; they're that light. These earbuds produce an exceptional sound quality that lets you groove to the tune without a worry in the world.
This device's comfort and wearability make sure it never gets uncomfortable for you, even after wearing them for an entire day. The earbuds' have a 10mm Large Driver, which yields an outstanding sound quality by separating the highs and lows for a smooth musical flow. Electronic and pop music sounds good on these, and you can tune in to every low pitch at their finest.
The Realme Buds Q has Super Low Latency Gaming Mode to be your perfect gaming partner. Intelligent Touch Controls gives you full control over your songs to select, play, and pause when you feel like it. Even though these are smaller, each bud carries a 40mAh in-built battery that lasts up to 20 hours with a full charge.
Play the longest playlist you have and listen to music all day long. The Realme Buds Q price in India is just Rs.1,999, exclusive at Poorvika.
Realme Buds Air Neo

The Realme Buds Air Neo is the best earbuds in the market. These aren't empty words; we mean it!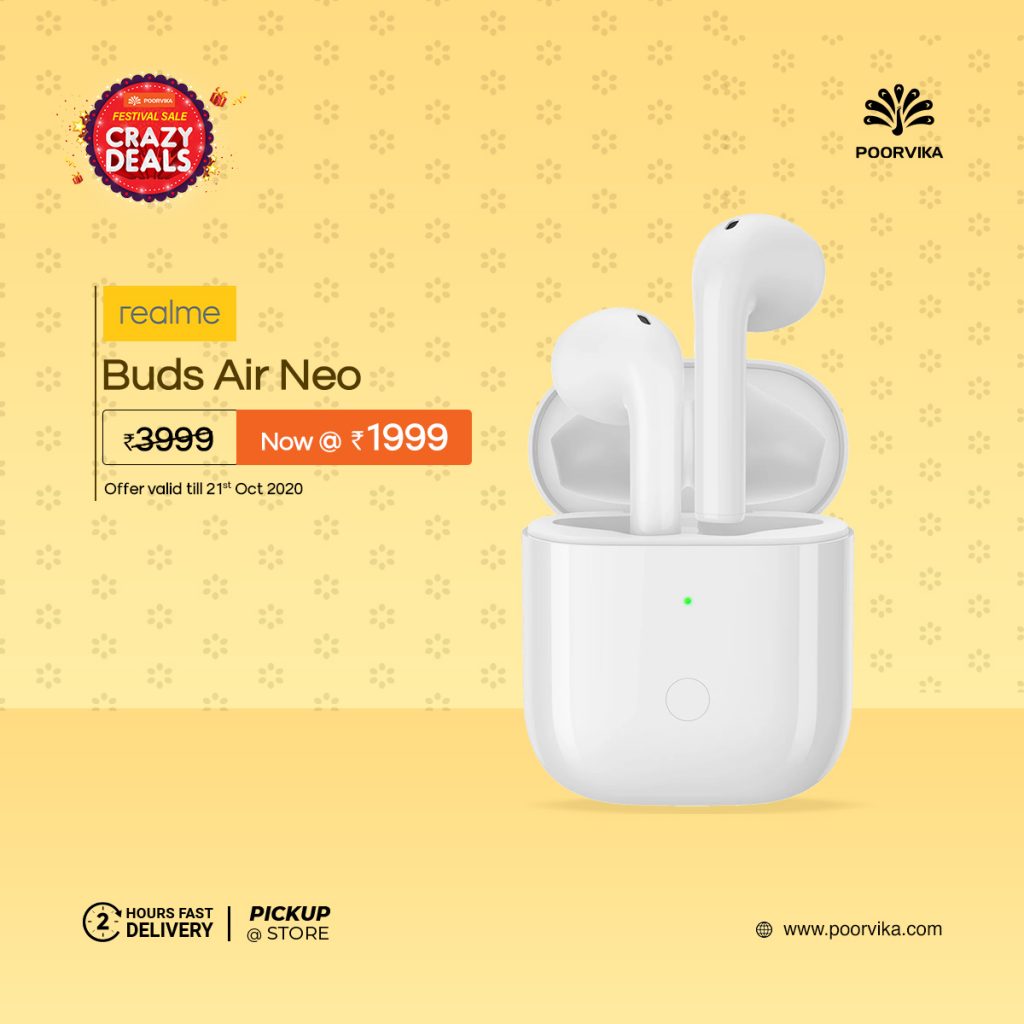 They've got everything from outstanding sound and quality to the latest tech. These earbuds are for those who love noises. These fit securely to protect your ears from injury or discomfort. This is the best TWS for those who constantly have their volume all the way up.
The device's wireless range is up to 10m, so you don't have to carry your smartphone every time you go out for a walk; just keep it aside and sway to the music.
Intelligent Touch Controls help you adjust your volume, skip songs, or do anything and everything from attending calls to pausing your favorite podcast.
Super Low Latency Gaming Mode of these earbuds improves audio and mic detection, so you don't have to worry about not hearing your teammate while they warn you about incoming enemies. Especially useful if your teammates are from abroad as the connectivity is literally smooth as oil, it does an outstanding job in cancelling out noises.
The earbuds provide a total playback time of up to 17 hours of uninterrupted music. These earbuds weigh just about 4.1 grams aiding them to be undetectable and comfortable.
The earbuds come along with a Charging Box, Charging Cable, User Guide, and a Warranty Card. The Realme Buds Air Neo price in India is just Rs.2,499, which is exclusively available at Poorvika.
Hit Poorvika's online site right away to buy realme's Best True Wireless Earbuds. Make use of Poorvika's 2 Hours Delivery service and have your earbuds delivered straight to your doorsteps with no delay!