20 Feb 2021
How noise-Canceling headphones work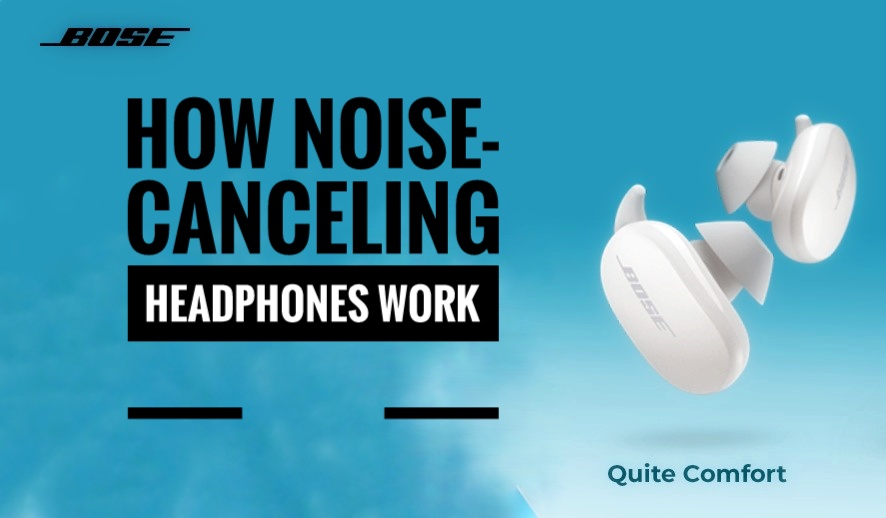 Noise canceling headphones were first used in aviation industry. Because it helped pilots to communicate clearly. Commercially Dr.Amar Bose was the first person to introduce noise cancellation headphones. Meanwhile a German company named Sennheiser was also working on active noise cancelation headphones. Initially those headphones were not exactly noise cancelation but noise reduction.
As a customer, you need to know how noise canceling headphones work. By having a clear idea about noise cancellation, you will be able to choose a product that is best for you. The reason why we have used second person pronoun 'you' is because the term 'Best' is subjective. Because no machine is perfect, so buying a best product is purely based on your priorities. If a product says 'yes' to your priority then it is obviously the best product. There are two types of noise cancelation that are commonly used in headphones.
Passive Noise Cancellation
In addition to type of materials used to manufacture headphones. Design of earbuds play a pivotal role in passive noise cancellation. This type of noise cancellation is innate because a manufacturer need not specifically work to eliminate noise around user. Materials like sponge, rubber, plastic, silicone reduce noise around us to an extent. For better results both type of noise cancellation must work together.
Active Noise Cancellation
Noise-canceling headphones are equipped with dedicated microphones. Microphones listen to the external noise around you and neutralize the ambient sound before you hear it. The headset creates an artificial sound wave to neutralize ambient noise. Sounds that are artificially created by headphones are usually below 1kHz.
Active noise canceling works by reducing noise around us by 30dB. And it works more efficiently against low frequency. This may look very easy in theory. But it is very hard to practically implement this technology. Because apart from canceling ambient noise, manufacturers need to ensure users do not feel any kind of dizziness while using ANC. Because ANC headphones transmit low-frequency sounds. This tricks balance receptors of our brain, so users may feel dizzy. The only way to get rid of this issue is by reducing the intensity of ANC.
A lot of manufacturers are still struggling to perfectly implement this amazing technology in their products. After testing so many noise-canceling headphone and earbuds, we can safely affirm Bose noise-canceling headphones are presently the best noise-canceling headphone available in India.
Avail our 2 hour delivery service to get your products delivered instantly to your doorstep.