23 Feb 2021
Sony Best True Wireless Earbuds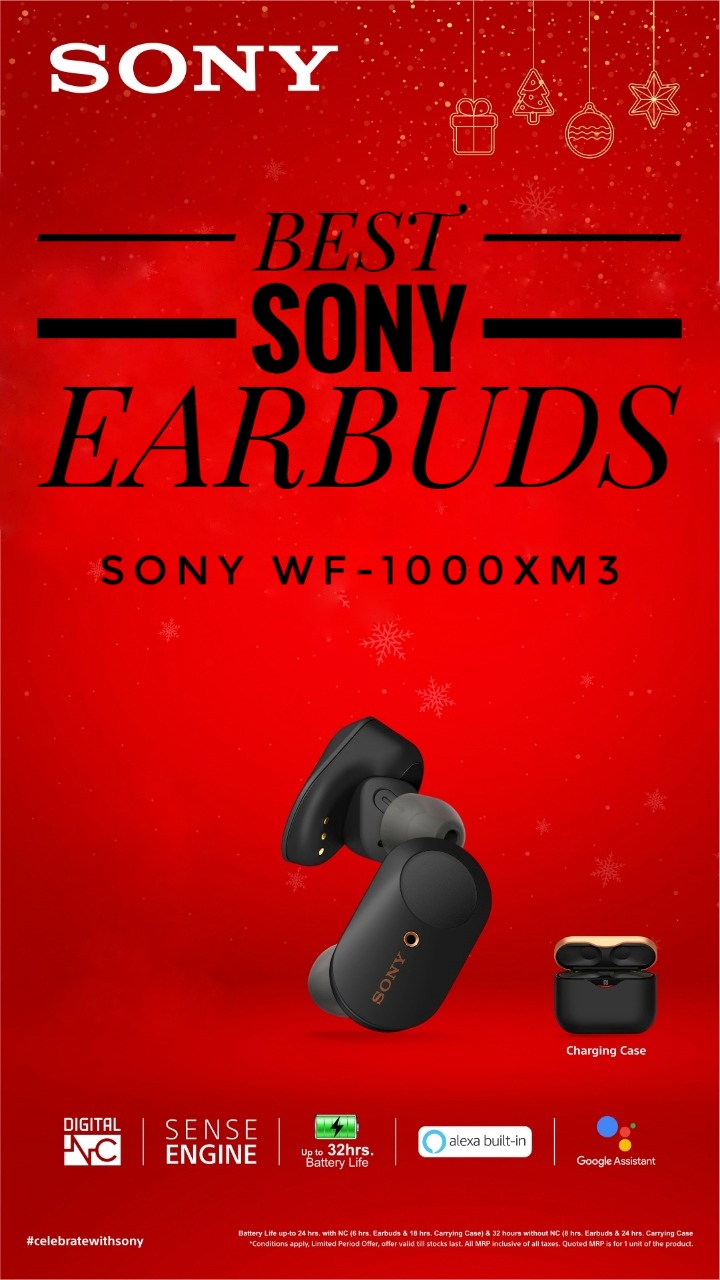 Their performance in this segment is commendable. Scroll down to know more about best true wireless earbuds from the Japanese conglomerate.
Sony WF-1000MX3
It was launched on August 2019 so without a question, we can categorize this product under Grandparent category. Hold on, it was just a sarcastic comment. Its real-life performance goes toe to toe with recently launched premium Earbuds.
Q1Ne processor is paired with Dual Noise Sensor Technology to eliminate all kinds of ambient noise around user. Response range of its 6mm dynamic driver is from 20 to 20,000Hz.
Build
Unlike recent and other Earbuds in this segment, Sony is not sleek and compact. It has a big build and the plastic on sides are bulky. But it still doesn't weigh much as it is entirely made of plastic. Charging case of Sony is significantly larger. So it is going to protrude from the pocket. Sony has packed wear detection sensor so that Earbuds pause whenever they are not inside user's ears. Touch control is large enough to fit Distal phalanx (upper part) of your finger. Two microphones pick up speaker's voice very well even in noisy environment.
There are six pair of silicone ear tips included in the box. Ear tips are sealed tightly by hard surface made of rubber. Since the fit is tight, changing ear tips is going to be a tedious task. Touch control of the earbuds can be used for adjusting volume, noise cancelation level and Voice Assistant. Here is a list of gestures you need to know in order to avail its functionality.
Gestures & Controls
Tapping on the left side will let you choose between noise cancelation and transparent mode. Similarly by tapping on right, you can play and pause. Tap twice to play next track in your playlist. By tapping thrice earbuds will play previous track. Place your finger for a while on the earphones to activate Voice Assistant.
Most impressive feature of this earbud is battery life. It comfortably lasted for six hours with active noise cancelation turned on for most of the time. After they run out of steam, charging case can charge them thrice. Sound quality of this earphones is detailed and impressive.
Sound Quality
Vocals were crisp even if a track is clustered with music played from several instruments. Noise cancelation detects and cancels noises that are not easily audible. If Sony had included advanced codecs sound quality will have been better. Sony wireless earbuds price in India is Rs.13,990.
Get your products delivered instantly to your doorstep by availing our 2 hour delivery service.
Sony WF-SP700N Air Pods
Like its sibling, this earphone also does not have a pleasing aesthetics. It is bulkier than WF-1000XM3 earphone. There is a prong made of silicone attached at the end of earbuds. It ensures, earphones doesn't not lose its grip even during intensive workouts. As it is rated with IPX4 Water Resistance, mild splash, sweat will not bother this earbud at any cost.
Design
To be honest, design and the silicone ear tip of this earbud partially resemble Bose Quietcomfort. In general Sony, earphones are known for their jabby bass and deafening volume. Highs are surely impressive but the mid and low frequency was not up to the mark.
Audio Quality
Since audio output was clean and pronounced we were able to identify sound of each instrument clearly. Despite its amazing sound quality, lack of LDAC, aptX codecs reduces the overall potentiality of this earbuds. ANC brilliantly cancels ambient noise around you and the battery life is also satisfactory. The earbud lasts for 3 hours and the charging case can power it for 6 hours. The only thing that bothered us is its fragile case. If it is not handled properly, it can easily get damaged. Sony Air Pods price in India is Rs.7,999.
Get it instantly delivered to our doorstep by availing our 2 hour delivery service.