24 Feb 2021
Which are the Lenovo Laptops with Windows 10 available in Poorvika?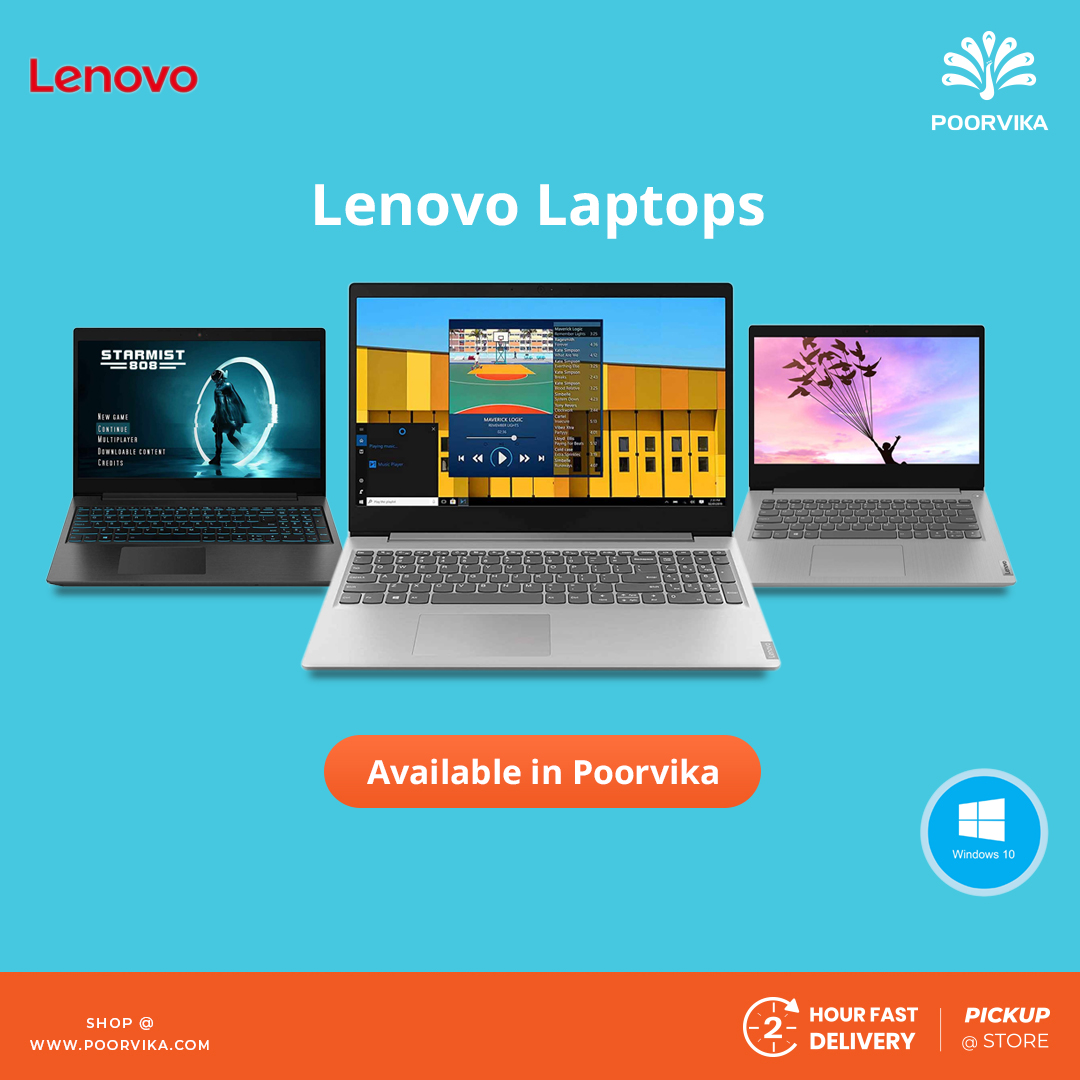 Presently, every Operating System other than Windows 10 is outdated. Manufacturers use it extensively in their products because it offers tons of functionality and ease of access. Lenovo, known for productivity-inducing tools and advanced upgrades, has been hosting the Windows 10 in their laptops for a while.
Today we have a list of Lenovo laptops available in Poorvika that run on the Windows 10 Operating System to make your gadget hunt short.
Lenovo Ideapad Gaming 3
Its 15.6-inch Full HD display has a resolution of 1920x1080pixels and is back-lit by a LED panel with 120Hz Refresh Rate support. The laptop's 720p front camera comes with a privacy shutter, so you don't have to worry about a creep on the internet spying on you. AMD Ryzen 4000 H processor is sufficient to sustain any kind of workload, which we got on the Lenovo Ideapad Gaming 3 laptop.
There is an 8GB DDR4 RAM which drastically reduces application opening time and makes multitasking a pleasant experience. For storage, it has a 512GB Solid State Drive. NVIDIA GeForce GTX1650 GPU handles all kinds of heavy games effortlessly.
This device has dual speakers to produce loud and clear audio output. Audio output from its in-built dual speakers are loud and clear. The device uses the latest Windows 10 Home 64 Operating System. It is available in a stark and contrasting Onyx Black color. Lenovo Ideapad Gaming 3 price in India is Rs.61,990.
To get it delivered instantly to your doorstep, you need to avail our 2 hour delivery service while buying it Online from our Poorvika website.
Lenovo Ideapad S340
This sleek laptop has an equally refreshing 14 inch Full HD LED-back-lit display. In terms of memory, it has 8GB of RAM. The laptop provides a dual option for ROM. It has a 1TB Hard Disk with a spinning speed of 5400revolution per minute along with a 256GB Solid State Drive Hard Disk to give an additional boost to performance.
Even though dual storage option offers more space to store all your files and photos directly on your laptop, the 1TB Hard Disk limits the real potential of this laptop's Intel Core i5 10th Generation processor. Because after a cold boot, the laptop took almost 7 seconds to open a JPEG file.
The Ideapad S340's Dolby Audio Premium uses the latest processing technologies to provide an immersive listening experience. The Lenovo Ideapad price in India is Rs.53,699, and it is available in a shiny Platinum Grey color.
Buy it online from Poorvika and get it delivered directly to your doorstep by availing our 2 hour delivery service.
Lenovo Ideapad Slim 3i
This Slim 3i comes with a 15.6-inch Full HD anti-glare display. The display can produce around 220nits of brightness. The 0.3 MP camera has a privacy shutter to make you feel more secure. Under the hood, an Intel Core i5 10th Gen processor gets support from the 8GB RAM and ITB Hard Disk. Integrated Graphics by Comet Lake are strong enough to handle graphically light games easily.
The device operates on the Windows 10 Home OS. It also has the MS Office Home and Student 2019 support. The 35-watt hour battery comfortably lasts for 7 hours, and its 65W round tip charger has the ability to charge it in no time.
Platinum Grey is the only color variant available. The Lenovo Ideapad price in India is Rs.47,990, and Avail our 2 hour delivery service to get it delivered to your doorstep instantly.
Lenovo Ideapad Slim 3i Intel Core i3 10th Gen
Unlike the other budget laptops, Lenovo has not compromised on its build quality. The metal finish looks absolutely fantastic. Like the other Ideapad series, Platinum Grey is the only color available for this device.
Though it appears slim because of its metal chassis, the laptop weighs around a solid 1.85 kilograms. Its 180-degree smooth hinges are robust and did not wobble. The laptop's Intel Core i3 10th Gen processor does general tasks like Web Surfing, Light gaming comfortably.
Its 4GB DDR4 RAM is sufficient for light multitasking and it features a 1TB Hard Disk. So, the chances of running out of space are very unlikely. The lack of an Ethernet port is indeed disappointing, but it is manageable as it offers a 5th Generation Wi-Fi. It runs on Windows 10 Home 64bit OS.
The Lenovo Ideapad price in India is Rs.34,990. While buying it online from Poorvika, don't forget to avail our 2 hour delivery service to get it instantly delivered to your doorstep.