25 Feb 2021
What makes the Airpods Max so popular?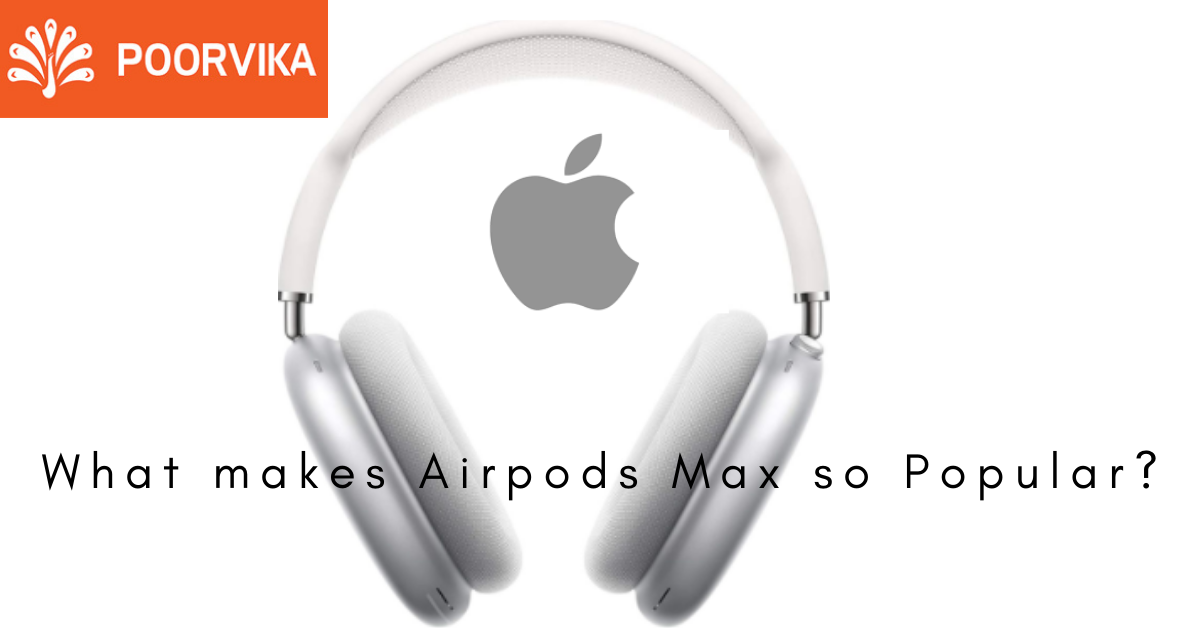 You can't restrain yourself from wondering about what Apple might be up to the next moment.
Whether you are a manufacturer of electrical and electronic goods or an end-user, Apple would never fail to mesmerize you with its mind-blowing innovations!
Apple recently added a pinch of innovation in its unique style to the traditional over-the-ear Headphones!
It has ingrained the functionalities of an earpod to its all-new Airpods Max. Apple recently released the Airpods Max in the mid of December 2020.
Let us have a detailed analysis and understand why the Airpods Max became extremely popular in the market.
The look and feel:
As you unbox the all-new Apple Airpods Max, you get a feeling that makes you go "WOW"! It comes with a stunning, smart case that protects the ear cups from accidental damage due to slips or dust.
As you open the case, you get a premium feel from the size, shape, and quality of materials used in the Airpods Max. The anodized Aluminium ear cups, soft foam ear pads, Knit mesh headband, and buttons give you a luxurious feel! Though the materials used in the ear padding and the headbands make it a little heavier (it weighs around 385gms) than the other over-ear headphones, it makes the Airpods Max much more comfortable to use, hence defeating its competitors.
The Apple H1 Headphone Chip:
Apple products have a higher price for their unique and innovative approach, with additional features releasing every time. One such feature in this Apple Airpods Max is the H1 chip.
So, what are the advantages of having this chip?
-The interoperability between products (i.e., from iPhone to iPad or vice versa) is top-notch because of this Apple H1 Headphone chip.This H1 chip offers the most satisfactory connectivity on pairing with your iPhone or iPad.
1. The H1 chip has made the Spatial Audio feature possible with its seamless execution.
2. Overall, the H1 chips offer an unmatched listening experience with their Hi-Fi and upgraded innovation with the latest technology.
Connectivity:
Undoubtedly, Apple is the most trustworthy when it comes to technical specifications and innovative features.
The sound quality of a Bluetooth-connected headset, earphone, or Airpods depends majorly on the codecs supported by the device.
The Apple Airpods Max carries the much-needed AAC Bluetooth codecs.
Though the Airpods Max can connect to any Bluetooth-enabled phone or tablet, it performs great when connected to a fellow Apple product as every Apple product support AAC Bluetooth codecs.
Sound quality:
The Apple wireless Airpods possess incredible detailing when it comes to volumes.
If you closely pay attention to the bass, mid-range, and highs, you will focus on each of them with an individual aspect.
It provides rich deep bass, accurate mid-range, and crisp, clean high-frequency extension so that you can hear each and every single note vividly.
Active Noise Cancellation (ANC):
Coming to the Active Noise Cancellation (ANC), the Airpods Max delivers the best ANC in all the over-ear headsets released till now. Irrespective of whether its use is indoors or outdoors, it provides an outstanding experience and puts you in a peaceful state.
No car horns, no voices, and no doorbells; it's just you and your peaceful harmony as this is the best Noise-canceling headphones.
Transparency mode:
Switching to transparency mode enables you to listen to both the music and the outer world, including your voice.
What is the specialty of this mode?
Though you can hear every sound from the outer world, these Apple Headphones will focus on the sound delivered through it and make it hear perfectly without many distractions.
Spatial Audio:
This feature delivers an immersive, theatre-like experience for content recorded in 5.1, 7.1, and Dolby Atmos, irrespective of how your head moves.
Yes! Using a Gyroscope and Accelerometer, it tracks your head, and the device's motion sensor compares motion data and remaps the sound field to provide a better audio experience.
Adaptive EQ:
Unlike previous versions, the AirPods Max has a feature called the "Adaptive EQ."
Adaptive EQ adjusts the low and mid frequencies of music to fit and seal the ear cushions by measuring the sound signals. This feature brings rich audio that captures every single detail.
Magic of Airpods:
The Airpods Max provides the best and unmatched wireless audio you can ever experience.
It automatically identifies when they are in your head using the optical and position sensor. On removing the Airpods or on lifting an earcup, the audio pauses automatically.
Microphones:
Apple made sure to take care of every single aspect of this device, and the microphones were no exception.
There are around nine microphones on the Airpods Max.
Out of which, seven are outside and two, are snug inside the ear cups. Eight of these microphones manage active noise cancellation, and three are for your voice.
These microphones enable the Airpods Max to effectively cancel out the Active Noise and make your voice clearer to the one at the receiving end.
Battery:
You can now enjoy these fantastic high-tech over-the-ear headphones for a longer time.
When charged fully, you can use this device for about 20 hours. You can either talk, listen to music, or watch movie playbacks with Active Noise Cancellation for 20 hours continuously without any disruption.
Putting the device back into the smart case enables an ultralow-power mode, thereby preserving the battery charge when not in use.
Additional features:
-You can automatically switch between various devices, say, e.g., from iPhone to iPad seamlessly.
-You can easily share audio and stream between 2 sets of Airpods. Also, just by bringing your Airpods Max near the device (iPhone, iPad, or any phone with Bluetooth connectivity), you can connect it with just a single tap.
-Since this device has Siri in-built, you can direct Siri to do things for you.
This product is available in 5 different colours: Space Grey, Silver, Green, Sky Blue, and Pink so that you can get this fantastic piece of technology in your favourite colour variant!
With all these advancements and technologies in place, it is no wonder why the Apple Airpods Max is so popular! Don't overthink. Just make this popular Apple headphone your own.
Check out the Airpods Max price in India from the official website of Poorvika. Buy the Apple Airpods Max online from Poorvika.com along with exciting offers and discounts.
Do make use of our 2 hours delivery option to get the products delivered at your doorsteps without any delay.