25 Feb 2021
Apple Watch SE Review: Specifications and Price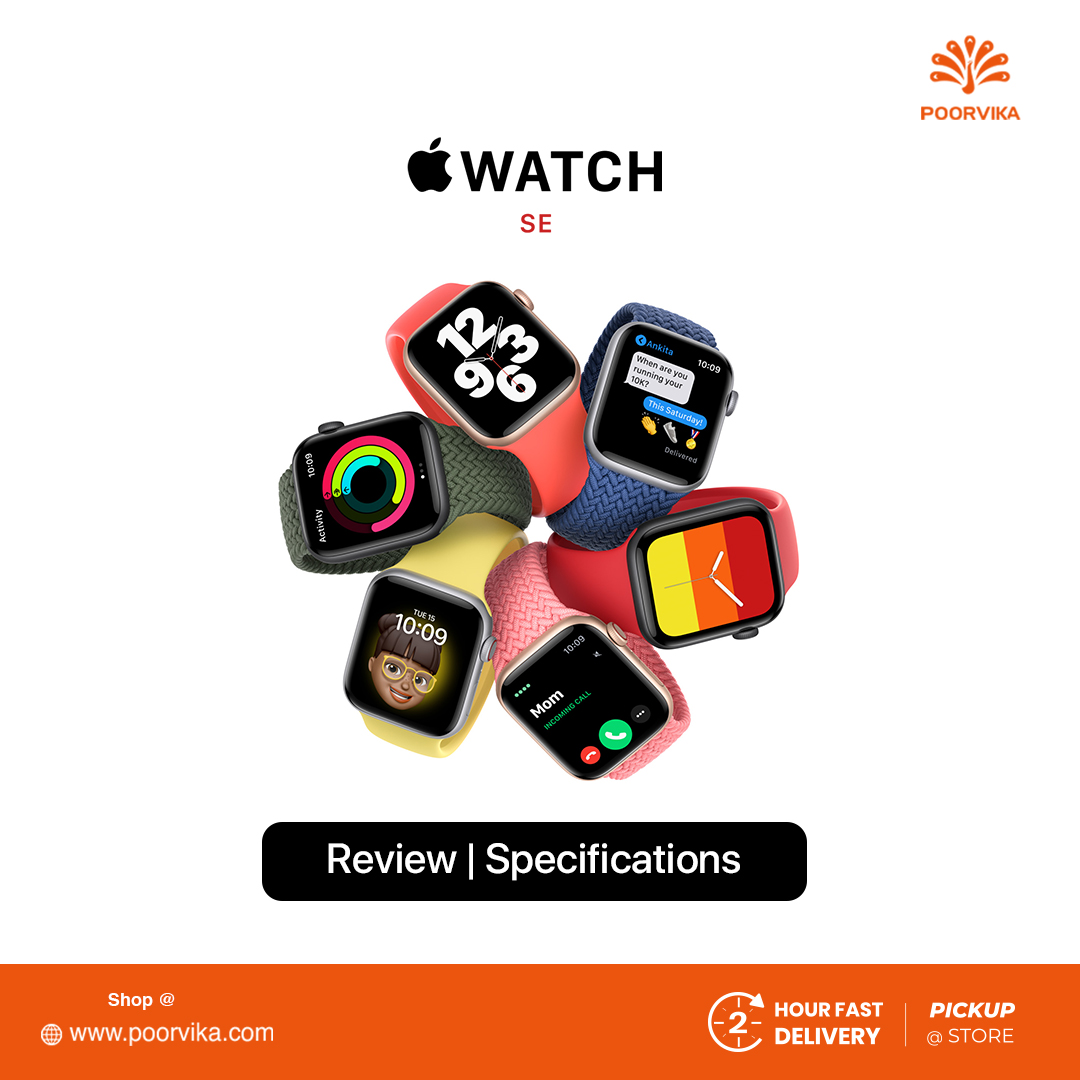 Your sophisticated smartphone deserves an elegant smartwatch; your intense workout plans deserve an accurate fitness tracker; your trending outfits deserve a fashion-influenced wearable. Apple never ceases to inspire us with its technological advancements and upgradation. We see the craze for Apple devices and gadgets shooting up high after every iPhone or Apple Watch release. And it's considered a sin if you don't pair your sophisticated Apple iPhone with the latest Apple Smartwatch.
Launched exuberantly on September 18, 2020, alongside the Apple watch series 6, the Apple watch SE is the affordable version with zero-compromise on the features and specifications. Apple had witnessed the boxes getting emptied literally, marking the success of the launch. Sit back, and relax! Let's explore the full features and specifications of the trending Apple Watch SE here!
DISPLAY AND DESIGN:
Just like Apple iPhone SE, the Watch SE is not a new one on the inside, with very few notable differences. When comparing the specs on the paper, the recent model excludes the Always On Display, Blood Oxygen measurement, and the ECG App. Other than that, it's the replica of the Series 5 and Series 6 model, targeting the budget smartwatch audience efficiently.
Access all of the fitness data at ease on the 1.78″ OLED Capacitive Retina Display with the resolution of 448*368PX. Extended or compact?! You choose! 40mm and 44mm case size variants are available. The stunning display sits on the perfectly-finished Aluminium case with Silver, Gold and Space Grey color variants that go well with your Denim.
Forget about the old-school straps of classic Black, White, and Pink; Soft silicone and braided yarn straps are also available to expose your fashion genre. With no clasps or buckles, you can slide it on your wrists at ease. Are you a professional photographer?! An adventure enthusiast?! A weather nerd?! A Planner associate?! Set your desired Watch face customized to your likings from App Store, Websites, Blogs, and Social Media.
ACTIVITY TRACKING AND FITNESS TRACKING:
The driver behind the powerful drive is the S5 dual-core SiP for blazing-fast performance! A best of the best in Fitness and Activity tracking. There are dozens of Workouts available like running, walking, yoga, cycling, high-intensity interval training, and dance; for you to tap into and start. Just like closing your tasks at your work, you need to complete 3 Activity rings on your Watch – Move, Exercise, and Stand and close them.
Move Ring: You can even storm out of your room and burn calories to achieve this goal. Take the stairs, clean your garage, or walk your dog. Just move, and your Watch tracks all the active calories burnt!
Exercise Ring: Get yourself occupied for at least 30 minutes with your favorite workout routine and get tracked.
Stand Ring: You get a gentle nudge on your wrist as a reminder if the Watch sees you sit stationary for a while. Just stand up and close the ring! (Oh wait, there's an exciting challenge for you to achieve your fitness goals. Apple's Get Active India Challenge allows you to accomplish your daily fitness goals and help your city win. Click here to know more about the Get Active India challenge.)
YOUR HEALTH ASSISTANT:
Health – A Priority.
The Smartwatch displays the real-time data of distance, pace, laps, cadence, and calories burnt with the Always-on Altimeter. It effectively monitors your heart rate, tracks your sleep patterns, and informs when things are not okay. It also helps to create a schedule and bedtime routine to achieve a goodnight's sleep.
Now, let me add spice to the features!
The Apple Watch SE does everything to foster healthy well-being. It displays reminders to wash your hands, tracks the menstrual cycle for women, allows you to have the 'ME' time with the Breathe App. With the built-in Accelerometer and Gyroscope, the Watch's smartness can detect if you had taken a hard fall and lets you connect with an Emergency SOS.
RAISING THE EXPECTATIONS BAR HIGH:
There are 2 variants available for this version – GPS and GPS + Cellular. Accessibility on-the-go! Call without your iPhone and reach your desired destination with a built-in compass. Ask Siri, the genie, and get your job done in no time.
Have things handy! Be it your flight's boarding pass or Movie tickets for a matinee. Think no more and deep dive into the pool with the Apple Watch SE's 50 meters Water Resistance and achieve your Pool Swim goals.
With 70 million music tracks and the latest podcasts, Apple Music is proud to accompany your workouts! Check Weather forecasts, view Calendars and Events, get timely reminders, and set timers for your iPhone Camera. You can also get into Walkie-Talkie moments with your fellow Apple Watch users and trigger fun. With the Li-ion Battery, the Smartwatch can go active for an uninterrupted 18 hours of usage.
PRICE:
Though the SE version is an exclusion of few features, it stands high in affordability! The Apple Watch SE price in India starts from Rs.29,900.
Buy the latest Apple Watch SE Online from Poorvika Website with crazy deals and cashback today, or visit your nearby Poorvika Store to get a hands-on experience. Tap 'Buy Now' and do not forget to select the 2 Hour Delivery option to get your order delivered to your doorstep in 2 Hours.
To know more about the detailed differences between Apple Watch Series 6 and Apple Watch SE, read our blog here – Which Smartwatch should I get?! The Apple Watch Series 6 or SE.