25 Feb 2021
Best Power Banks: The top Portable Chargers for your Smartphone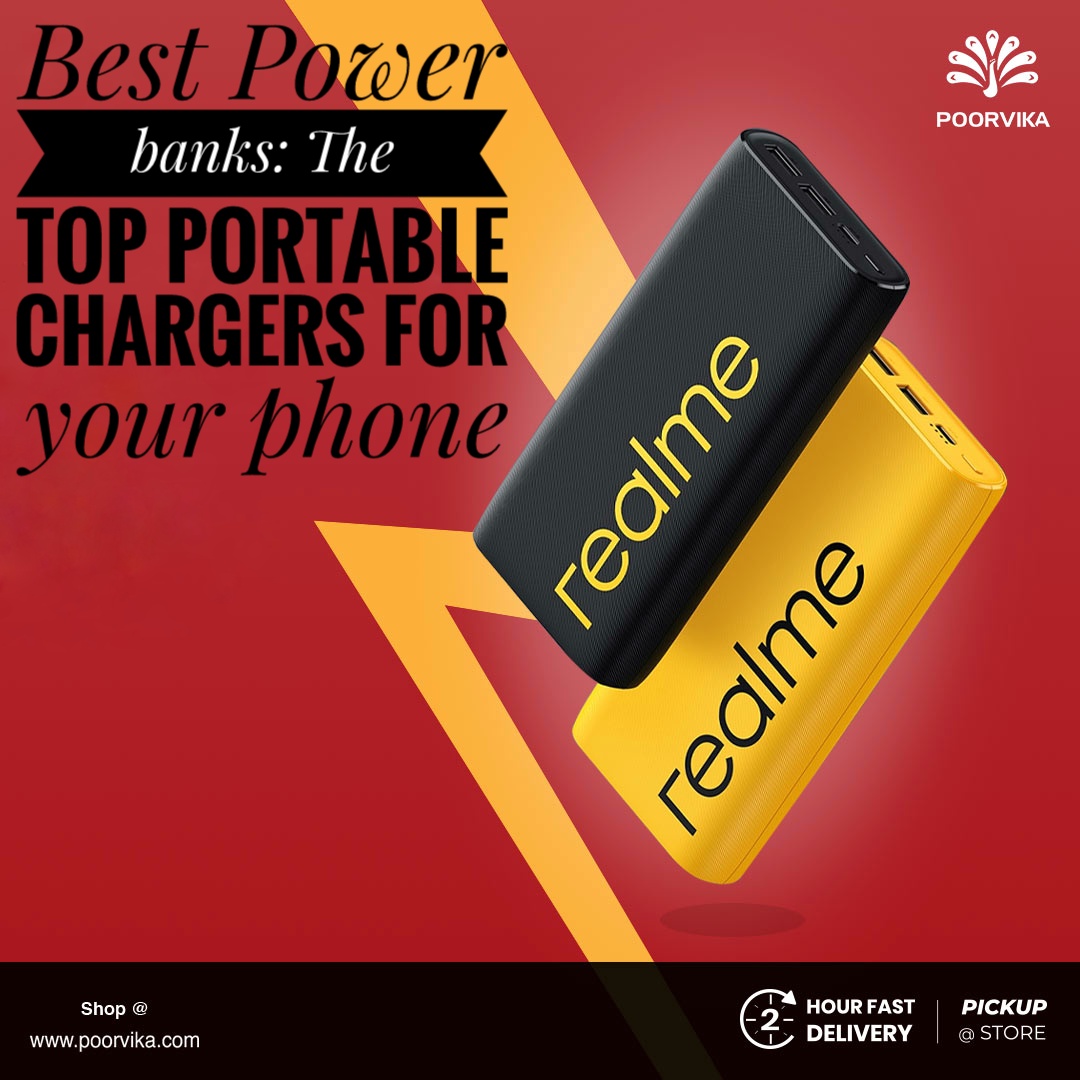 A decade back, battery of mobiles lasted for more than 3 days. But battery life drastically reduced after smartphones were launched. Considering functionality and features both smartphones and manufacturers cannot be blamed for poor battery life of smartphones. From then manufacturers strived hard to elate battery life of smartphones.
No matter how hard manufacturers strive, smartphones surely cannot stay on their feet forever. Since smartphones play a pivotal role in our lives charging them has become a tedious task. Hence we cannot afford to charge them using cable. But we need to charge them in order to keep moving. In this kind of scenario, we mandatorily need a portable charger to keep them hydrated. Move your thumb to know best power banks currently available.
Realme 30W Dart Charge Power Bank
Aesthetics of this realme power bank 30w resembles a bar of Dairy Milk Silk. Its massive tummy can store 10000 milli amp hours of charge. Realme offers two colors named Yellow and Black. Among the two colors, yellow can lure any fish in the ocean. On both sides, edges are curved. Dainty stripes across the entire body works perfectly in accordance with the saying: Appearances are deceptive.
Since it gives a carbon fibre finish to the power bank but in real it is not actually made of carbon fiber. Though it is made of plastic, build quality is sturdy and robust. The top includes a USB Type-A, Type-C port, and a LED indicator to indicate percentage of battery. Since there is no bump on all sides, chances of wobbling are very unlikely.
Lithium-ion polymer battery has 15 layers of charging protection to keep power bank intact from overcharging and overheating. Its USB Type-C delivers a maximum output of 30W charge and it works perfectly with devices like OnePlus, Poco and even iPhone. Using the proprietary cable it charged OnePlus 8 fully in 60 minutes. For Type-A the power bank supports 18W fast charging. Realme power bank price in India is Rs.1,999.
Buy it online from our website Poorvika and get it delivered directly to your doorstep by availing our 2 hour delivery service.
Samsung Wireless 10000mah Power Bank
This is undeniably the best-looking Samsung power bank. Its rectangular shaped slim matte finish body is made of metal it looks absolutely lovely. Its looks are surely going to make everyone envious. On the top, with a LED indicator there are Type-A and Type-C ports. Weighing just 234 grams it doesn't feel heavy.
Using cable and Qi wireless charging, it can charge simultaneously. While charging using cable, you will have to press button on top to charge enable wireless charging. Charging speed is not as fast as Realme, but it is definitely not worth complaining about.
Because it charged Galaxy M51 in 110 minutes. Its Qi wireless charging is incredibly accurate because even with a tough phone case, it was able to charge a Samsung Galaxy Note 20 Ultra. Samsung power bank price in India is Rs.3,389.
While ordering it from our website, do remember to avail our 2 hour delivery service to get your products delivered directly to your doorstep.