25 Feb 2021
Everything You Need to Know About Samsung 80cm(32 inch) HD Ready LED Smart TV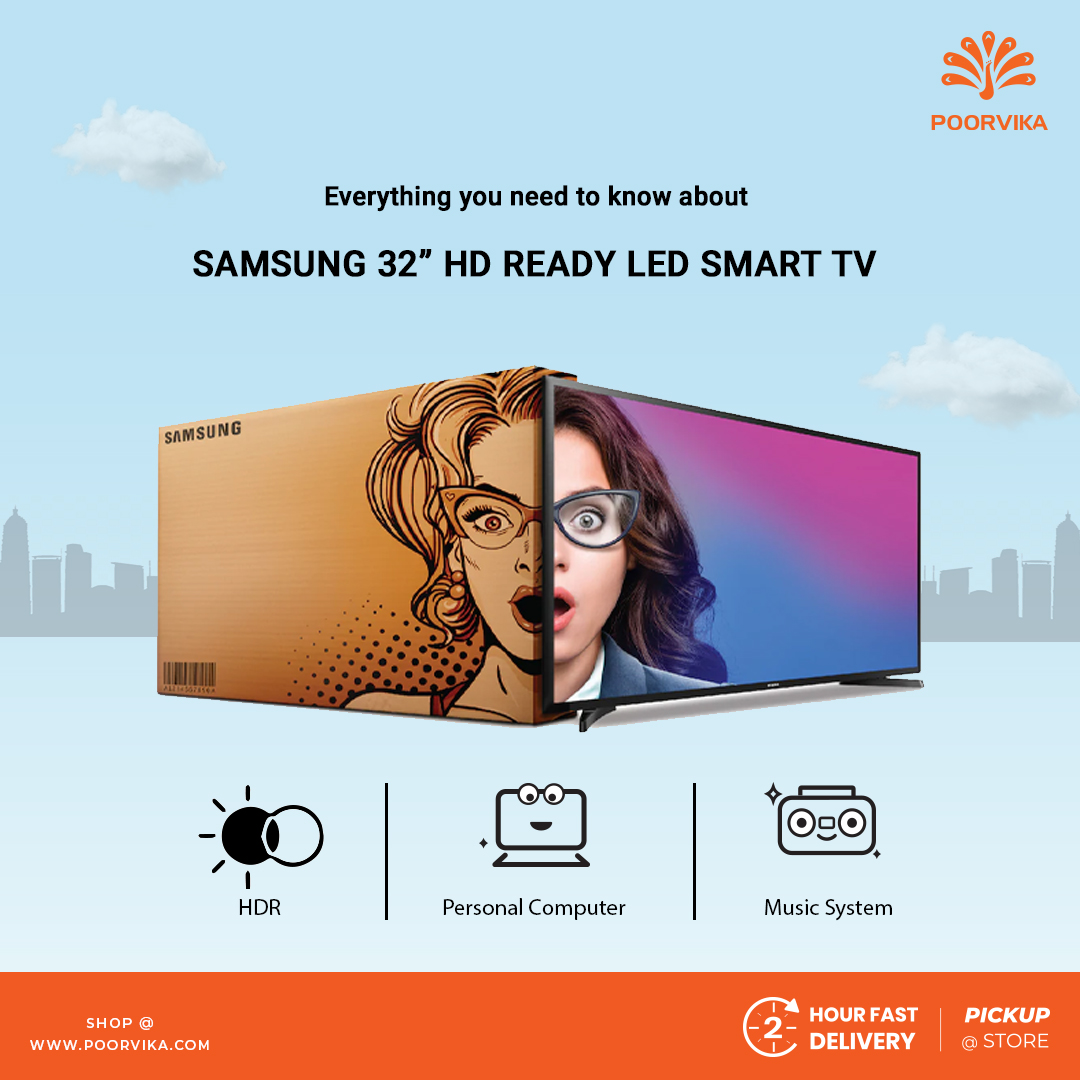 In addition to our lives technology has also revolutionized our perspective. Before LED displays were introduced, we thought LCD must be the pinnacle as they offered a great cinematic experience and superb picture quality to our home. Brutus's funeral speech about how much he loved Caesar will be perfect, to describe the difference in picture quality between LCD and LED. Brutus said "Not that I loved Caesar less, but I loved Rome more. Similarly, we will not say the visual experience of LCD television was not up to the mark, but the quality of LED television is beyond the mark.
Samsung 80cm (32 inch) HD Ready LED Smart TV (UA32T4350AKXXL)
This time segment leader has done things just the way we want. It has a 32 inch HD ready LED display with a resolution of 1366 x 768. And it must be perfect for a 600 square feet room. You don't have to lean forward to see a darker area of an image or video. Samsung 32 inch HD Ready Smart Tv is equipped with a HyperReal engine to make colors more vibrant and to create 3D surround sound. High Dynamic Range optimizes darker area of an image or video.
Features
It uses Purcolor mode to reproduce accurate colors. Ultra Clean View mode makes use of television's in-built algorithm to reduce noise levels. Since it supports Netflix, Hotstar, Youtube you don't have to settle with only cricket and cinema. Its live cast feature will let you broadcast content directly from your mobile. The Smart browser was definitely not blazingly fast yet you need not, be a man or woman of patience to use it.
Two 10W speakers produce clear audio. It runs on Mali400 processor which follows an architecture by ARM. Even while watching Avengers Endgame in 120fps the television didn't slouch a bit. You are also not going to have the pain of using cables to connect Tv to a speaker. Multiroom Link feature will let you share audio files with other external speakers. But there is one thing you need to have in mind while using this feature is: it works only with speakers manufactured by Samsung and they must support Multiroom feature.
There are 2 HDMI ports through which you can connect Tv with the setup box of DTH provider. You can also watch movies, view pictures, listen to music by connecting a USB stick to its USB-Type-A port. Samsung is offering a 1-year comprehensive warranty and a 2-year additional warranty on panel. However, the warranty only includes defects caused while the manufacturing process. Buy Samsung 32 inch HD ready LED Smart Tv online in India for Rs.18,490 from Poorvika.
Avail our 2-hour delivery service to get it instantly delivered to your doorstep.