26 Feb 2021
Samsung's Best True Wireless Earbuds in 2021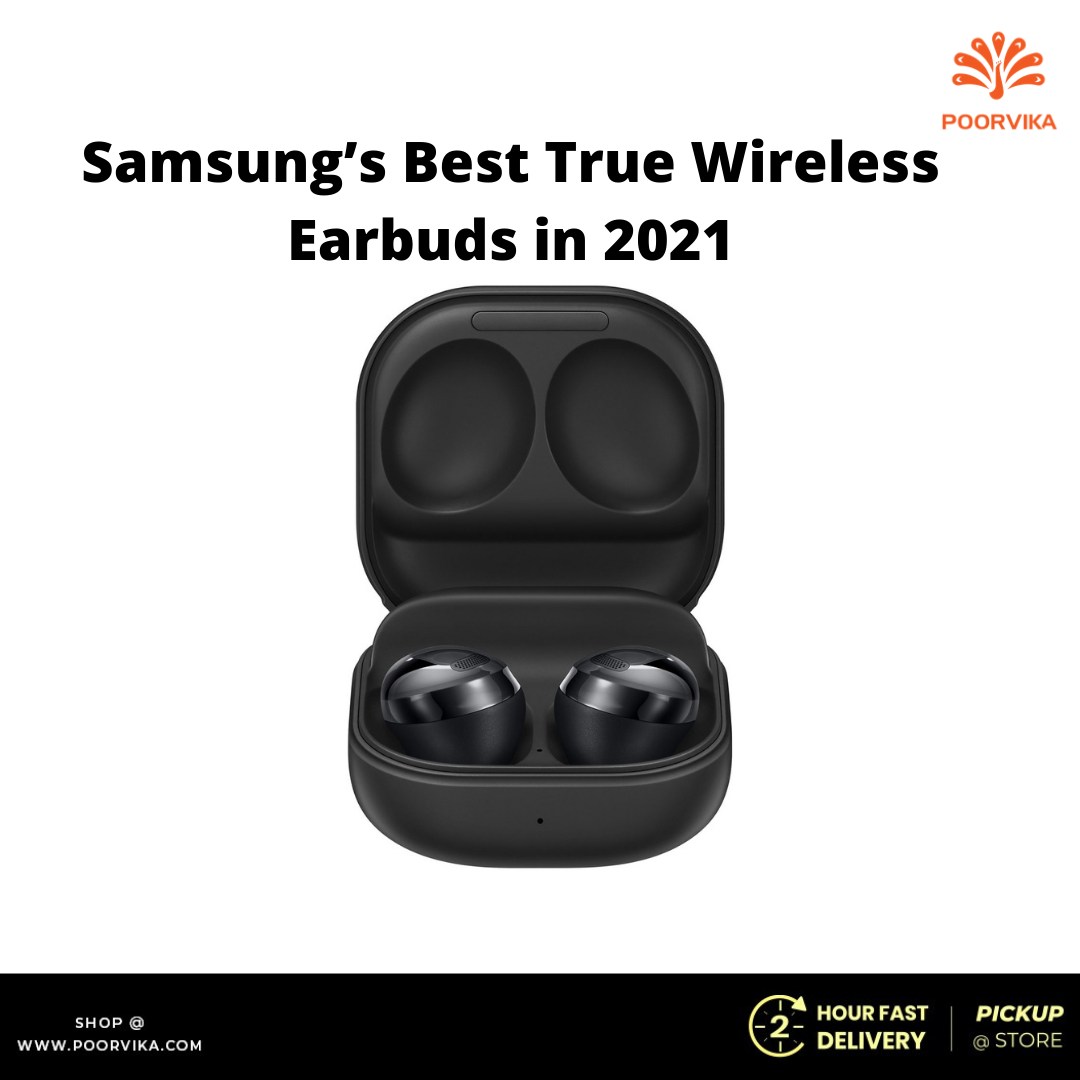 Despite offering great audio quality, wired headsets have lost their relevance in the market. While a user is in motion wired headsets cannot stay together. Regardless of motion, true wireless earbuds can stay in the ears of a user. Despite their functionality initially market did not embrace earbuds. Instead manufacturers were trolled badly for radical design of earbuds. But in present they are ruling mobile accessory segment. Swipe your phone's display to know about best true wireless earbuds from Samsung.
Best Samsung Earbuds
Currently, there are two models that are the best Samsung earbuds from the South Korean conglomerate. Slide your thumb further to know about their specification and features.
Samsung Galaxy Buds Pro
We all know Samsung as one of the best Smartphone manufacturer. After using Samsung galaxy Buds Pro extensively, it seems like they have managed to do everything that is needed to make them a dominant force in mobile accessory segment. Apart from Buds Pro, no other Earbuds from Samsung has an IPX7 rating.
In simple terms, IPX7 rating means Buds Pro will be absolutely intact up to 30 minutes even if it is submerged in water that is 3 feet deep. There are 4 sizes of silicone ear tips to ensure they fit perfectly into your ear canal. It fits well, so chances of slipping from your ears during intensive workout like jogging, pull-ups is very less.
Ambient sounds cannot be heard slightly because active noise cancellation of Samsung Buds Pro works exceptionally well. It has a dedicated mode that lets you hear noise around you. If you start to speak, earbuds automatically turns on this mode. After it is turned on, you will feel like the earbud wasn't there at all. Frequency range is usually managed by one driver in most of the earbuds. There are two drivers under the shiny plastic aids Buds Pro to deliver pronounced bass and great balance. Apart from sound clarity, clarity of voice over call is also impeccable. Its quick pairing feature worked incredibly well. Buds Pro is available in Phantom Silver, Phantom Black and Phantom Violet. Samsung Galaxy Buds Pro price in India is Rs.15,990.
Avail our 2 hour delivery service to get it instantly delivered to your doorstep.
Samsung Galaxy Buds Live
Its aesthetics surely resembles ladybug. Charging case of Samsung Galaxy Buds live can be charged using USB Type-C and wireless charger. The fit is perfect, but the only thing you need to know is: how to wear it properly. There is also a graphical representation in Galaxy Wear app on how to wear it properly.
Since the fit is very tight, chances of falling is unlikely. The rubber on the upper part of the earbuds prevents hard plastic from touching our ear canal. Though it supports Scalable codec, sound quality of Buds live sounded pretty good on songs available on Spotify app.
Bluetooth 5 ensures, Buds Live remains stable up to 10 feet. Its active noise cancellation reduces ambient noise to a great extent. Since there was no distortion even while listening to high-pitched songs at maximum volume. We will say overall sound quality of Buds live is satisfactory.
On full charge, it lasted for 5 hours of continuous usage with Active Noise Cancellation turned on. Using charging case, you can charge the earbuds three times. It is available in three colors: Mystic Black, Mystic Bronze, Mystic White. Samsung Buds live price is Rs.11,990.
While buying it online from our website Poorvika, do avail our 2 hour delivery service so that you can get it instantly delivered to your doorstep.
Presently these two models are the best true wireless earbuds from the South Korean conglomerate Samsung.