27 Feb 2021
What are the various 2 in 1 Laptops available in Poorvika?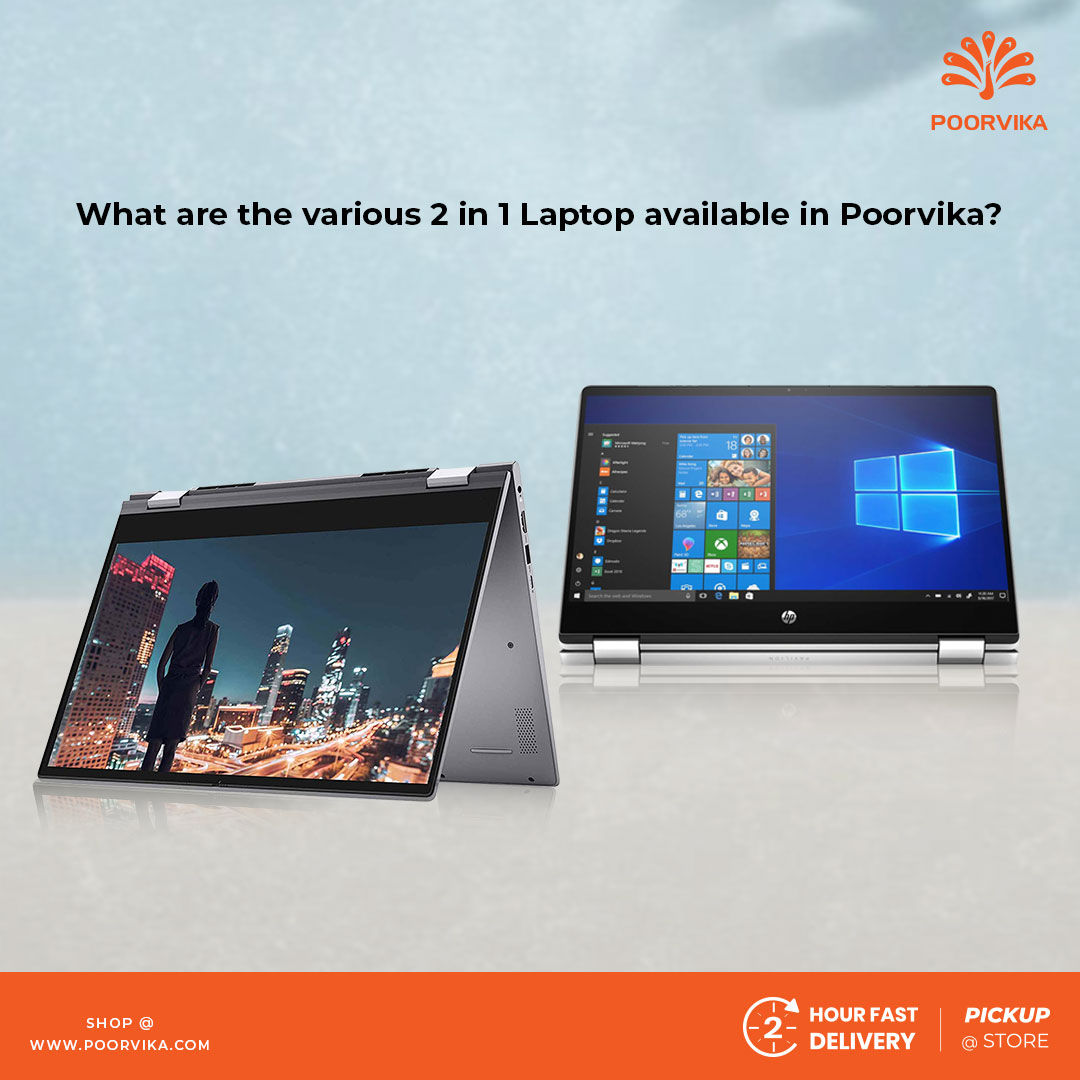 The 2 in 1 laptop, also known as the convertible laptop, can be used both as a laptop and tablet.
So while buying a convertible laptop, you don't buy one device but two, as you can also use it as a tablet.
You either have to fold the laptop or detach the keyboard separately to convert it into a tablet.
Scroll further to know about the various 2 in 1 laptops available at Poorvika.
Initially, 2 in 1 laptops came with detachable keyboards. Laptops with detachable keyboards faced a lot of mechanical and performance issues. So the manufacturers switched to laptops with 360-degree hinges. From then on, 2 in 1 laptop had no setback! Even after folding the keyboard, this kind of laptop is thinner than the traditional laptops.
Dell Inspiron 5406
It has a 14 inch HD display with a screen resolution of 1920 x 1080. The Bezels on 3 sides of the laptop are thin and sleek. The picture quality and the color reproduction of the display are impressive, and the touch response of the laptop is very accurate. The sound output from its in-built speaker delivers clear and pronounced audio.
For connectivity, it has a wide array of ports which includes 2 x USB Gen 3.2 Type-A, 1 x USB Gen 3.2 Type-C, and a headphone jack with microphone support. The Battery of the Dell Inspiron lasts for 5 hours when used continuously. The build quality of the laptop and the 360-degree hinge is robust. Even if you slam the keyboard hard, the laptop's hinge won't move. The 8GB RAM paired with the Intel i5 11th Gen processor stays light on its feet while opening tons of applications, including Adobe Photoshop, WordPress, and Adobe Premiere Pro.
The M.2 Solid State Drive enables lightning-fast performance and storage. Instead of cables, M.2 SSD is connected directly to the motherboard. However, SSD, which uses SATA, is not faster than the standard SSD. Since Inspiron uses NVMe (Non-Volatile Memory Express), it offers better performance than other laptops available in this segment.
Though Inspiron 5406 is not a gaming laptop, there were no issues while playing games like the Red Dead Redemption 2. There was no stutter or frame drop.
Its backlit keyboard is spacious and doesn't sound even if you are tapping them hard. The Dell Inspiron 5406 price in India is Rs.67,900.
To read our detailed review click here. Buy this laptop from our website Poorvika and get Backpack and a Boom Headset worth Rs.3,999 for free.
Avail our 2 hour delivery service to get it instantly delivered to your home.
HP Pavilion X360
The 14 inch Full HD WLED display of HP Pavilion X360 delivers 250 nits of brightness. The visual experience on this device is fantastic. Its 16:9 aspect ratio is phenomenal for watching videos. Like Dell Inspiron, it has a 360-degree hinge that lets you fold the laptop into two halves. The sound quality from the dual speakers manufactured by Bang & Olufsen is loud and clear. Response from its touch screen is accurate and impressive. A combination of 8GB DDR4 RAM and i3 10th Gen processor makes the laptop handle all kinds of applications related to online classes and works effortlessly.
The chances of running out of storage space is also unlikely as HP has embedded it with 8GB DDR4 RAM. The Read, write speed will be faster than ever as the Pavilion X360 has a 512GB Solid State Drive. The laptop refused to go down, even after opening 13 tabs on 3 windows. It can effortlessly handle all kinds of editing on Adobe Photoshop.
Since it has a fingerprint sensor, you need not type the password while logging in to the laptop.
The HP Pavilion X360 price in India is Rs.50,990.
Buy the HP Pavilion from the official site of Poorvika to get a backpack and a boom headset worth Rs. 3,999 absolutely free.
Avail our 2 hour delivery service to get it immediately delivered to your home.