01 Mar 2021
Apple Airpods Max Vs Bose Noise Canceling Headphones 700: Which are better?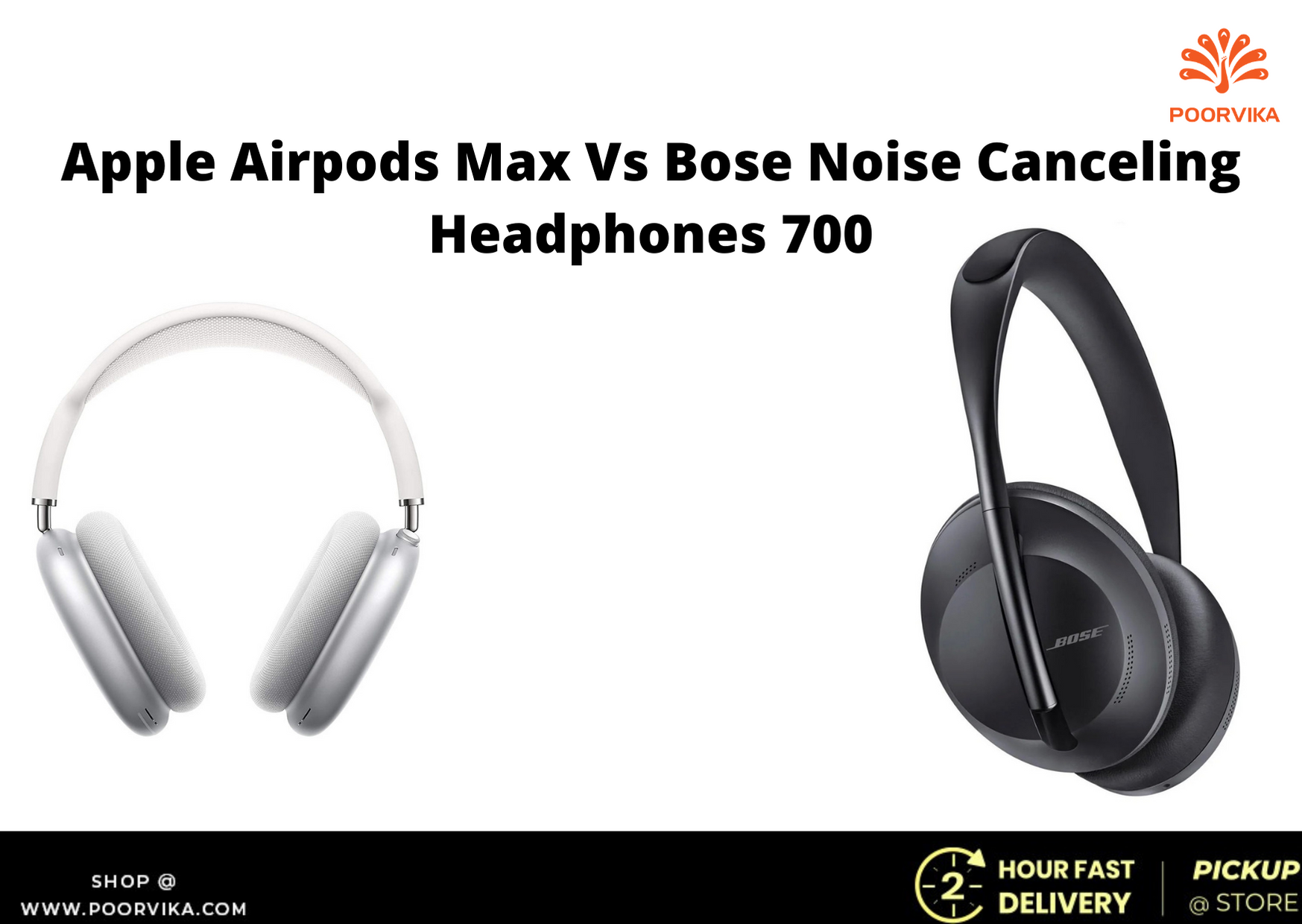 After several years of Bose's presence in the industry. They are about to receive a serious test now. Because till this day, they are reigning audio industry. But now it seems like, ambitious trillion Dollar Company from California has fixed their eyes on an Industry, which has remained unmoved for several years. Can the new Apple Airpods Max beat the leader and become the next dominant force. Or will Bose continue its dominance. Scroll further to find the answer.
Contender has to either knock cold out their opponent. Or they will have to stay calm and win by points. Both products will have to undergo 4 rounds of testing. Let us get started.
Design
Aesthetically both headphones vary by a mile. Apple partially resembles Astronaut's headphones. Pillars and entire chassis of Airpods are made of steel and its headband is covered by a sewn mesh. Headband is covered with sewn mesh. Though its earcups are equipped with memory foam that can breathe and make long usage comfortable.
Mostly you will feel its solid steel build. Apple's decision to go with stainless steel is not a blessing in disguise. Because it limits the usability of Airpods to a great extent. But to be honest, aesthetics of Apple is addictive and luring. Meanwhile, oval-shaped earcups of Bose are made of plastic doesn't look substandard.
To adjust the fit, you need to slide the earcups that are attached to an invisible headband made of steel. The soft Cushion of Bose headphones makes them ideal for long usage. Compared to Apple, Bose headphones are extremely light and it can be worn even during intensive workout session.
For controls, Apple has a crown button, which looks similar to button on Apple watches. Whereas functionality of Bose headphones can be controlled using its touch sensitive right earcup. Considering comfort in addition to design, Bose wins this round.
Sound Quality & Active Noise Cancelation
In terms of Sound Quality and ANC, both headphones have set a benchmark. Neodymium ring magnet motor of Airpods Max offers exceptional bass and impressive treble. Airpods has 4 microphones in each ear cup for ANC. Among 4, three of them tediously work to cancel environmental noise and the remaining 1 microphone detects noise before it reaches user's ear. And its spatial audio uses a gyroscope and accelerometer sensor to track your head movement to deliver deeper and pronounced audio output.
On the other hand, Bose has paired a dedicated noise-canceling processor with eight microphones to offer 11 levels of noise canceling. Sound clarity of Bose 700 is phenomenal and the Soundstage was completely balanced.
By using Bose Music app, you can choose the desired level of ANC. Of the eight, only six work to eliminate background noise. While using it for speaking calls out of the 8, 6 microphones does a fantastic job by drowning background noise. Remaining 2 mics studies voice of the speaker and aborts environmental noise.
Apple does a really good job by canceling ambient noise. But Bose cancels not just noise but also background voices which is a hard nut to crack. There is another aspect where Bose excels is: Bose has put up whatever they have got to avoid pressure on user's ears. Results of this round remain unchanged.
Features
Airpods Max is equipped with Automatic Switching Feature. By connecting your other devices, you effortlessly switch between them. Since AirPods is a product from Apple, it definitely cannot afford to miss Siri voice assistant support. By repeating the phrase 'Hey Siri' you can ask Airpods to do whatever you want to. Crown button lets you Attend, Hang, Adjust Volume, and Access Siri.
Similarly, Bose has support of Voice Assistants like Siri, Google Assistant, and Alexa. However, the headphones can only launch Alexa via voice command. To launch other voice assistants like Google Assistant or Siri, user will have to press VPA button. Apple took an initial lead but by offering multiple voice assistant support Bose leveled the round.
Read our detailed blog on Apple Airpods Max review.
Battery
Apple seemed like it will win this round since Airpods Max offered 1.5 hours of battery life with just 5 minutes charge. But Bose's 3.5-hour battery life with 15 minutes of charging instantly snatched Apple's last hope. Bose leads the round again. Bose boom headset price in India is Rs.34,500.
Apple Airpods Max price in India is Rs.59,900.
Verdict
Even after striving so hard, Apple could not bring down Bose's scepter. Their sovereignty remains absolutely intact.
While buying it online from our Website Poorvika avail our 2 hour delivery service to get it instantly delivered to your doorstep.