01 Mar 2021
Inbase Urban Lite and Pro Smartwatches – Total Spec Sheet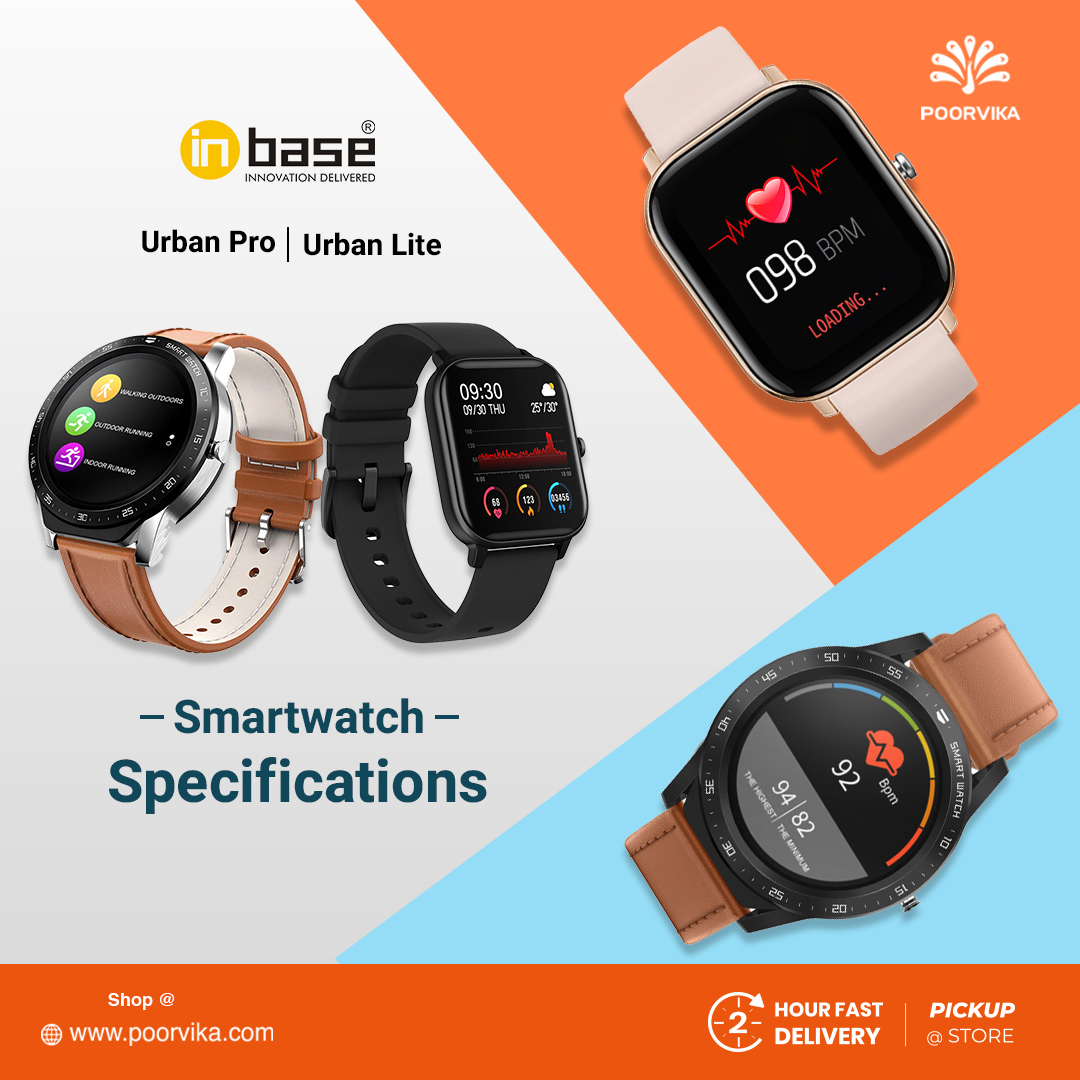 Your watch decides your smartness! From flaunting our conventional and sturdy Analog Watch to wrapping a mini-computer to our wrist as we run, we all grew up. The technological advancements have left an influential footprint on Smart Technologies, which extended to watches as well. And owning a sophisticated smartwatch at an affordable price is no big deal today.
Tech Giants are coming up with feature-and-function-rich smartwatches at an affordable price range, effectively targeting a wider audience. Let's probe and look through the detailed specifications and functionalities of smartwatches produced by Inbase under the price range of Rs.4000. Grab your popcorn and relax in your seat while we take you on a ride.
INBASE URBAN LITE SMARTWATCH:
The Inbase Urban Lite Smartwatch features an elegant and stylish display that goes well with the matte-finished strap! The smartwatch is no wonder the best-selling one in town with the perfect blend of fashion and sophistication!
The beautifully crafted rectangular 1.4-inch TFT LCD Full touch screen display with 240*240PX resolution is an absolute visual treat for every individual out there; experience clarity-rich visuals on this display even under the bright sunlight.
Formal Client Presentations or Movie Dates? Just pick your favorite shade that allies with your day's outfit from 5 different color variants: Pink Salmon, Champagne Gold, Space Blue, Space Grey, and Jet Black. 100+ dedicated Watch faces and carefully customizable wallpapers are available for you to choose from that suit your mood.
Sports Mode: ON and Outside World: OFF! There are 7 Sport modes available, including Walking, Running, Hiking, Skiing, Climbing, and Cycling. When it comes to Health Monitoring, the smartwatch not only measures your Blood Pressure, Heart Rate Monitor, Step Count, and Blood Oxygen but also sends you timely reminders to keep them on par!
The features that make the gadget stand out from the crowd are Flash Light, Camera Control, DND functions, Alarms, GPS, Find Watch, Supports Apple Health, and 15 languages.
PRICE:
Worry no more when you indulge in adventurous Water Sports or intense workouts; the IP68 Rating is here to back you up. And when it comes to Battery, the Urban Lite Smartwatch ensures power-packed uninterrupted usage for 5 to 7 days straight and a standby time of 15 to 30 days. The Inbase Urban Lite Smartwatch price in India is Rs. 2,799.
INBASE URBAN PRO SMARTWATCH:
The Inbase Urban Pro Smartwatch is truly a pro rendition from the company that extends its functionalities and specifications to offer a quality-rich smartwatch. The Urban Pro Smartwatch offers a pinch of classiness to the overall gadget with its superior sleek look and feel.
Unlike the Urban Lite version, the Urban Pro Smartwatch features a round Silver dial and a High-class Zinc Alloy casing. The Pro version offers two options for you to slay any occasion! A Silver Dial with Brown Vegan Leather for Formal Wear or a Silver Dial with Blue Silicon Sports for your Casual Jeans. You decide.
The smartwatch features a stunning 1.3-inch TFT LCD Full-touch screen with a resolution of 240*240PX. The colorful display lets you choose your desired watch face from 4 pre-installed Watch faces.
Health – Always a priority! Like any other smartwatch, the Urban Pro equips you to track your Heart Rate and Blood Pressure and sends you timely Health reminders to drink water and Stay Hydrated.
Work hard; Play hard – Set goals and achieve them to stay motivated. Go the extra mile and throw yourself in activities like Walking, Running, Hiking, Skiing, and Climbing. The Urban Pro measures every step you take and every calorie you burn. The certified IP67 and 3ATM rating Water Resistance helps you achieve all your diving goals.
PRICE:
The functions like Camera Control, DND, Alarms, Drink water reminder, Sedentary reminder, Find Mobile, Find Watch, and 10 language support define the smartwatch's versatility. Forget about the Low Battery signal with the power-packed Battery Capacity that allows you to experience an uninterrupted usage of 5-7 days and standby usage of 30 days. Connect to your smartphone, enjoy your latest tracks, and have a glance at all your Social Media Notifications and Calls. The Inbase Urban Pro Smartwatch price in India is Rs.3,499.
Get your hands on the latest Inbase Urban Smartwatches from Poorvika Online, or visit your nearby Poorvika store for a hands-on experience! Visit the Poorvika Website right away and click the 'Buy Now' button before the deals run out. And the cherry-on-the-cake moment is that you can get your order delivered to your doorstep in 2 Hours when you select the 2 Hour Fast Delivery option when checking out! Happy Shopping 🙂