02 Mar 2021
Best Budget wireless earbuds Review 2021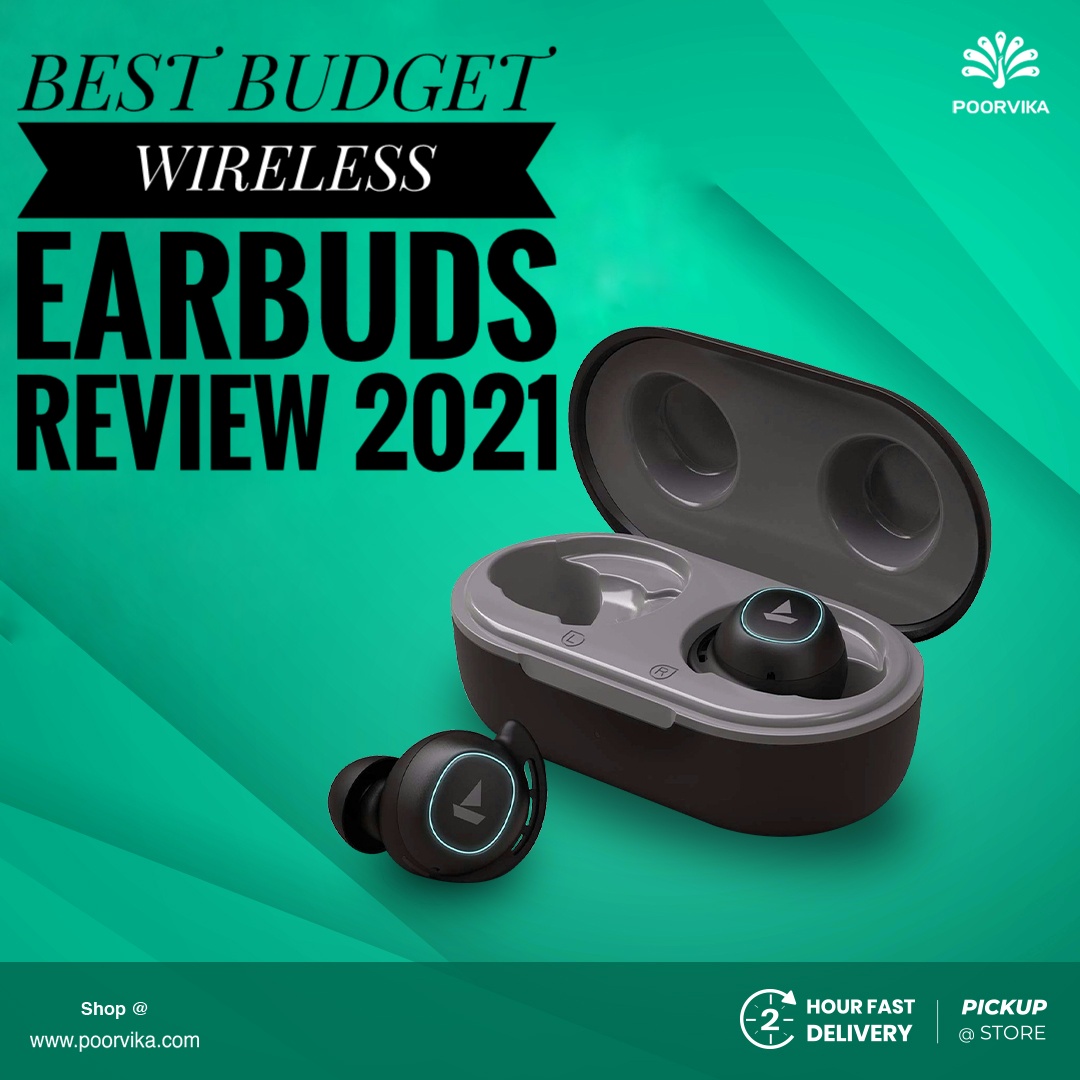 Initially, earbuds were very expensive, and there were only a few brands to manufacture them. Currently, a lot of manufacturers are offering wireless earbuds. One more thing to notice here is: many manufacturers are offering earbuds at Budget or affordable prices. This blog will present you with the best budget wireless earbuds.
Boat Airdopes 443
Before the launch of this earbud, no major manufacturer showed interest to manufacture budget earbuds. The specification of the Airdopes is impressive. It is a fact that the build quality of a pocket-friendly product will not be up to the mark.
But Airdopes differ significantly from other products in this price range. Though Boat made its body using plastic, it feels stable and light. The matte finish of the earpiece looks excellent.
The colour of both the earpiece and the charging case is different. Not just the build, but these earbuds has many worthy features.
Of many features, the first will be its IPX6 Water Resistance certification. This certification means that the Airdopes will be intact even when you expose them to extreme pressures. Though the fit of the earbud is a bit tight, it feels comfortable for extended usage. Outside the earpiece, there is a wing for a concrete fit. And the wing can be detached.
The next impressive feature of Airdopes is its support to touch. To answer a call, you will have to tap the earpiece once. By tapping the left earpiece twice, the Airdopes will switch to the previous track in your playlist. Meanwhile, by tapping the right earpiece, Airdopes 443 will play the next song. The Bass of 443 is heavy and jabby, yet details didn't fade away in lows. And people who listen to heavy metal, rock music will love 443 for its aggressive audio output.
Boat Airdopes 443 price in India is Rs.2,499.
Buy the Boat Airdopes from the official Website of Poorvika. Avail of our 2 hour delivery service and get it directly delivered at your doorstep.
OnePlus Buds Z
Many of them were skeptical about how OnePlus is going to perform in this segment. Since the game already has Prodigies, Lords, and only one Emperor. Read the blog further to know whether OnePlus fits into any of the categories or not. In terms of design, the Buds Z doesn't look contemporary or radical. OnePlus has retained the age-old design of earbuds. By doing this, they were able to manipulate the situation according to their will. Because unlike many budget wireless earbuds, Z doesn't suffer to fit perfectly in your ear canal.
It has a USB Type-C port for charging. For connectivity, it comes with Bluetooth version 5, and there were no latency lags. And the connection was stable throughout the session. Overall, the sound quality is refined and good.
Since OnePlus has tuned out perfectly, Buds Z's audio output. It is good for all kinds of music. The clarity of voice-overs and the phone calls are phenomenal because it has Environmental Noise Cancelation.
If Budget is your priority then, this is a great option. OnePlus Buds Z price in India is Rs.2,999.
Buy the Oneplus Buds Z online from Poorvika. Don't miss our 2 hour delivery service while buying it from our Website.