02 Mar 2021
Oppo True Wireless Earbuds review: The Best Mid-RANGE and Premium Earbuds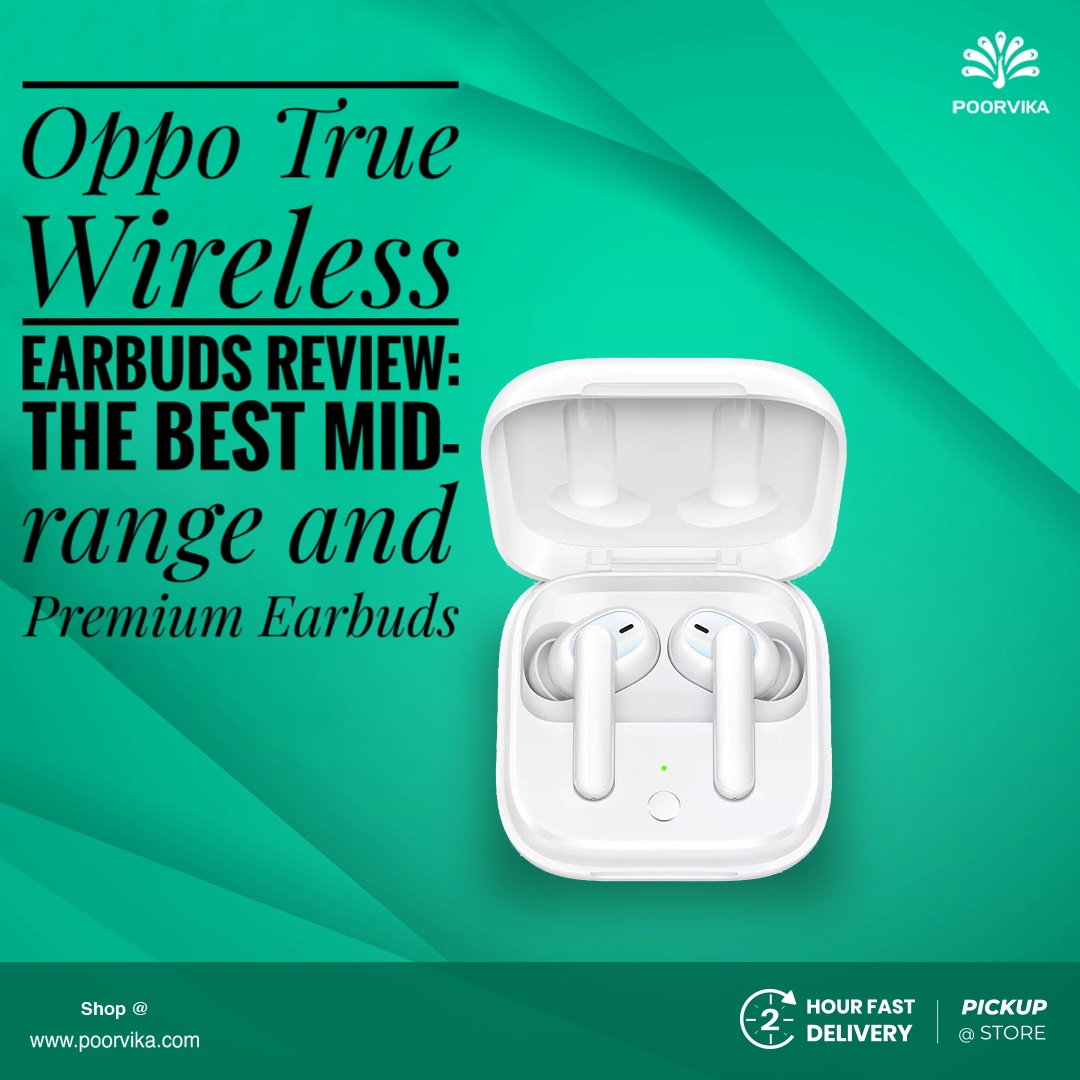 Oppo is a brand known for exhibiting supreme dominance in the Smartphone industry. With the advancements in technology that they bring to the table at unbelievable prices, it seems like there is nothing to stop the Cantonese manufacturer.
Oppo best earbuds
One one of the segments where they reign supreme is the True Wireless Earbuds segment, where they have a list of products under every price category. From their most premium designs to their most affordable devices, Oppo has something for everyone. This Blog takes a look at the Best true wireless earbuds from Oppo.
Oppo Enco X
Oppo has named this earbud "the flagship killer". One look at the specification sheet tellls you, this tag is not a marketing strategy or Publicity Stunt. Its the real deal. The frequency response and sound quality of the 6mm dynamic driver is impeccable.
Its dual drivers are tuned by a Danish manufacturer named Dynaudio and its active Noise Cancelation performance is impressive. Its earpiece comes attached with an elongated stem. The stem supports touch, via which you can access the volume controls, and fits perfectly in your ears.
Three microphones on each earbud cancel ambient noise to a great extent. Each earbud weighs just 4.8 grams, and it is absolutely comfortable, allowing for extended periods of usage. Its IP54 water resistance rating guards the Enco X greatly against spills and dust.
The Top of the charging case has a button and it can be used to pair the Enco X with your mobile. On the bottom, it comes with a USB-Type-C port for charging requirements. Connections remain unbelievably stable even if your phone is kept far away from the device. Because Enco X uses Bluetooth 5.2. Oppo Enco X price in India is Rs.9,990.
Click here to read our detailed review on Oppo Enco X.
This device is available Online at Poorvika. Do avail our 2 hour delivery service to get your device delivered faster right to your doorstep.
Oppo Enco W51
The features that the Enco W51 offers in this price segment are very impressive. It has both active noise cancelation and Qi wireless charging. The aesthetics of W51 looks good.
Except for its tweaked earpiece, it exactly resembles its sibling Enco X, and since it has ANC, the canal fit of earbuds is perfect. It is considering its ergonomic and comfort-oriented design; it's perfect for extended periods of usage. As the W51 has an IP54 rating, it is resistant to dust and water, so sweat from an intense workout would not damage this earbud.
The charging case is also compact and sturdy, featuring a USB Type-C port for charging Enco W51. The W51 even has Qi wireless charging option, which is pretty impressive. Inside the box, Oppo has included 3 sizes of silicone ear tips. The W51 has three microphones that effectively cancels surrounding noise.
The device is pretty efficient and provides up to 3 hours of playback time with the ANC turned on. Audio output and bass levels are balanced, ensuring that you don't have to recalibrate the equalizer every time. Oppo Enco W51 price in India is Rs.4,499 and is a phenomenal device for the price.
Oppo Enco W51 is available at Poorvika. Avail our 2 hour delivery service and get it directly to your doorstep.
Currently these two models are undeniably best Oppo earbuds.